SpaceX again launches and lands a used rocket booster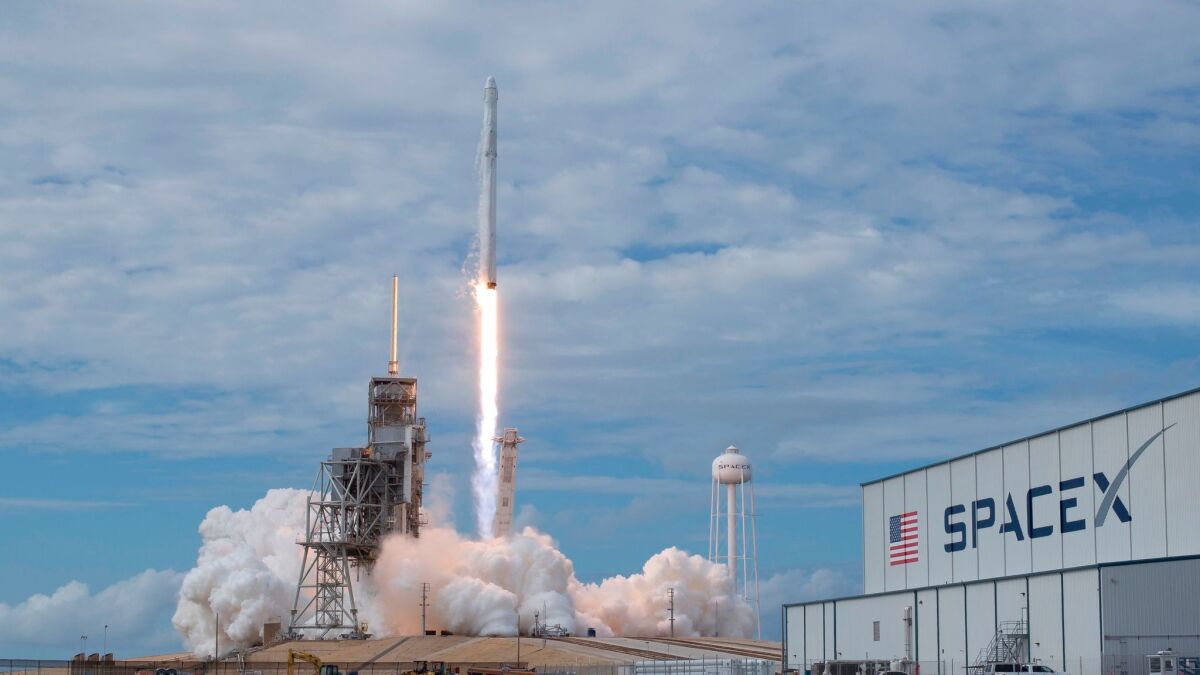 SpaceX launched a commercial communications satellite Friday with a previously used first-stage booster and then landed the rocket on a floating sea platform, marking a repeat accomplishment for the company.
The satellite was deployed to a geostationary transfer orbit about 35 minutes after launch.
Company Chief Executive Elon Musk had tried to temper expectations of the booster's landing just prior to the launch, tweeting that the Falcon 9 rocket would experience its "highest ever reentry force and heat" during Friday's launch.
"Good chance rocket booster doesn't make it back," he tweeted. But the booster landed on a floating drone ship in the Atlantic Ocean about nine minutes after liftoff.
The launch from Kennedy Space Center in Florida was delayed almost a week so SpaceX could replace a valve. Musk tweeted earlier in the week that the part was "dual redundant, but not worth taking a chance." Then on Friday morning, SpaceX pushed back the launch time by one hour so its teams could conduct additional ground system checks.
SpaceX launched the first Bulgarian geostationary communications satellite, known as BulgariaSat-1, which will provide digital TV and broadband Internet access to users in Europe.
The satellite was launched on a Falcon 9 with a first-stage booster that originally launched 10 satellites into orbit six months ago and landed on a floating platform at sea. That launch marked the Hawthorne company's return to flight after a launch pad explosion in September grounded operations for several months.
SpaceX, whose full name is Space Exploration Technologies Corp., first launched and landed a previously used booster in March, an accomplishment analysts say could sharply reduce launch costs, if it is repeatable and refurbishment costs are minimal.
Musk has said SpaceX's goal is to have boosters ready to fly again within 24 hours after they land — meaning the only change would be to refuel.
SpaceX has another launch scheduled on Sunday, when it plans to send 10 commercial satellites into orbit from Vandenberg Air Force Base in California in the company's first attempt at a rapid turnaround between launches.
Twitter: @smasunaga
---
Sign up for the California Politics newsletter to get exclusive analysis from our reporters.
You may occasionally receive promotional content from the Los Angeles Times.