SpaceX launches 60 satellites, the first of thousands in bid for global internet coverage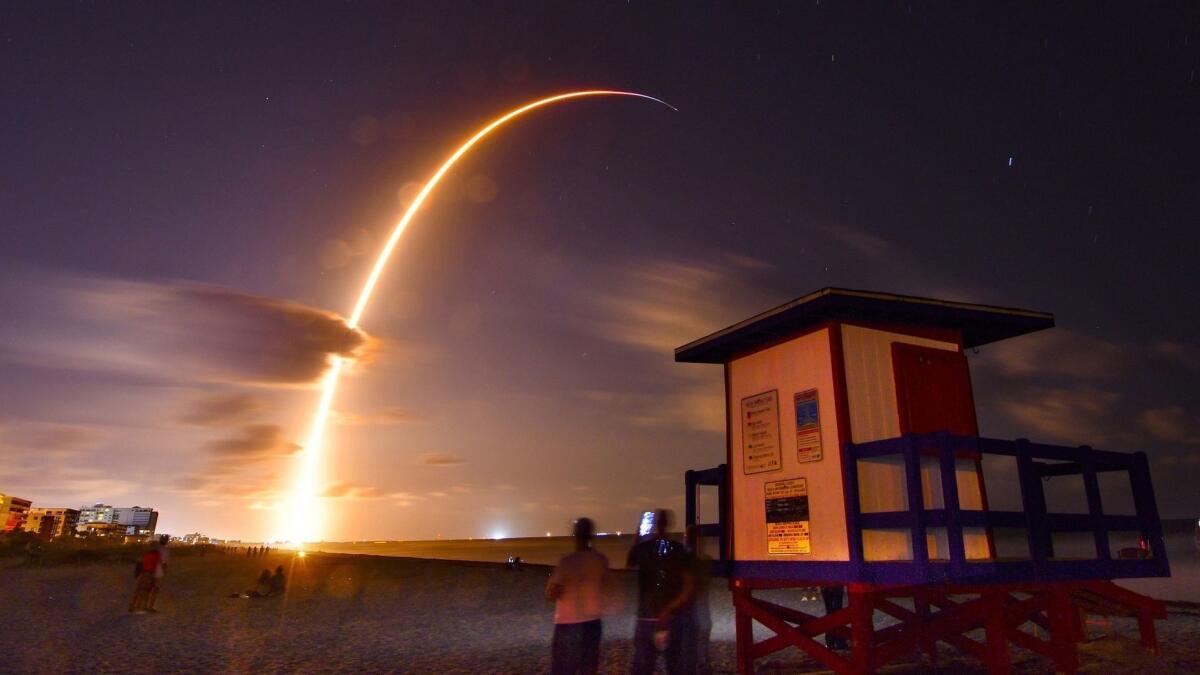 Reporting from CAPE CANAVERAL, Fla. —
SpaceX has launched 60 of its own small satellites, the first of thousands the company plans to put in orbit, as the Elon Musk-led firm continues to raise funds.
The recycled Falcon 9 rocket blasted off from Cape Canaveral, Fla., late Thursday. The first-stage booster landed on an ocean platform, as the tightly packed cluster of satellites continued upward.
Musk said Friday that all 60 flat-panel satellites were deployed and were online a few hundred miles above Earth. Each satellite is 500 pounds.
The orbiting constellation — named Starlink — will grow.
Musk says 12 launches of 60 satellites each will provide high-speed internet coverage throughout the U.S. Twenty-four launches will serve most of the populated world, and 30 launches the entire world. That will be 1,800 satellites in total, with more planned after that.
After the launch, Space Exploration Technologies Corp. disclosed having raised more than $1 billion in equity offerings during the last few months.
The closely held company has sold $486.2 million worth of equity in an offering involving eight investors that began in December, and $535.7 million from five investors in an offering that started in April, according to regulatory filings.
The company's major projects are building a giant spaceship and rocket booster capable of carrying humans to Mars and building out the Starlink constellation.
SpaceX has said either of those projects, even when attempted separately, had bankrupted other companies. As a result, SpaceX announced in January that it would lay off about 10% of its workforce.
A space-based internet service will be an important source of funding for Hawthorne-based SpaceX, Musk has said. He founded the company in 2002 with the ultimate goal of enabling people to live on other planets.
"We see this as a way for SpaceX to generate revenue that can be used to develop more advanced rockets and spaceships," Musk told journalists during a conference call last week, before the launch was delayed by high winds. "This is a key stepping stone on the way toward establishing a self-sustaining city on Mars and a base on the moon."
Musk said that revenue from launching rockets for customers peaks at about $3 billion a year, but that he believes internet service revenue could be $30 billion a year.
SpaceX has not announced any customers for the Starlink service. Several more launches of roughly 60 satellites each will be required before a service would be operational.
Times staff writer Samantha Masunaga and Bloomberg contributed to this report