Sports gambling may be coming to California — but it's unclear who will take your bets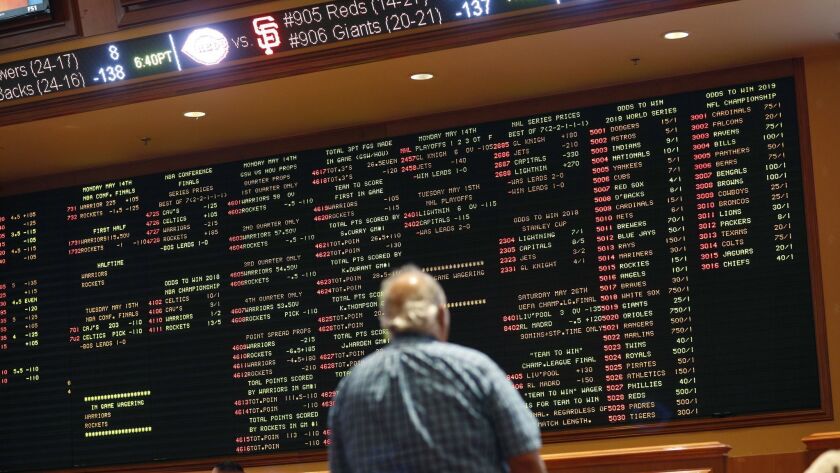 If there is one sure bet Californians can make now that the Supreme Court has cleared the way for legalized sports gambling, it's this: Months, if not years, of haggling lie ahead before residents can wager a dime on any game.
And that haggling could be a spectacle in itself as tribal casinos, card clubs and racetracks get into a likely expensive political brawl over the right to the millions of dollars of revenue sports gambling will generate.
"You can expect lots of money to be spent," said Jennifer Roberts, a former gaming lawyer and associate director of the International Center for Gaming Regulation at the University of Nevada in Las Vegas.
A decision last week by the Supreme Court, in a case involving a New Jersey effort to legalize sports betting, opened the door for all 50 states to allow sports betting. Until now it has been allowed only in legally approved locations in Nevada, plus Delaware, Oregon and Montana on a limited basis.
Experts estimate that as much as $400 billion is now spent on sports bets annually in the U.S. — a small fraction of which is wagered legally, mostly in Las Vegas. Such bets could bring millions to operators and the states if they are regulated and taxed.
For now, legal gambling in California is relegated to Native American tribes' casinos, card clubs and horse racetracks, each of which operate within strict legal constraints.
Casinos have slots, poker and other table games such as baccarat, craps and roulette. Horse racetracks offer wagers on races held onsite and at other tracks around the country.
Card clubs offer a venue for poker and other games such as blackjack and baccarat, but unlike casinos, players do not bet against the house.
More than a decade ago, the state's tribal casinos spent millions of dollars to defeat a ballot initiative that would have let card clubs and racetracks break the tribes' monopoly on operating slot machines.
A similar battle could be on the horizon.
Last summer, Assemblyman Adam Gray (D-Merced) introduced an amendment to the state constitution that would allow sports wagering should the nationwide prohibition be lifted. The bill requires a two-thirds vote in the state legislature to be placed on the ballot. It then would need the support of the majority of voters for passage.
But is it not clear yet who will get the right to take those bets under the final form of the legislation.
Gray is expected to hold public hearings to take testimony from the public and gambling businesses on how to proceed with his legislation, which probably won't make it onto a statewide ballot until 2020 at the earliest.
"The devil's in the details," said Haig Papaian Jr., chief executive of Commerce Casino. "We don't know what the state of California is going to do."
But already, gambling operators in the state are staking their claims on the new revenue stream.
California's tribal casinos say state law gives them exclusive right to operate casino-type games, which they say, by definition, includes sports betting. Allowing card clubs and horse tracks to run sports betting operations would violate that exclusivity, they say.
"I think the tribes are going to stand on the principle that only we operate full casino-style gaming in the state," said Steve Stallings, chairman of the California Nations Indian Gaming Assn., which represents 35 federally recognized tribes in the state.
California leads the nation with 63 tribes that run gambling operations. Revenue from those operations in 2015 — a record $7.9 billion — represented the sixth straight year of growth since the economic meltdown, according to a report by Alan Meister, a gambling industry expert with the consulting firm Nathan Associates.
The state's tribal casinos have each negotiated contracts — called compacts — with the state that spell out what type of gaming is allowed and how much they must pay from their casino operations.
In 2014, the state's tribal casinos generated more than $400 million in state and local taxes, according to the California Nations Indian Gaming Assn.
If state lawmakers give card clubs and racetracks the right to run sports betting operations, Stallings said he expects the tribes will put up a legal fight or at least demand to be financially compensated for losing that exclusivity.
"I think they would say, 'Whoa, wait a minute. We are about to give up something,'" Stallings said.
Card club owners and racetrack operators who have already expressed interest in offering sports betting expect to get resistance from tribal casinos.
Tim Ritvo, chief operating officer of Stronach Group, which owns Santa Anita Park and is North America's largest horse racing operator, said he hopes to reach an agreement with the casinos to let horse tracks and others run sports betting operations.
He said he would be disappointed — but not surprised — if the casinos fought to keep sports betting to themselves.
"I thought the Indians would work together with the horse tracks and the brick-and-mortar card clubs to have brick-and-mortar betting operations," Ritvo said.
Adult entertainment mogul Larry Flynt, who operates the Hustler and the Lucky Lady casinos, card clubs in the city of Gardena, said he would like to add sports betting to his operations but expects the tribes won't allow it without a fight.
"The Indians have a very powerful lobby," he said. "Indians have a lot more money than the card clubs."
Flynt speaks from experience.
He recalls a 2004 proposition to allow card clubs and racetracks in California to operate slot machines — breaking the exclusivity that the casinos want to protect. The casinos spent $33 million against the measure, forcing supporters of the proposition to quit the campaign a month before the election when they realized defeat was inevitable.
"It's always a struggle on every issue because the Indians have a very powerful lobby," Flynt said.
But the potential fight between tribal casinos and other gaming operations in California is not necessarily about huge profits. Sports betting generates a low percentage of profits and comes with high risks since the outcome of sports matches is hard to predict, according to industry experts.
A study by UNLV's Center for Gaming Research found that the percentage kept by the Nevada casino from sports betting last year was 5.1%, an increase from 4.86% the previous year.
In contrast, Las Vegas slot machines can generate as much as 11% returns, with much less overhead cost and staffing, according to industry experts and published reports.
Slot machines are programmed to return a specific percentage of winnings to the players, while a sports book can result in losses when professionals are involved in placing big bets.
"You definitely need expertise," said Roberts, the former gaming lawyer. "It's highly volatile. You are trying to balance risk and payout."
Still, card clubs and racetracks say they are hoping to add sports betting because it would complement and, perhaps, boost interest in their current forms of gambling.
Stronach's Ritvo agrees, saying sports betting is not going to bring horse racing "a windfall of money" but can add to the gaming options on the track.
"It would be much better to have it than not have it," he said.
A California business that wants to add a sports betting operation — known as a sports book — would likely need to hire experts in odds making and taking bets or team up with an established sports bet operator from Nevada.
Jay Kornegay, vice president of race and sports operations at the Westgate Las Vegas Resort & Casino, said he has already been in discussions with tribal casinos in California about operating their sports book once betting becomes legal in the state.
"It certainly takes some skills and experience to do that," he said of operating a sports book.
Stallings, the head of the state's tribal gaming organization, acknowledges that "sports betting is a single-digit net operation" that can be risky.
So he doesn't expect that every casino in the state will be interested in launching a sports book, but those that want to offer it will understand the risk.
"You can either get killed or have a heyday," he said.
To read more about the travel and tourism industries, follow @hugomartin on Twitter.
---
Must-read stories from the L.A. Times
Get the day's top news with our Today's Headlines newsletter, sent every weekday morning.
You may occasionally receive promotional content from the Los Angeles Times.