Starbucks' Howard Schultz is stepping down, fueling speculation he may run for president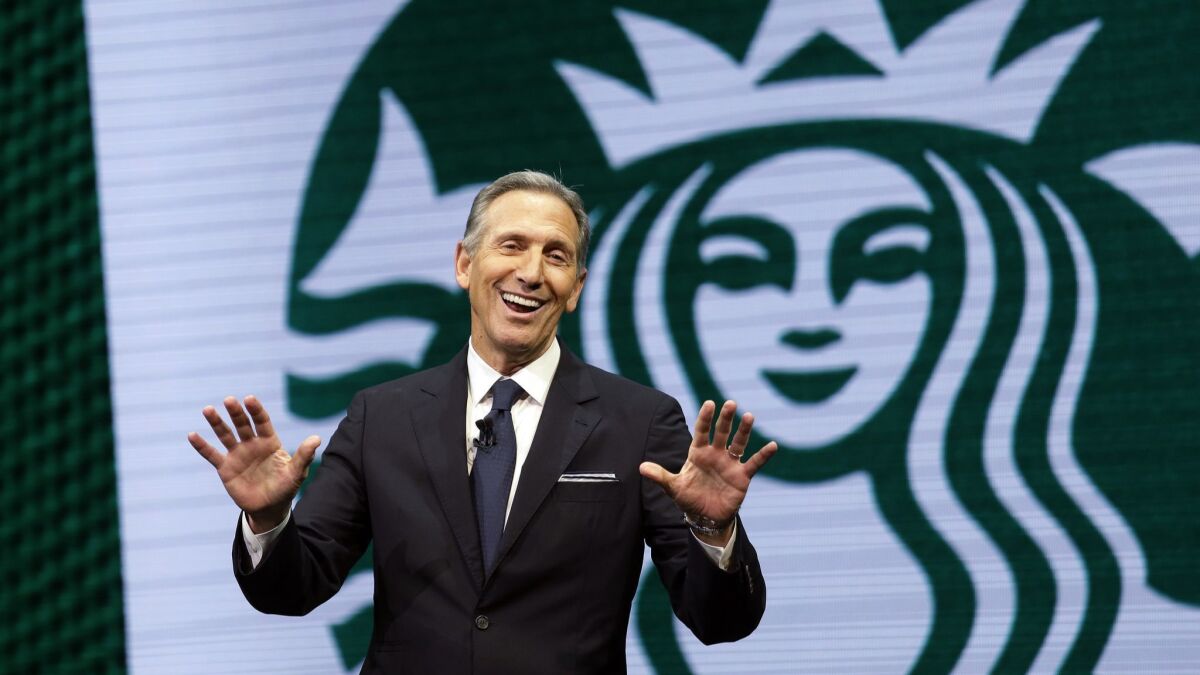 Starbucks Corp.'s Howard Schultz is stepping down as executive chairman of the coffee company he helped transform into a global brand, and says public service may be in his future.
Schultz, 64, said he is considering many possibilities. He endorsed Democratic presidential nominee Hillary Clinton before the last presidential election and had sometimes deflected questions about whether he would run for office.
"I'll be thinking about a range of options for myself, from philanthropy to public service, but I'm a long way from knowing what the future holds," he said Monday in a letter to employees.
Speculation has swirled for years that Schultz might run for president. Although he didn't address the question directly, he told the New York Times on Monday that "for some time now, I have been deeply concerned about our country — the growing division at home and our standing in the world."
Schultz ceded the day-to-day duties of Starbucks chief executive last year to focus on innovation and social-impact projects as executive chairman. As of June 26, Starbucks says Schultz will take the title of chairman emeritus. The Seattle-based chain says he is writing a book about Starbucks' social-impact moves and its efforts to redefine the role of a public company.
Schultz had often aligned himself and Starbucks with social issues such as race and jobs for underprivileged youth — even when those efforts fell flat, such as the "Race Together" campaign that encouraged workers to talk about race with customers.
More recently, as the company tried to restore its reputation after the arrest of two black men at a coffee shop in Philadelphia, Schultz said he didn't want people to feel "less than" if they were refused bathroom access. (The men in Philadelphia had not bought anything from the shop and were waiting for a business associate of theirs to arrive.)
Last week, the company closed its U.S. stores for several hours for bias awareness training, one of the measures it promised after the Philadelphia arrests.
Schultz, who had returned as the company's CEO in 2008, was credited with turning around Starbucks' fortunes. He oversaw the expansion of the chain's food and beverage menu and the growth of its popular loyalty program and mobile app.
Myron E. "Mike" Ullman will become chairman of the board upon Schultz's retirement, Starbucks said.
---
UPDATES:
4:05 p.m.: This article was updated with comments from Howard Schultz and additional background information.
2:05 p.m.: This article was updated with additional background information.
This article was originally published at 1:40 p.m.
---
Sign up for the California Politics newsletter to get exclusive analysis from our reporters.
You may occasionally receive promotional content from the Los Angeles Times.