Starbucks tips ruling is made to order for baristas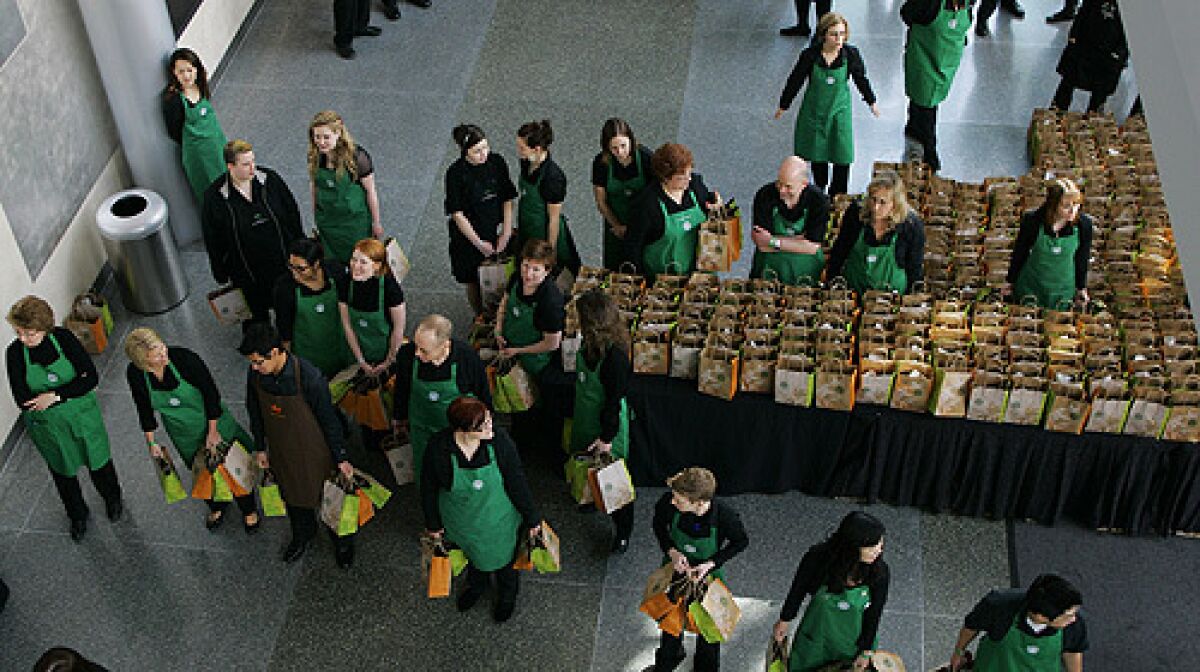 Los Angeles Times Staff Writers
Starbucks got caught with its hand in the tip jar and was ordered Thursday to pay California baristas more than $100 million.
In a San Diego County class-action lawsuit, a judge ordered the coffee giant to pay back tips, with interest, that the company had handed over to shift supervisors. Some baristas could receive more than $10,000, according to their attorney.
The ruling was met with cheers by California baristas. "I'm stoked," said Leekeisha Smith, who makes coffee drinks in the Starbucks at Sunset Boulevard and La Brea Avenue in Los Angeles.
"Wow. I'm just shocked that we'll get that [money] back." Smith, 23, said she found out about the lawsuit from a letter sent to employees.
Starbucks Corp. said it was outraged and vowed to appeal. In a statement, the company said the decision "is not only contrary to law, it is fundamentally unfair and beyond all common sense and reason."
Starbucks said, "Our shift supervisors deserve their fair share of the tips that they receive from the tip jars in our California stores." It plans to "vigorously appeal" and to seek a delay of the court's ruling prohibiting shift supervisors from receiving tips.
"The decision today in our view represents an extreme example of an abuse of the class-action procedures in California courts," the company said, noting that the case was filed by a single former barista and "the interests of the shift supervisors were not represented in this litigation."
Money collected in tip jars was put into safes at each Starbucks and apportioned weekly to each employee based on the number of hours they worked, said attorney Terry Chapko, who represented the plaintiffs. The average tip distributed to baristas and supervisors was $1.71 an hour, San Diego County Superior Court Judge Patricia Cowett said.
Cowett's ruling said Starbucks' practice was a violation of a state law that prohibits managers and supervisors from sharing in employee tips. Her ruling Thursday on penalties followed her Feb. 28 decision in favor of the baristas in the class-action lawsuit.
Former barista Jou Chou complained in a 2004 lawsuit that shift supervisors, who also make coffee and serve customers, were illegally getting a cut of employee tips.
The suit was granted class-action status in 2006 and could affect as many as 100,000 current and former baristas who worked in California stores since October 2000.
"They were subsidizing Starbucks' labor costs" by helping the company pay its supervisors, Chapko said. "This is about getting money back to the lowest-paid employees."
Another Los Angeles barista, Patrick Patterson, said if he got a cut, he would put the money toward school.
"I'm pretty happy with the money that I make. I'm not greedy," Patterson, 20, said. "But if I feel like this is money that has been taken away from me, then yes, I deserve it."
Freddy Velasco, 21, is a shift supervisor at the Starbucks at Franklin and Highland avenues in Los Angeles. After hearing of the ruling, he wanted to know if, as a former barista for nearly two years, he would get a share of the settlement.
"I should get the money from the time I was a barista," he said. "It would be the right thing."
The court ruling and monetary award come as Starbucks has launched initiatives intended to transform and boost "the coffee experience" as it copes with weak U.S. sales and a slumping stock price. Starbucks shares closed Thursday at $17.53, up 3 cents. The stock has dropped 46% in the last year.
California is Starbucks' largest U.S. market, with 2,460 stores as of Jan. 8, according to the Associated Press. The company has more than 11,000 stores nationwide.
---
Sign up for the California Politics newsletter to get exclusive analysis from our reporters.
You may occasionally receive promotional content from the Los Angeles Times.