State again faults Kaiser Permanente for mental health treatment delays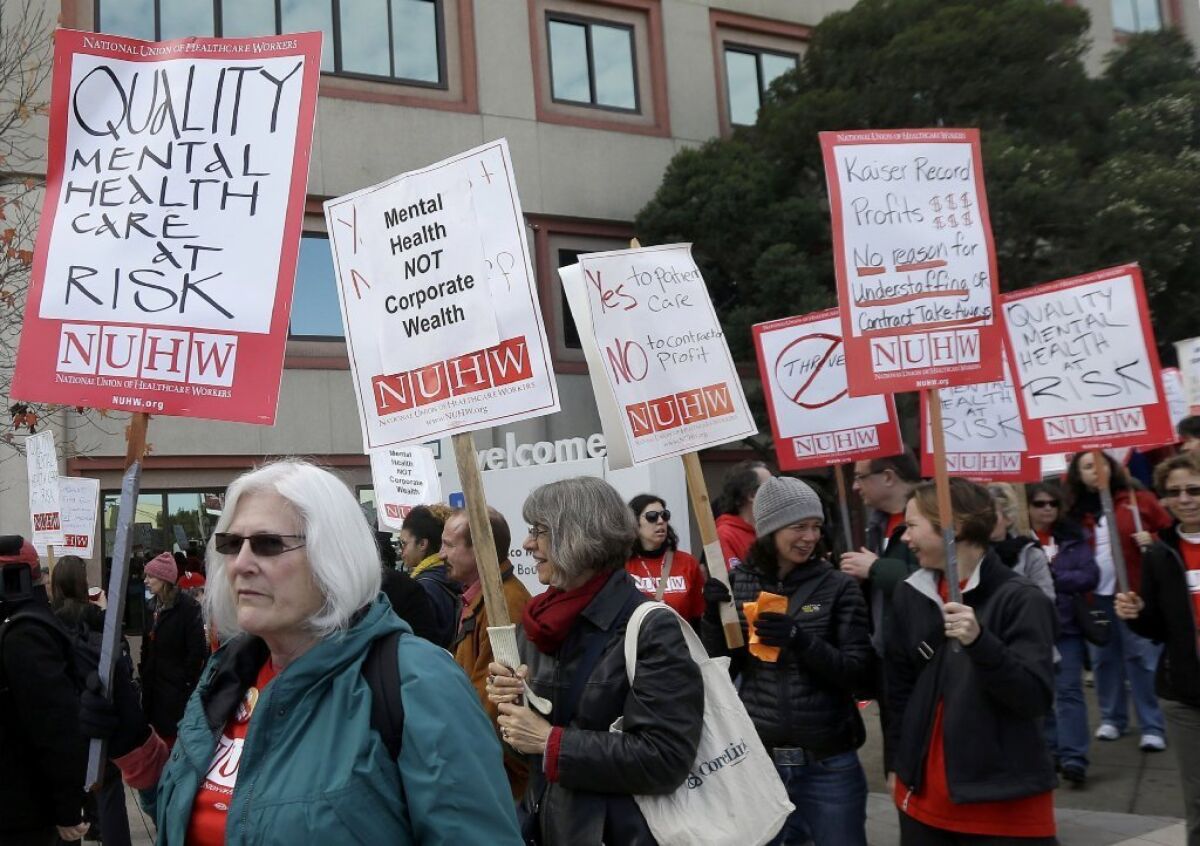 For the second time in two years, California regulators have faulted HMO giant Kaiser Permanente for causing mental health patients to endure long delays to get treatment.
The state Department of Managed Health Care said in a report Tuesday that some Kaiser patients continue to wait too long to see therapists and psychiatrists. The agency also criticized Kaiser for giving patients misleading information about their mental health coverage.
The report was a follow-up to a 2013 survey that found four problems in Kaiser's handling of mental health patients. The agency fined Kaiser $4 million that year and ordered it to improve its performance.
"Even with all the changes Kaiser has made, there are still serious concerns about patients' ability to get timely access to mental health services," Shelley Rouillard, director of the Department of Managed Health Care, said in an interview. "I want Kaiser to fix the problem and do what they need to do to make sure their members get the mental health services they need."
Kaiser said it had made significant improvements and had been on a hiring spree to make sure it had enough staff to meet demand. The healthcare provider said it increased the number of therapists by 25% from 2011 through early last year.
"We are proud of the progress we have made," Kaiser said in a statement. "Since the follow-up review was conducted, we have made even more progress.
"We have hired new mental health therapists in Northern and Southern California, and we currently are recruiting to hire more. We have engaged with high quality community-based mental health care providers ... to ensure our patients receive timely access to mental health care, especially in locations where there are increases in appointment requests."
The managed care agency hasn't determined what penalties, if any, will be imposed on Kaiser, and its investigation is ongoing.
State regulators said they reviewed medical records of nearly 300 patients and found a continuing problem with long wait times. Officials also faulted Kaiser physicians and staff for misleading patients about their covered benefits and in some instances suggesting they seek care elsewhere.
In Northern California, patients didn't get initial or follow-up appointments within the required time frame of 10 to 15 business days in 22% of the records reviewed. In Southern California, Kaiser failed to meet that standard in 9% of cases reviewed. That didn't pertain to urgent care that must be provided within 48 hours.
"That is not a good performance," Rouillard said. "Fundamentally it comes down to there are not enough providers in the Kaiser system to serve everyone who needs mental health services."
Twitter: @spfeifer22 @chadterhune
Sign up for the California Politics newsletter to get exclusive analysis from our reporters.
You may occasionally receive promotional content from the Los Angeles Times.