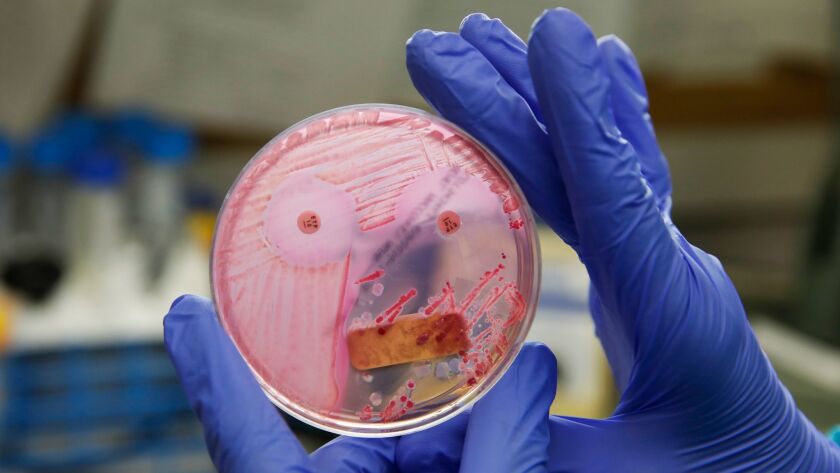 After complaints from California hospitals and physicians, a state legislator has stripped his bill of a measure that would have required doctors to record deadly infections on death certificates.
The California Hospital Assn. and the California Medical Assn. wrote letters saying they opposed the plan by state Sen. Jerry Hill (D-San Mateo). The measure would have required physicians to include drug-resistant bacterial infections on the death certificate if in their opinion it helped cause a person's death.
Underreporting of hospital-acquired infections is a problem across the country. California health officials do not track deaths from these infections, which experts say are preventable if hospitals use effective sanitary controls including ensuring that staff members wash their hands.
Hospitals have long fought efforts for more disclosure of the number of infections. The hospitals can face lawsuits and government financial penalties if they are found to have lax sanitary controls.
In a March 22 letter, the California Hospital Assn. wrote that it had "great concern" about the measure, in part because patients suffering from infections often have other diseases and problems that may contribute to their deaths.
"We fear that data obtained through death certificates alone do not represent a reliable way to determine causation and ultimately, we suspect that these data will not be interpretable, nor actionable," the group wrote. The letter was also signed by the Infectious Disease Assn. of California.
In another letter, the California Medical Assn. said its physician members believed that the language in the bill "will increase confusion and is unlikely to result in reliable data."
Hill said in an interview that he believed his amended bill would still improve reporting of drug-resistant infections so that health officials can look for dangerous trends and take measures to stop them.
The bill, SB 43, would require hospitals and labs to annually report the number of patients testing positive for superbugs that federal officials have identified as "urgent, serious, or concerning." The name of the hospitals would not be revealed.
The state would also be required to develop a method for estimating the number of deaths from each superbug.
The Times reported in October about the death of Sharley McMullen at Torrance Memorial Medical Center. Doctors detailed in McMullen's medical records how she died of a superbug that sickened her after a surgery and other procedures at the hospital. McMullen's doctor did not list the bacteria on her death certificate.
A 2014 study by University of Michigan researchers showed how often death certificates are wrong. The group concluded that infections would replace heart disease and cancer as the leading causes of death in hospitals if the count was performed by looking at patients' medical billing records rather than death certificates. Billing records show what patients were being treated for.
Follow @melodypetersen on Twitter
---