Supermarket wages have declined nearly 25% since 1999, study says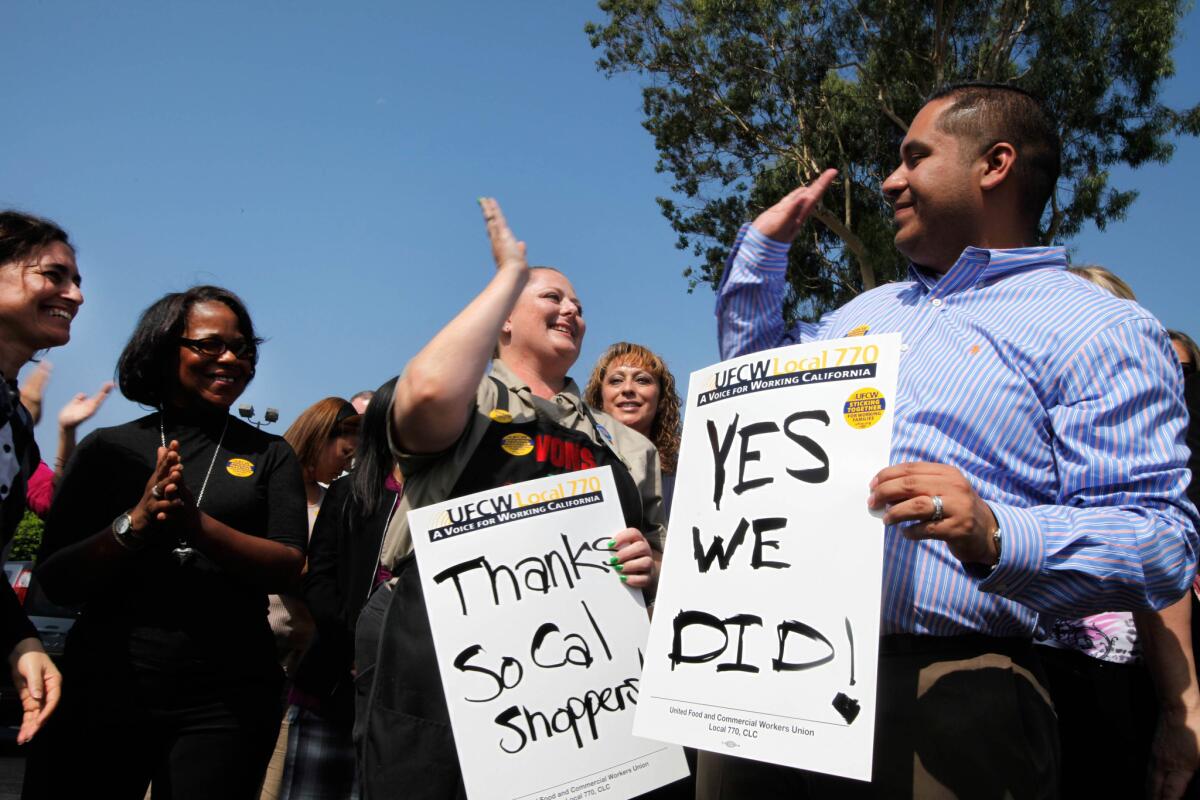 Reporting from Sacramento —
Supermarket workers' wages have fallen by nearly 25% since 1999, even after being adjusted for inflation, a labor union said Monday as it released a new study it commissioned with University of California academics.
The decline came despite a steady 2% annual growth in the grocery business over the same period in California, according to the report released by the United Food and Commercial Workers Union in a conference call Monday morning.
------------
FOR THE RECORD
An earlier version of this post said the recently ratified labor contract with the grocery chains Vons, Ralphs and Albertsons pays the lowest-paid employees $9.18 an hour. It pays them $9.20 an hour.
------------
Most alarming, the report said, is that many low-paid grocery workers don't have access to enough nutritious food and are forced to turn to public assistance.
Some of the reduction in pay can be linked to the growth of so-called superstores such as Wal-Mart and Target that sell general merchandise and groceries, said Saru Jayaraman, a researcher at the UC Berkeley Food Labor Research Center. Highly competitive marketing by such stores has spurred unionized grocers to pursue lower labor costs, she said.
"The grocery industry was once seen as a reliable source for middle-class jobs in this state — workers could buy a house, put their kids through college, retire with a comfortable income," said Jim Araby, the union's executive director for its Western States Council. "That these things are no longer possible, and low-wage workers are being squeezed to the point of seeking out public assistance even as their employers grow richer, points to a broader problem in our state."
The California Grocers Assn., a trade group, did not immediately respond to requests for comment on the UC report.
But conditions could be worse, Araby stressed. More than nine in 10 unionized grocery workers in California still get company-provided healthcare and pension benefits, which are worth about $6 to $7 per hour, per employee, he said.
What's more, the recently ratified labor contract with the grocery chains Vons, Ralphs and Albertsons helps the lowest-paid employees by paying them $9.18 an hour. The state's minimum wage, $8 an hour, is slated to go up to $9 an hour July 1 and $10 an hour Jan. 1, 2016.
"It was a very good contract settlement for both sides," Araby said.
The results of the study will be used to buttress a union lobbying campaign for two bills currently before the state Legislature, Araby said. AB 1792 by Assemblyman Jimmy Gomez (D-Echo Park) would require large employers to make public information about the number of employees that receive public assistance, such as Medi-Cal or food stamps.
SB 935 by Sen. Mark Leno (D-San Francisco) would raise the minimum wage in California to $13 an hour in 2017 and automatically index future hikes to the cost of living.