Target is buying a company that facilitates quick local deliveries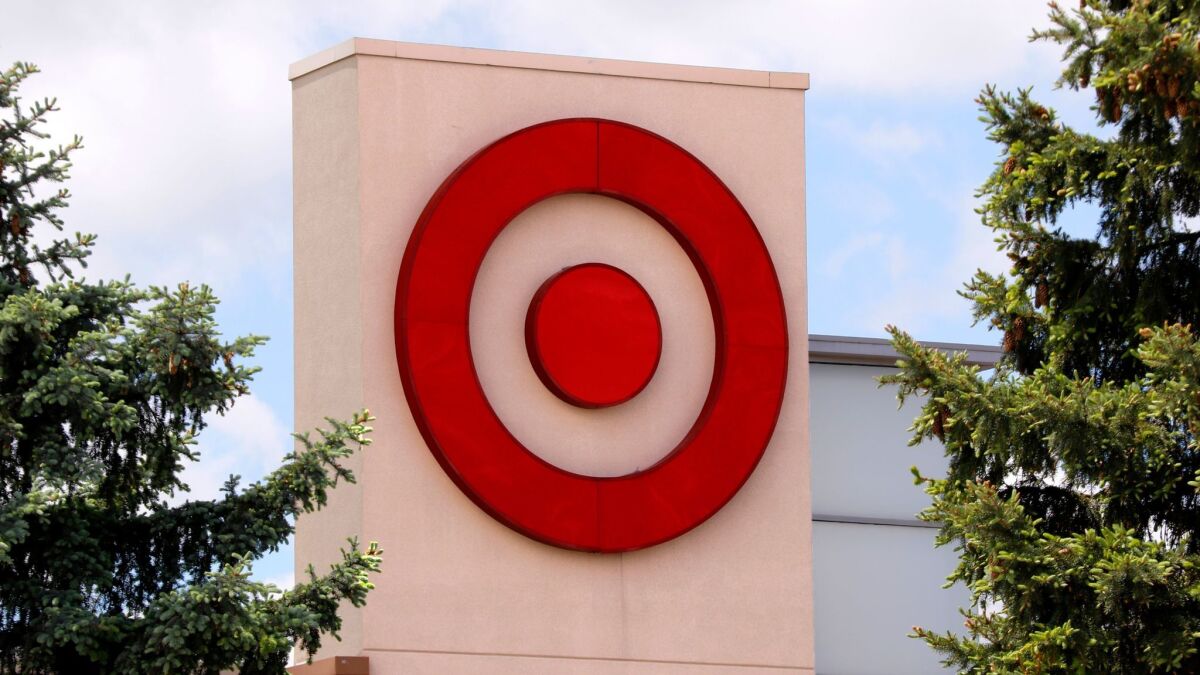 Target Corp. — increasingly aware that shoppers want the things they buy online to arrive right away — is acquiring a San Francisco transportation technology company that facilitates same-day deliveries.
The discount retailer announced Monday that it has agreed to acquire tech start-up Grand Junction, whose software manages local deliveries using a network of about 700 carriers.
"We'll leverage Grand Junction's platform … to become even faster and more efficient in how we get products to our guests," Arthur Valdez, Target's chief supply chain and logistics officer, said in a statement.
Target declined to reveal financial details of the acquisition. It said the deal would close soon, but it did not specify when.
Grand Junction's 13 employees will become Target workers after the deal closes, Target said. The start-up's office is expected to move from San Francisco's financial district to be closer to Target's Silicon Valley headquarters in Sunnyvale. Its founder and chief executive, Rob Howard, is to become Target's vice president of technology.
Target has been working with Grand Junction on a same-day delivery pilot program at a store in New York City's Tribeca neighborhood. Target said same-day deliveries will be expanded to other New York stores in the fall and to other major cities next year.
Minneapolis-based Target was already exploring ways to shorten the time between when customers place an order and when they receive their purchases. In June, Target announced a pilot program in the Minneapolis area to deliver essential household goods such as pet food and laundry detergent within one business day. In 2015, it partnered with Instacart for same-day grocery deliveries. That followed a 2014 pilot program that offered a same-day Rush Delivery option.
Instacart still does deliveries for Target in San Francisco, Chicago and Minneapolis as part of a test program, Target spokesman Eddie Baeb said. He said the planned acquisition of Grand Junction would not change Target's deal with Instacart.
The appetite for quick deliveries is growing. Consulting firm McKinsey & Co. expects same-day and instant deliveries to make up 20% to 25% of standard parcel revenue by 2025, according to the company's 's 2016 report. McKinsey also surveyed people in the U.S., China and Germany and found that 25% were willing to pay higher prices for same-day or instant delivery.
"There's clearly an arms race going on from the mass merchants, recognizing that getting everyday essentials in the hands of customers is critical," UBS Group retail analyst Michael Lasser said in a note.
E-commerce giant Amazon.com Inc. offers same-day delivery and even two-hour delivery in some locations. Retail rival Wal-Mart Stores Inc. has been scrambling to offer speedy options. In June, it announced it was testing a program in which store employees can deliver packages while driving home from work.
Our six-week newsletter will help you make the right decision for you and your property.
You may occasionally receive promotional content from the Los Angeles Times.