Consumers are already seeing price hikes from the last round of Trump's tariffs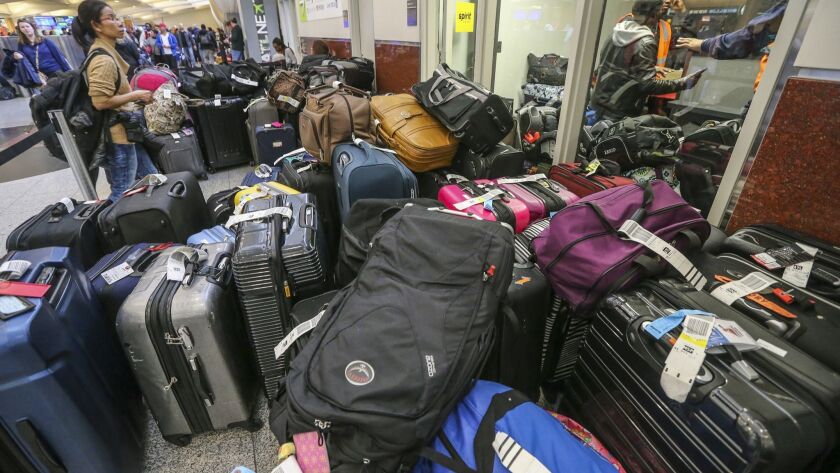 President Trump has repeatedly proclaimed that when it comes to tariffs on Chinese goods, China pays the price.
But it's U.S. consumers who actually pay, if export and import firms and manufacturers choose to pass along the cost. And trade groups and economic studies show that U.S. consumers already are seeing higher prices on a range of items — luggage and major appliances such as washing machines, for instance — that were subject to previous tit-for-tat tariffs in the U.S.' escalating trade battle with China or retaliatory tariffs from other foreign countries.
With the Trump administration's tariff increase from 10% to 25% on $200 billion in Chinese goods announced Friday, prices could rise on other goods as well. China retaliated Monday with tariffs ranging from 5% to 25% on $60 billion of U.S. goods.
RELATED: As trade war escalates, Chinese remember 'national humiliation' »
The tariffs so far appear to have had a modest impact on overall inflation. The U.S. consumer price index for the 12 months that ended in April, excluding the volatile food and energy sectors, rose 2.1%, according to the Bureau of Labor Statistics. That was little changed from the prior four months, when the CPI showed trailing 12-month increases of 2.0% to 2.2%.
However, Goldman Sachs analysts said in a report that when they grouped together nine of the CPI product categories affected by the tariffs so far, including laundry and other appliances, furniture and auto parts, it showed those consumer prices increased "much more" than other core goods prices in the CPI.
When the additional tariff costs consumers paid in the latter part of last year are annualized, the cost per household is about $419, said David Weinstein, a professor of economics at Columbia University who coauthored a working paper released by London's Centre for Economic Policy Research on the effect of the Trump administration's 2018 trade policy on U.S. prices.
Escalating U.S.-China trade war roils markets as Trump promises aid to farmers »
If the additional tariffs announced by the Trump administration last week are implemented and stay in place for a year, that annualized consumer cost is likely to double, Weinstein said.
"When tariffs get really high, exporters stop supplying product and the tariff stops producing any revenue," he said.
Here are some of the items for which prices have already risen or are expected to increase.
Housing
The tariffs to date also have hit the home-building industry, and already have added $1 billion to the costs of U.S. housing construction, according to the National Assn. of Home Builders. That could jump to $2.5 billion with the latest hike in tariffs by the Trump administration, the trade group said.
Materials affected by the U.S. tariffs on Chinese imports so far include granite, cement, vinyl floor coverings, waferboard, ceramic tiles and stainless steel, the builders group said.
It's not clear how much of those added costs builders actually passed along to new-home buyers in various markets. Those prices are heavily influenced by the supply and demand for housing in a given location, along with mortgage interest rates.
Robert Dietz, the group's chief economist, predicted in an email that the rising materials costs "will be borne by home buyers, renters and remodeling homeowners" in the form of higher prices.
Luggage
About 82% of the luggage sold in the U.S. is imported from China, and luggage was among the items that came under the initial 10% tariff last September, according to the Travel Goods Assn., a trade group whose members include luggage companies.
After the initial tariff was announced, "a lot of retailers rushed in ahead of the holidays with orders and for the most part were able to hold the line on prices through the holiday season," said Nate Herman, director of government relations for the trade group.
But since the start of this year, retail prices for luggage have climbed 5% to 10%, he said. And they are likely to jump an additional 10% to 15% if the new 25% tariff on Chinese imports remains in place, he said.
EDITORIAL: Trump's tit-for-tat trade war with China escalates again »
The same is true with backpacks, which already have risen about 5% at the retail level this year and could climb an additional 10% to 15%, Herman said.
While major merchandisers such as Walmart account for about half of U.S. luggage sales, the other half is sold by smaller chains and specialty retailers that "don't have the capacity to eat the additional costs" of the tariffs and hold prices steady, Herman said.
Walmart Inc., the nation's largest retailer, declined to comment on whether it has raised prices for any goods imported from China. Target Corp. and Best Buy did not respond to a request for comment.
Major appliances
After the Trump administration announced tariffs in January 2018 on imported large washing machines, the CPI of major appliances increased by about 10%, according to the Centre for Economic Policy Research working paper.
That change came despite the fact that the appliances price index had been steadily declining since 2013, according to the paper. After the tariff announcement, the index started to rapidly climb.
The median price for a washing machine before the tariff announcement was $749, according to a paper released in April and coauthored by researchers from the Federal Research Board, University of Chicago and the National Bureau of Economic Research. The tariffs added $86 to that, the paper said.
The washing-machine tariffs — which are set for three years and were sought by Benton Harbor, Mich., appliance maker Whirlpool Corp. — are aimed at Korean manufacturers Samsung and LG, which have increased their U.S. market shares in recent years.
Other industries
The Trump administration's move to increase tariffs from 10% to 25% on some $200 billion in Chinese goods could raise consumer prices in other sectors, including toys, computers, electronics and furniture, analysts and industry trade groups said.
Chinese products, parts or materials account for about 33% of the computers and electronics sector, and about 28% to 30% of electrical equipment, said John Mothersole, director within the pricing and purchasing service at market research firm IHS Markit.
"You're talking about a significant tariff … on a significant portion of the U.S. market," he said. "The supposition is you're going to start seeing the pain being felt … in these areas first."
The Toy Assn. trade group said it was "very concerned" about discussion Friday that the U.S. could levy tariffs on the remainder of the Chinese goods that enter the U.S. market, about $300 billion worth. Although traditional toys have not yet been subject to the current tariffs, that could change if these threats become policy, said Rebecca Mond, the trade group's vice president of federal government affairs.
"That is when we would see consumer prices be impacted for toys, and that could happen as soon as this holiday season," she said.
---
Must-read stories from the L.A. Times
Get the day's top news with our Today's Headlines newsletter, sent every weekday morning.
You may occasionally receive promotional content from the Los Angeles Times.