Tesla's Model 3 sedan is pulling in buyers who previously owned Accords and Priuses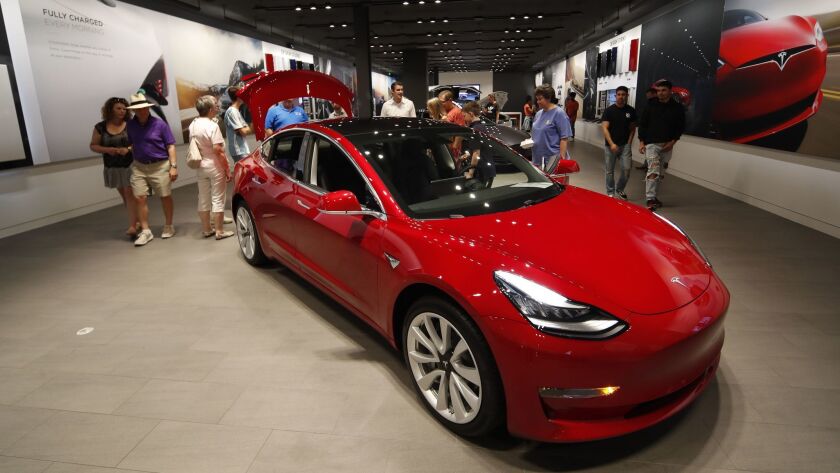 Bloomberg
For Earl Banning, getting behind the wheel of a Tesla meant spending more than he ever had on a car.
The 43-year-old Air Force neuropsychologist from Dayton, Ohio, ponied up $54,000 for a Model 3, figuring he would save on gas and keep the car for a long time. It was almost double what he had previously paid for a fully loaded Honda Accord.
"I call it the Tesla Stretch — everyone I've met who owns a Model 3 is willing to spend more to get into a Model 3," he said.
When Chief Executive Officer Elon Musk first revealed the Model 3 at a late-night party in March 2016, the vehicle was expected to compete in the premium sedan market against the likes of Audi, BMW, Lexus and Mercedes. Instead, owners of mass market cars such as the Honda Accord and Toyota Prius are opening their wallets for the sedan, signaling that the vehicle is pushing Tesla beyond its luxury niche and more into the mainstream.
The Model 3 is the key to Musk's goal of bringing profitability to the 15-year-old company, which has struggled with production issues and self-inflicted controversies. The car is particularly popular with younger buyers, and Musk has pointed to the fact that customers are paying up for it as evidence that the Tesla brand still has strong pull with consumers.
"Tesla has captured lightning in a bottle," said Jeremy Acevedo, manager of industry analysis at researcher Edmunds, in a phone interview. "It's hard to even benchmark the Model 3 against other cars because it's broken the mold in so many ways."
Tesla recently said that more than half the trade-ins for the Model 3 were from vehicles priced below $35,000. And there are signs that the sedan's popularity is adding to pressure on rival carmakers who already are reeling from Americans' move toward trucks and sport utility vehicles. In October, sales of cars such as the Accord and Prius continued to slip as deliveries of the Model 3 ramped up. Banning, the Air Force psychologist, got $16,000 from Tesla to trade in his Prius, an offer that was slightly above the Kelley Blue Book value.
The cheapest Model 3 available right now starts at $46,000 before any tax credits, and features like the $5,000 "Enhanced Autopilot" can drive up the cost.
For Eric Snapat, a 36-year-old from Burleson, Texas, it was "a little scary" to spend almost $60,000 on a Tesla. He used to drive a Nissan Altima, but is now carrying a six-year loan on a Model 3, an expense he says he can justify because he and his wife don't have kids.
Other drivers are finding ways to offset the cost. Turo, a car-sharing marketplace, has more than 4,000 Tesla vehicles, including roughly 1,000 Model 3s, listed on the platform. In 2014, there were just 67 Teslas offered.
Robert Preston, 26, bought a Model 3 in late July for $56,000 and charges renters $155 a day to use the vehicle. It's popular with city residents going on road trips, travelers and potential customers who want an extended test drive.
"Every weekend I have someone renting it," Preston said.
From the outset, the Model 3 was supposed to be more affordable. Musk originally said it would cost $35,000 before options or incentives. But that version is not expected to enter production until next year, and the polarizing chief executive has made it clear that Tesla has to focus on selling higher-end versions first for the company to survive.
"I think they will still make a $35,000 version, but they'll configure it in such a way that no one will want it," said Gene Munster, an analyst at Loup Ventures.
There are also questions about whether the demand for the car will be as strong once a federal tax credit for electric vehicles is cut in half next year to $3,750.
Still, some potential customers are holding out hope for the cheaper model. Ray Nash got up at 2:30 a.m. to be among the first in line to place a reservation for a Model 3 at Tesla's store in Santa Monica. That was back in March 2016, and he's still waiting.
"I'm holding onto Elon's promise," Nash said. "It's really bittersweet seeing all the Model 3s driving around town when I was one of the first to place a deposit. But I still love what the company is doing, and I fully support the mission."
---
Your guide to our new economic reality.
Get our free business newsletter for insights and tips for getting by.
You may occasionally receive promotional content from the Los Angeles Times.