Regulators probe reports of Tesla Model S suspension problems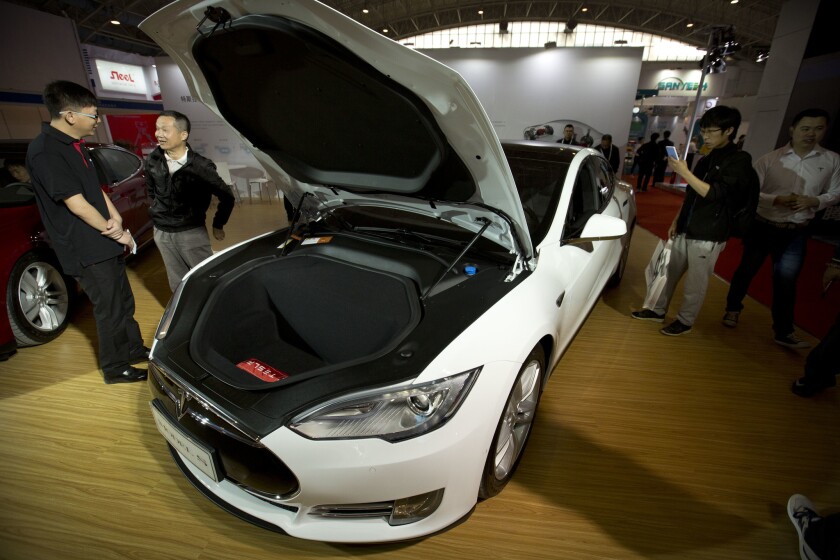 U.S. auto safety regulators said Thursday that they're reviewing possible suspension problems with Tesla Motors Inc.'s mainstay electric car, the Model S.
Bryan Thomas, a spokesman for the National Highway Traffic Safety Administration, said in a statement that the agency was "examining a potential suspension issue on the Tesla Model S, and is seeking additional information from vehicle owners and the company."
The agency also expressed concern that the company has been asking customers who experienced problems to sign agreements limiting what they might tell federal officials.
Thomas and other highway safety officials were not immediately available to elaborate on what the problems entailed. Tesla did not immediately respond to a request for comment.
Palo Alto-based Tesla began deliveries of the four-door Model S sedan, which can cost $100,000 or more, four years ago. The Model S accounted for most of the 50,580 vehicles that Tesla delivered last year.
The NHTSA's review is a step before the agency decides whether to open a formal investigation that might lead to a safety recall.
While it's unclear how serious the problem might be, any indication of a safety issue could slow Tesla's momentum, said David Whiston, who follows Tesla for the investment research firm Morningstar Inc.
"That could be very damaging," Whiston said. "Tesla has to be very concerned about their image because they're a young company and they're trying to attract people to a new type of vehicle."
Tesla's stock retreated in late trading after the report surfaced, and the stock finished at $229.36 a share, down $6.16, or 2.6%, for the day.
One concerned owner is Peter Cordaro, 61, of Connellsville, Pa., who has a 2013 Model S.
Cordaro said Thursday that he was driving on a bumpy back road last month when he heard a snap and felt his steering wheel pull to the left. When he inspected the car, he saw that the left front hub assembly had separated from the upper control arm.
Further inspection showed the right side also was worn out and had to be replaced. There were about 70,000 miles on the car at the time. Cordaro said he sent the parts to NHTSA and was waiting for the results of what was wrong.
"In my own opinion, it's not normal," Cordaro said. "I believe it's a public safety issue."
However, Cardaro said he continues to drive his now-repaired car. He said he does not intend on going back to a vehicle with an internal combustion engine and was satisfied with the way the repair was handled.
"The only thing I wasn't satisfied with is that they have indicated to me that this is normal wear and tear," Cordaro said. "It's not normal for a ball to come out of its socket."
Cordaro said Tesla made him sign a "goodwill agreement," but he could not speak about the terms.
The NHTSA, in its statement, indicated that some owners had been asked to sign nondisclosure agreements about their concerns, which the agency called "troublesome."
"The agency immediately informed Tesla that any language implying that consumers should not contact the agency regarding safety concerns is unacceptable, and NHTSA expects Tesla to eliminate any such language," the NHTSA said.
"Tesla representatives told NHTSA that it was not their intention to dissuade consumers from contacting the agency," the NHTSA said.
james.peltz@latimes.com
samantha.masunaga@latimes.com
---
UPDATES:
3:08 p.m. – This article was updated with comments from a Tesla investment analyst, a Tesla Model S owner and with additional comments from the NHTSA statement.
2:08 p.m. – This article was updated with the NHTSA confirming its investigation.
This article was originally published at 1:58 p.m.
---
Your guide to our new economic reality.
Get our free business newsletter for insights and tips for getting by.
You may occasionally receive promotional content from the Los Angeles Times.