Businesses can't make workers share tips, appeals court rules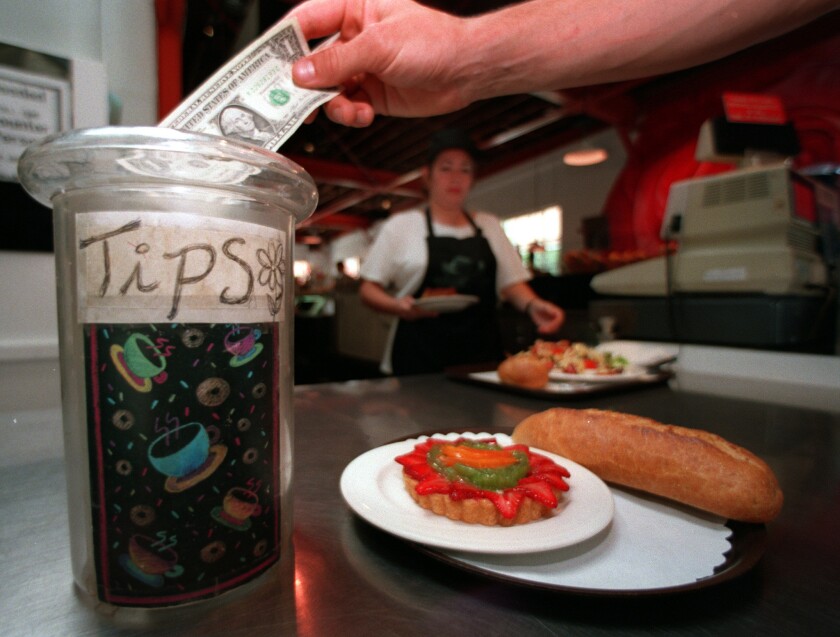 A court ruling is pushing California restaurant owners to rethink how to pay employees.
The 2-1 decision from the 9th Circuit Court of Appeals bars businesses from sharing tips given to waiters, bartenders and other staff with back-of-house employees such as dishwashers and cooks. It applies mostly to states such as California where workers are paid the minimum wage on top of any tips.
In the Golden State, the ruling may not have an immediate impact, experts said. Most restaurants don't share tips with kitchen staff because it's a legal gray area in the state, said Jot Condie, chief executive of the California Restaurant Assn.
But the court's decision, released Tuesday, is feeding the discussion over how restaurants and other service businesses, such as Las Vegas casinos, should compensate employees, experts said. Such businesses already are dealing with higher minimum wages in many cities and the added costs of the Affordable Care Act.
"It's probably on the front of every restaurateur's mind," Condie said. "Wages have gone up so fast."
The 9th Circuit decision upheld a 2011 U.S. Department of Labor rule, which the court said was consistent with Congress' intent that tips stay with the employees who receive them.
Some restaurants have tried creative pay solutions.
Restaurant owner Danny Meyer is in the process of eliminating all tipping at his pricey New York dining spots, including the Modern and Maialino. Instead, he's opting to significantly raise prices and hike wages for his employees.
In Los Angeles, more than a dozen high-end eateries made a splash in 2014 by introducing a 3% surcharge to pay for employee medical insurance. They were adopting a practice already popular at San Francisco restaurants after the city implemented a healthcare mandate in 2008.
Josh Loeb, co-owner of popular dining spots including Rustic Canyon and Milo & Olive, said more than 200 employees in Southern California now have medical insurance paid for by the healthcare surcharge.
The decision to adopt a surcharge was motivated in part by the pay inequality between employees serving customers and those in the kitchen such as dishwashers and line cooks, Loeb said. Because California restaurants typically don't share tips with the support staff, front-of-the-house employees make several times more than the kitchen staff, he said.
"It's a real slap in the face of equal compensation for the entire staff," Loeb said.
Some, like Los Angeles restaurateur Bill Chait, think that an all-inclusive service fee is the way forward.
Chait said he decided to go with a flat 18% service fee at downtown L.A.'s Otium when it opened last year next to the Broad museum.
Tipping is "an outdated model that doesn't work," said Chait, who no longer is managing partner of Otium. "It's headed the way of the dodo bird."
Instead, he said, the court ruling merely "reinforces the fact that the service charge is the way to go." With a service charge, restaurant owners can distribute pay more equally among workers and also pay for their healthcare, Chait said.
Adding to the confusion, some restaurant owners said, is that some cities are starting to regulate service fees and surcharges as well.
Santa Monica, for example, passed an ordinance requiring service charges to be treated like tips. The city is also considering putting a cap on surcharges.
Loeb, whose restaurants are located in Santa Monica, said such actions limit the options for owners.
With the ruling so fresh, Condie said he's not sure whether it extends beyond traditional tips.
"At this point most restaurants are trying to understand what does that ruling mean," he said.
Reuel Schiller, a UC Hastings professor specializing in employment law, said the ruling merely clarifies that tips are never the property of the business owner, even if he or she has the best of intentions.
"It doesn't matter if he takes it himself and flies to the Caribbean, or gives it to the dishwashers," Schiller said. "It's not his money to give."
The 9th Circuit ruling, which overturned district courts in Nevada and Oregon, would apply to seven states where employees receive the state minimum wage in addition to tips. In addition to California, the states are Alaska, Minnesota, Montana, Nevada, Oregon and Washington.
The lawsuits involved in the ruling were brought on behalf of restaurant and lodging associations in Washington, Oregon and Alaska and by two casino dealers against Wynn Las Vegas. The restaurant and lodging groups sued so that back-of-the-house staff could share tips; the dealers said Wynn was taking their tips to share with other workers.
shan.li@latimes.com
Twitter: @ByShanLi
---
For reporting and exclusive analysis from bureau chief John Myers, get our California Politics newsletter.
You may occasionally receive promotional content from the Los Angeles Times.