Ellen Pao resigns as interim CEO of Reddit after week of intense criticism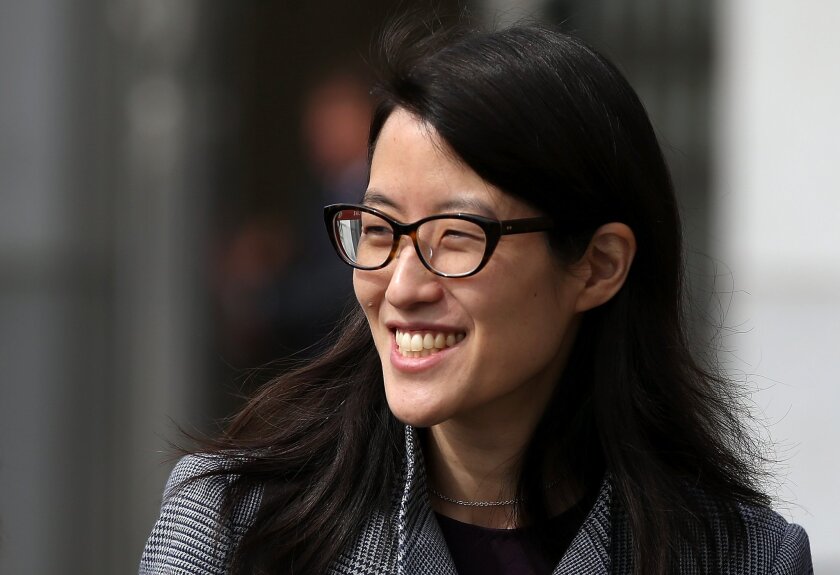 Ellen Pao, one of the most controversial figures in Silicon Valley, has resigned as Reddit's interim chief executive, a week after the firing of a popular employee led to widespread vitriol against her on the online message board.
Pao, 45, announced her decision to step down in a post published to Reddit on Friday afternoon. She blamed her departure on a disagreement with the site's board of directors, not the mounting criticism she'd faced from users and moderators.
"So why am I leaving? Ultimately, the board asked me to demonstrate higher user growth in the next six months than I believe I can deliver while maintaining Reddit's core principles," Pao wrote.
But the ouster was seen as a swift and sweeping victory for the close-knit community of Redditors, who quickly took to the online community to express their glee at forcing such a big decision at the San Francisco company.
"This may have been more controversy than Reddit could stomach," said Mike Vorhaus, president of Magid Advisors, a strategy consulting firm. "They decided they had to end the story. Reddit didn't want to be in the press anymore. So how do you end the story? You give Ms. Pao what I'm sure is a very good settlement and you say goodbye."
Pao joined Reddit two years ago and had served as interim CEO since November.
Steve Huffman, a Reddit co-founder and its original CEO, will regain the top spot at the company, board member Sam Altman said in a statement. He added that Pao would remain an advisor to the board through the end of the year.
"We are thankful for Ellen's many contributions to Reddit and the technology industry generally," he said. "She brought focus to chaos, recruited a world-class team of executives, and drove growth. She brought a face to Reddit that changed perceptions, and is a pioneer for women in the tech industry."
Pao, who recently lost a high-profile gender discrimination suit against a prominent Silicon Valley venture capital firm, had been lambasted by users who accused her of bringing an era of censorship to Reddit, a famously open forum.
With more than 36 million user accounts and nearly 164 million monthly unique visitors, Reddit — which brings in revenue by selling ads and premium memberships — calls itself the front page of the Internet. It's become the go-to forum for people to share and discuss news events, politics, animal photos, GIFs and other snippets. It was founded a decade ago in a small rented apartment in Medford, Mass.
Reddit rarely policed its users for vitriolic or obscene behavior before Pao came aboard. But in recent months, she banned the posting of "revenge porn" — when spurned exes post private nude photos of their former partners online — and shut down forums dedicated to insulting certain races or sexual orientations.
An online petition calling for Pao's resignation had reached about 213,000 signatures by Friday afternoon.
"A vast majority of the Reddit community believes that Pao, 'a manipulative individual who will sue her way to the top,' has overstepped her boundaries and fears that she will run Reddit into the ground," the petition read. "Alternative sites to Reddit.com have sprung up and have received vast amounts of traffic within the recent months."
The criticism reached a tipping point last week after Victoria Taylor, the site's talent director and an administrator who oversaw the immensely popular Ask Me Anything subreddit, was fired.
Furious that they were not notified of the decision ahead of time, Reddit moderators staged an open revolt on the site, blocking the public from accessing many of the site's most popular subreddits, or forums dedicated to a specific topic. That paralyzed some of Reddit's most popular content for more than a day. At least 1,400 subreddits, including Ask Me Anything, were made private during the short protest.
It remains unclear why Taylor was fired. Pao spokeswoman Heather Wilson would not say whether last week's incident had anything to do with Pao's decision to step down.
But Pao addressed the furor head-on Monday, posting an apology on Reddit in which she acknowledged a "long history of mistakes."
"We screwed up. Not just on July 2, but also over the past several years," she wrote. "We haven't communicated well, and we have surprised moderators and the community with big changes. We have apologized and made promises to you, the moderators and the community, over many years, but time and again, we haven't delivered on them."
Bernice Ledbetter, a faculty member at the Pepperdine University Graziadio School of Business and Management, said Pao's admission that firing Taylor was a mistake didn't help her cause.
"You can take responsibility for it, but to say 'We screwed up' is not appropriate either," Ledbetter said. "I feel like she's a pinball in a machine, bouncing back and forth without a clear sense of direction."
Pao has long been a controversial figure in Silicon Valley.
Her high-profile gender discrimination lawsuit against Kleiner Perkins Caufield & Byers resulted in a March victory for the powerful venture capital firm after a civil jury found that Pao's former employer did not discriminate against her because of her gender and did not retaliate when she protested her treatment.
The five-week trial in San Francisco captivated the tech world and highlighted many of the gender-bias issues facing women in the heavily male industry. But Pao emerged as an unlikable figure, one who was characterized as petty, bitter and not a team player. A judge recently ordered her to pay $276,000 in legal fees to Kleiner Perkins.
Vorhaus said Pao's baggage from the Kleiner Perkins lawsuit didn't help. Without it, she may have been given a second chance, but it plunged her into the spotlight.
"It's really hard to run a community like Reddit," he said. "It's like being the mayor of a town of 1,000 people where everyone comes to the town hall meetings. You're under more of a microscope when you're the CEO of a community-based site."
Altman, the board member, echoed those sentiments in his statement, saying it was "sickening to see some of the things Redditors wrote about Ellen."
"The reduction in compassion that happens when we're all behind computer screens is not good for the world," he said. "People are still people even if there is Internet between you."
andrea.chang@latimes.com
Twitter: @byandreachang
tracey.lien@latimes.com
Twitter: @traceylien
Chang reported from Los Angeles and Lien from San Francisco. Times staff writer James Queally contributed to this report.
---
Your guide to our clean energy future
Get our Boiling Point newsletter for the latest on the power sector, water wars and more — and what they mean for California.
You may occasionally receive promotional content from the Los Angeles Times.