To please users and halt fake news, Facebook makes it harder for real news outlets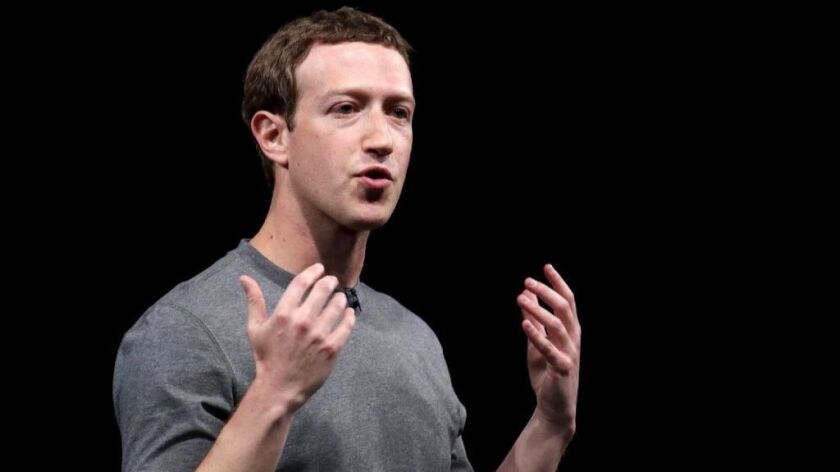 With more than 2 billion users, Facebook for years gave media outlets a shot at a vast audience that could help offset declining circulations.
But after a year in which the spread of fake news, Russian interference and divisive politics sullied Facebook's reputation and user experience, efforts to deliver media content over the platform may have felt like more trouble than they were worth.

For the record:
8:15 a.m. Jan. 12, 2018An earlier version of this article included a quote provided by the Financial Times that was incorrectly attributed to the company's chief commercial officer, Jon Slade.
On Thursday, Facebook said it would change its News Feed algorithm to prioritize posts from friends and family that spark the most interaction over posts from brands and publishers.
The company said the move was aimed at improving users' well-being, even at the cost of diminished advertising revenue. The change will also help distance the company from the pitfalls of politically charged content that has saddled the platform since the 2016 presidential campaign.
In a post Thursday, Facebook Chief Executive Mark Zuckerberg said the changes were spurred by research that showed people had a more positive response to social media when interacting with people they cared about.
"We can feel more connected and less lonely, and that correlates with long term measures of happiness and health. On the other hand, passively reading articles or watching videos — even if they're entertaining or informative — may not be as good," Zuckerberg said.
The change will benefit Facebook's long-term prospects, analysts say, but it will almost immediately harm news publishers that increasingly turned to the social network for distribution.
What it means for publishers
With circulations dwindling, publishers flocked to Facebook in recent years as an imperfect alternative to reach a wider audience that had grown more reliant than ever on the social network to remain informed.
Publishers often did this begrudgingly, knowing that they were delivering free content to Facebook in hopes visitors would click it, bringing traffic to their own websites.
Now with Facebook returning to its roots by prioritizing the baby pictures and rants of relatives so common before, publishers will have an even harder time reaching audiences.
"These businesses are hugely vulnerable to the whims of a third party, and that's not a position any business wants to find itself in," said Richard Broughton, research director of research firm Ampere Analysis.
There are various reports that some 25% of news publication referrals come from Facebook, a sign that publishers need Facebook more than Facebook needs publishers. And while publishers' decisions seem to have little effect on the social network and its ability to generate billions in revenue, Facebook has the ability to make or break certain publications.
Digital media publishers have been burned before by changes to Facebook's newsfeed algorithm. In late 2014, the social network tweaked its algorithm to focus on "high-quality" content. Shortly after the change, viral news site Upworthy, best known for its "You won't believe what happened next" headlines that spread like wildfire on Facebook, saw its traffic plummet from 90 million in November to 48 million the following January — a drop of 46% in two months.
To safeguard against this kind of volatility, an increasing number of publishers have tried to wean themselves off advertising dollars by building branded content arms or a strong base of paid subscribers. Few have been successful, though, and the subscription model is unlikely to work for everyone.
Major news organizations and specialized publications have the ability to court loyal customers. Some medium-sized companies might be able to band together, like some broadcasters in Europe have, to collectively sell advertising. But it will be a challenge for anyone going at it on their own, analysts say.
"It's the sites in the middle… they're the ones that are really stuck," Broughton said.
What it means for Facebook
Facebook's advertising revenue will take a hit from the changes to the News Feed, but analysts say it will help de-clutter the platform and give users a more positive experience. The company's shares fell 4.4% Friday to $179.37.
"We believe these changes will be beneficial to Facebook in the medium and long term," said Mark Mahaney, an analyst for RBC Capital Markets. "In our view, making the feed more relevant should boost user and engagement growth over time. Facebook is making the service more social and less media, and that's likely a positive for the vast majority of users."
Mahaney said a recent survey his investment bank conducted showed 11% of Facebook users were extremely satisfied with the platform, down from 15% a year ago.
De-emphasizing news could also allow Facebook to withdraw from the controversies that saddled the company the past year — which included widespread criticism that the company did not do enough to mitigate hoaxes, propaganda and content planted by Russian operatives aimed at dividing the American public.
Change was needed before Facebook becomes irrevocably associated with things like fake news, experts said (though making it even harder for news organizations to reach audiences won't do anything to amend charges Facebook is contributing to the decline of journalism).
By prioritizing posts from friends and family people are more inclined to respond to, Facebook believes it can deliver a more meaningful experience to its users.
"At its best, Facebook has always been about personal connections. By focusing on bringing people closer together — whether it's with family and friends, or around important moments in the world — we can help make sure that Facebook is time well spent," Zuckerberg said.
The changes doesn't mean news articles will disappear from Facebook. But in order for them to be seen in News Feeds, they have to be posted by friends and family and represent content Facebook's algorithm believes a user will engage with.
And depending on a person's network of friends and family, that potentially ensures users remain in ideological silos — one of the chief criticisms about Facebook's social impact in recent years.
"I wish that Facebook would not just connect us with the people we know and agree with  —  our social filter bubbles  —  but also would devote effort to making strangers less strange, to robbing the demagogues and hate mongers of their favorite weapon: the Other," Jeff Jarvis, a professor at City University of New York's Graduate School of Journalism, wrote in a blog post.
Follow me @dhpierson on Twitter
---
UPDATES:
3:25 p.m.: This article was rewritten to analyze what Facebook's shifts to its news feed will mean for the company and for publishers.
11:18 a.m.: This article was updated with new information.
7:05 a.m.: This article was updated with Facebook's stock price in early Friday trading.
This article was originally published at 7 a.m.
---
Be your money's boss! Learn how to make a budget and take control of your finances with this eight-week newsletter course.
You may occasionally receive promotional content from the Los Angeles Times.