Elon Musk backs #DeleteFacebook, and Tesla's and SpaceX's Facebook pages vanish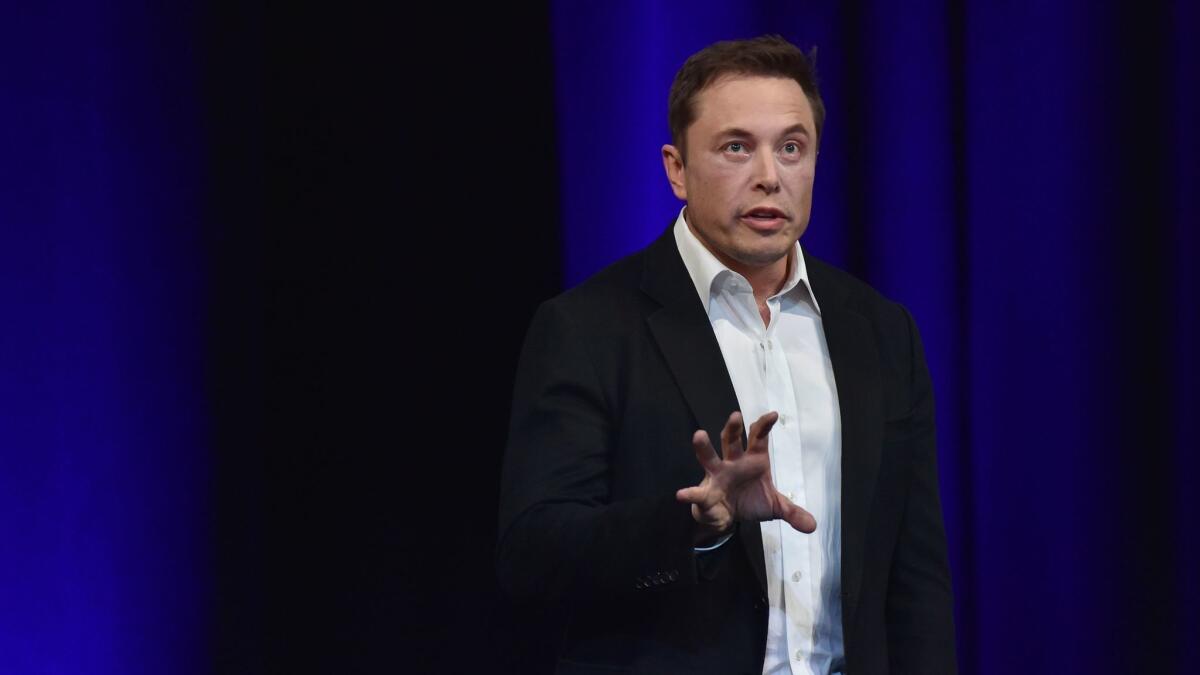 SpaceX and Tesla Chief Executive Elon Musk became the latest high-profile supporter of the call to #DeleteFacebook on Friday morning, and the Facebook pages of his two most prominent companies quickly disappeared.
The move could signal new problems for a social media giant battered by the widening Cambridge Analytica controversy, with calls now for its chief executive, Mark Zuckerberg, to testify in front of Congress about the alleged misappropriation of user data.
Musk's pledge to delete the SpaceX and Tesla Facebook pages came after WhatsApp co-founder Brian Acton — who sold his messaging service to Facebook for $21.8 billion in 2014 — encouraged users Tuesday to shut down their accounts.
"It is time. #deletefacebook," Acton wrote.
Musk responded Friday to Acton's tweet by asking: "What's Facebook?"
A Twitter user then urged Musk to delete SpaceX's Facebook page "if you're the man."
"I didn't realize there was one," Musk responded. "Will do."
As of Friday afternoon, the Facebook pages of SpaceX and Tesla pages remained inaccessible. SpaceX also removed a link to its Facebook account from its website, leaving only links to its Twitter, YouTube, Flickr and Instagram accounts.
Instagram accounts for Musk, SpaceX and Tesla have so far survived the purge. Instagram was acquired by Facebook in 2012. Musk tweeted Friday that Instagram was "probably ok" as long as it "stays fairly independent."
"I don't use FB [Facebook] & never have, so don't think I'm some kind of martyr or my companies are taking a huge blow," he tweeted. "Also, we don't advertise or pay for endorsements, so … don't care."
In an interview with the New York Times on Wednesday, Zuckerberg acknowledged the #DeleteFacebook hashtag but said he hadn't seen a "meaningful number" of users delete their accounts just yet.
That could change with prominent Twitter users such as Musk and the singer Cher, who said earlier this week that she had deleted her Facebook account — a move that was "very hard" because the social media firm had helped her with her charity, she tweeted.
With his 20.5 million Twitter followers, Musk has standing as an "opinion leader," said Karen North, professor of digital social media at USC's Annenberg School for Communication and Journalism, meaning he could influence others to deactivate their accounts as well.
The call for users to scrap their Facebook accounts echoes last year's #DeleteUber campaign, which took off after the ride-hailing firm advertised that it would offer service free of surge pricing at New York's John F. Kennedy International Airport during a taxi strike protesting President Trump's travel ban.
Angry customers interpreted Uber's move as a bid to undermine the protest. The New York Times reported that more than 200,000 customers wound up deleting their Uber accounts.
However, the implications of deleting an Uber account, compared with a Facebook account, are very different, said Kelli Matthews, senior instructor in the University of Oregon's school of journalism and communication. She said most of the conversations she's seen recently about Facebook have focused on digital literacy and understanding how personal data is being used.
"If you delete it, for a lot of people, that's cutting off a considerable communication channel," Matthews said.
Still, Zuckerberg has acknowledged that the #DeleteFacebook hashtag is a sign that users saw a "major trust issue."
"And whether people delete their app over it or just don't feel good about using Facebook, that's a big issue that I think we have a responsibility to rectify," Zuckerberg told the New York Times.
Facebook's stock closed Friday at $159.39, down 3.3%.
Though he doesn't appear to be a Facebook fan, Musk has some connections to the social media firm. His fellow PayPal co-founder, Peter Thiel, sits on Facebook's board of directors.
And he has done business with Facebook before. A SpaceX Falcon 9 rocket that exploded on a Florida launchpad in 2016 also destroyed a commercial communications satellite Facebook was set to use to provide internet access to remote areas.
When a Twitter user reminded Musk of that incident, he responded that it was "my fault for being an idiot."
"We did give them a free launch to make up for it and I think they had some insurance," Musk tweeted.
Twitter: @smasunaga
---
UPDATES:
3:40 p.m.: This article was updated to include comments from Kelli Matthews of the University of Oregon and Karen North of USC.
1:05 p.m.: This article was updated to include tweets from Cher and another tweet from SpaceX Chief Executive Elon Musk.
This story was originally published at 11:40 a.m.