Netflix has been secretly slowing down your videos for the past five years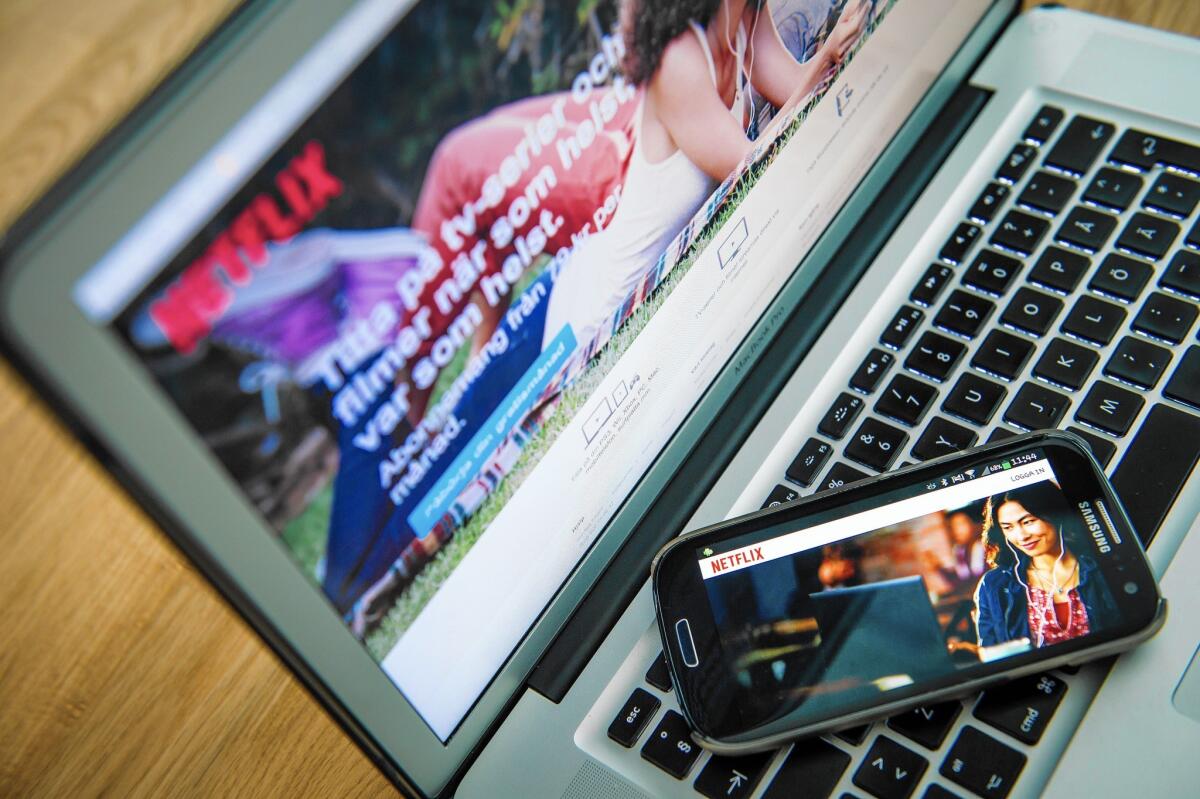 Netflix Inc. has long framed itself as the good guy in the fight against Internet service providers — Chief Executive Reed Hastings has described his company as "big believers in the free and open Internet."
But the Los Gatos, Calif., company's stance on equal access apparently has its limits, namely among its own customers.
For more than five years, Netflix has secretly slowed load times and reduced video resolution — a process called throttling — to AT&T Inc. and Verizon mobile customers to keep them from exceeding the caps on their data plans, the Wall Street Journal reported late Thursday.
Although that policy seemingly contradicts Netflix's public stance in its past battles with Internet service providers, its position in both cases makes financial sense.
Netflix and its allies last year won the fight over net neutrality, arguing that without federal protections Internet service providers could throttle traffic to individuals and companies that didn't pay for access to Internet fast lanes. That's a big deal for a company responsible for more than one-third of all downstream Web traffic in North America during peak times.
But by throttling its own mobile users, Netflix is working to shield customers from hefty fees for exceeding the limits on their data plans — charges that might make them think twice about watching "House of Cards" on their smartphone.
"Netflix is trying to make a buck," said Michael Pachter, an analyst for Wedbush Securities. "Yes it's hypocritical, but it's business."
See more of our top stories on Facebook >>
Netflix did not respond to a request for comment. But in a blog post published Thursday framing Netflix as a protector of streaming fans, a company spokeswoman announced a data-saving feature that will let mobile users decide if they want to view lower-quality streams.
"We believe restrictive data caps are bad for consumers and the Internet in general, creating a dilemma for those who increasingly rely on their mobile devices for entertainment, work and more," said Anne Marie Squeo.
"It's about striking a balance that ensures a good streaming experience while avoiding unplanned fines from mobile providers."
Netflix throttling, though, counters the interests of mobile carriers, which stand to profit from customers blowing past their data caps.
Verizon declined to comment and AT&T did not respond to a request for comment, though a company executive told the Journal that he was "outraged" by the throttling.
Some customers criticized the streaming video firm on social media.
"Hey @netflix how are you going to compensate me for throttling my bandwidth and negatively impacting my viewing quality?" wrote Twitter user @SeanOQuin.
News of Netflix's policy angered proponents of an open and free Internet, especially considering how the company led efforts two years ago to pressure the Federal Communications Commission to ban Internet service providers from establishing fast lanes and slow lanes.
"Failing to disclose this practice to consumers is bad enough, but Netflix's political hypocrisy is astounding," said Berin Szoka, president of TechFreedom, a Washington-based technology think tank.
Szoka said he was troubled by Netflix's lack of transparency more than its actions.
"Throttling video speeds may sound scary, but it can benefit consumers for the very reasons Netflix cites today," Szoka said. "So why didn't Netflix just disclose the practice? Was Netflix afraid the angry mob it helped create would turn on it?"
Netflix's practice doesn't violate federal net neutrality laws enacted last year so that all Americans have access to a fast and open Web. Those rules are aimed at broadband providers such as AT&T, Verizon and Comcast, not content providers like Netflix.
That dichotomy could also spill into an ongoing debate in Washington over how strictly to regulate the broadband companies over customer privacy. The FCC is exploring whether the service providers, which are considered utilities and subject to stricter regulation, need permission from customers to use or share data collected about them as they surf the Internet. Content providers such as Netflix wouldn't have to follow the same rules.
"You can bet you will see this double standard and the hypocrisy recur, sooner or later, in the realm of privacy regulation," said Randolph May, president of the Free State Foundation, a free market think tank.
With hit original shows like "House of Cards" and "Orange Is the New Black," Netflix has dominated the streaming video industry and hastened the cord-cutting phenomenon.
More than half of all U.S. households with broadband subscribe to Netflix, according to Parks Associates. Competitors such as Amazon video are in a quarter of broadband households and Hulu is in about 15%.
"We're at a point where there's so much video traffic going across the Internet," said Glenn Hower, a research analyst for Parks Associates. "It's constantly taxing the networks and at some point, someone's going to have to figure it out, whether it's paying to upgrade it or service providers charging for fast lanes."
MORE FROM BUSINESS
Gilead owes Merck $200 million in damages over drug patents, jury finds
How Snapchat's costly acquisition of bitmoji-maker Bitstrips could pay off
IBM's Watson supercomputer may have met its match: the federal procurement mess