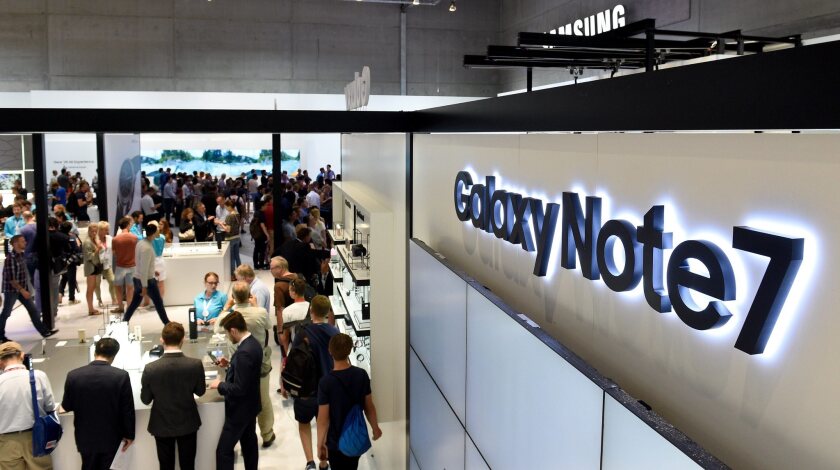 The Washington Post
Last week, Samsung halted sales of its latest flagship smartphone, the Galaxy Note 7, after reports of battery explosions and said that it would voluntarily replace every device.
"We acknowledge the inconvenience this may cause in the market, but this is to ensure that Samsung continues to deliver the highest-quality products to our customers," the firm said in a statement last week.
Samsung said it had shipped 2.5 million of the devices and confirmed 35 cases in which the batteries exploded either during or after charging normally. The phones have a failure rate of about 24 per every million, the company said.
Although only a few dozen cases have been confirmed, those who've bought the devices may be wondering: Do I really need to trade it in? The answer is yes.
Samsung will let smartphone users swap their current Galaxy Note 7 for a new one when they become available. Samsung is also going to give customers the option to swap their Note 7 for another Samsung phone -- the Galaxy S7 or Galaxy S7 edge -- that has not had battery issues. The company will refund the difference in price.
The company has also said that "consumers will receive a $25 gift card or bill credit from select carrier retail outlets when choosing a Galaxy S7 family device or the Galaxy Note 7 within the exchange program." AT&T is one of those retailers.
All four major carriers -- AT&T, Verizon, Sprint and T-Mobile -- have stopped selling the phones and suspended restocking and shipping fees for exchanges. T-Mobile and Verizon have said the policy is in place until at least Sept. 30.
Each carrier's policy varies, so check with your company for specific instructions on how to exchange phones.
Samsung has not issued an official recall for the Galaxy Note 7.
---