Twitter sues to stop Trump's team from unmasking whoever runs this anti-Trump account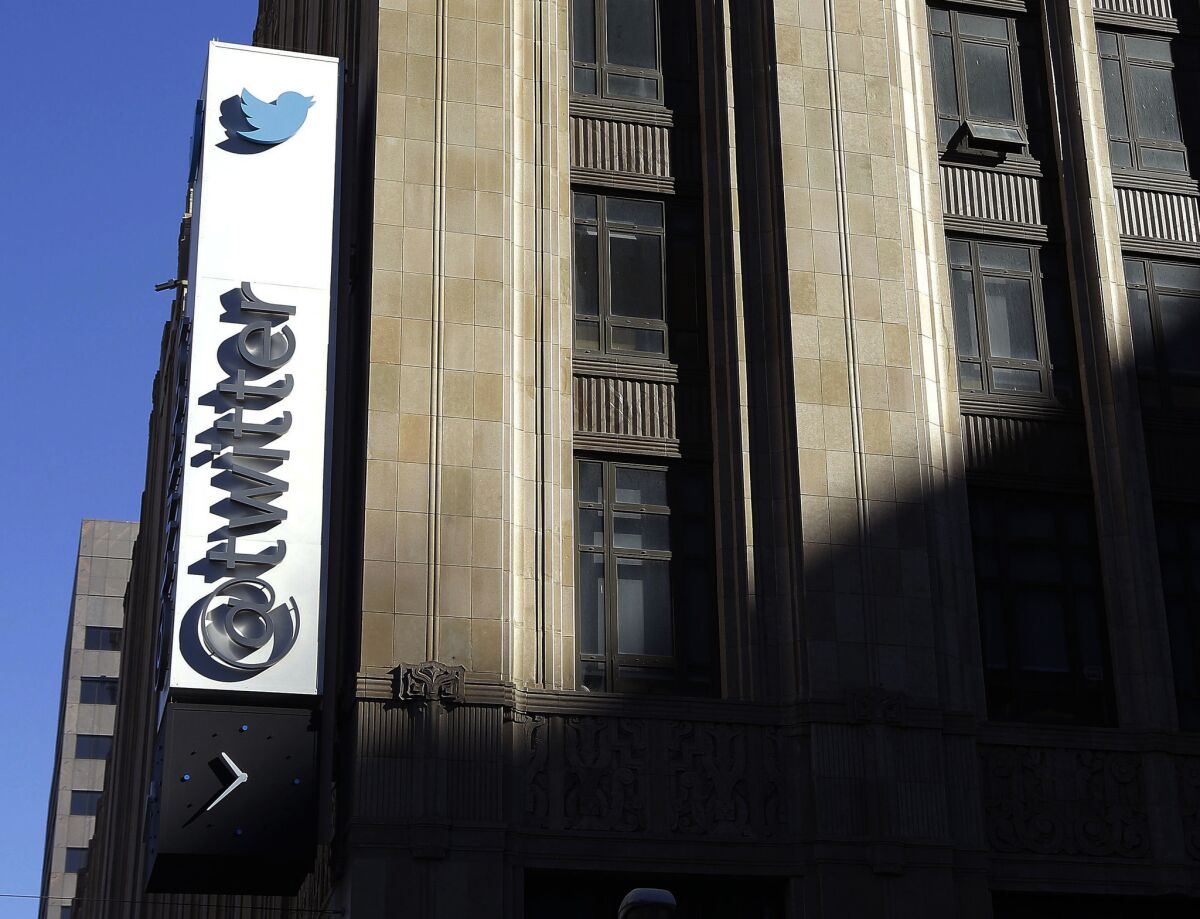 Twitter is the social media outlet President Trump favors to spread his message, but it's also home to a host of critical accounts claiming to be written by dissenting federal employees. Purporting to be rogue insiders at agencies including the FBI and the National Parks Service, they have amassed thousands of followers by bashing the new president and his administration.
The accounts haven't gone unnoticed by the federal government, which sent Twitter a summons in March asking the social media company to help identify the user or users behind an account claiming to be a rogue member of the U.S. Citizenship and Immigration Services.
Twitter on Thursday fired back by filing a lawsuit against the Department of Homeland Security and the officials who lead it, arguing the agency has no legal authority to compel the San Francisco firm to identify the person or people behind the handle @ALT_uscis.
In its summons, the government used a tax clause largely pertaining to fees and duties levied on imported merchandise, according to the lawsuit. It's unclear why authorities invoked the clause. The Department of Homeland Security said it could not comment on pending litigation.
The "investigation of the @ALT_uscis account plainly has nothing whatsoever to do with the importation of merchandise into the United States," Twitter's lawyers wrote.
The company went on to argue any unmasking of the account would have a chilling effect on users critical of the Trump administration, and by extension, free speech.
Twitter declined a request for an interview. The owner of the @ALT_uscis account directed a reporter to attorney Esha Bhandari of the ACLU Speech, Privacy, and Technology Project.
Bhandari declined to say when she first came into contact with Twitter and the account holder, whom she is representing. She also declined to say whether she has held conversations with U.S. officials. But she applauded Twitter for standing up for its users.
"Receipt of a summons like this can have a chilling effect on a wide range of people who speak anonymously or pseudo-anonymously on the Internet, so it's important to fight," she said. "We're going to fight for this user's right to remain anonymous."
Several cases outside the Internet realm have raised similar concerns, where the government arguably hasn't provided enough justification for unmasking a target, Bhandari said. She couldn't recall a battle involving a social media service, but described the case as certainly the first of its kind under the Trump administration.
The rogue accounts typically offer blistering critiques, retweeting articles critical of the president, showing purported signs of chaos in the Trump White House or simply sharing data on climate change. But there's no concrete evidence that the users are who they say they are.
There are instances in which Twitter will share non-public information about its users with law enforcement, the company says in its guidelines. But those requests have to be based on valid legal grounds. The company also says it notifies users when such a request is made.
Though many users post under their real names, anonymity is one of the cornerstones of Twitter's appeal — particularly in authoritarian countries where dissent can be violently suppressed. That was evident during the Arab Spring when protesters used Twitter to help organize.
The Department of Homeland Security and its secretary, John F. Kelly, acting Customs and Border Protection Commissioner Kevin McAleenan and special agents Stephen P. Caruso and Adam Hoffman were all named in the lawsuit.
Shortly after news broke about the lawsuit, @ALT_uscis tweeted: "This is one way to get verified."
Times staff writer Paresh Dave contributed to this report.
Twitter: @dhpierson
ALSO
As Uber deals with crises, Lyft raises $500 million
Trump's border wall just got real: Builders have submitted their plans
23andMe gets FDA permission to tell customers about disease risks in their genes
---
UPDATES:
3:25 p.m.: This article was updated with additional background information.
This article was originally published at 2:55 p.m.
---
Sign up for the California Politics newsletter to get exclusive analysis from our reporters.
You may occasionally receive promotional content from the Los Angeles Times.