Trump's border wall just got real: The builders have submitted their plans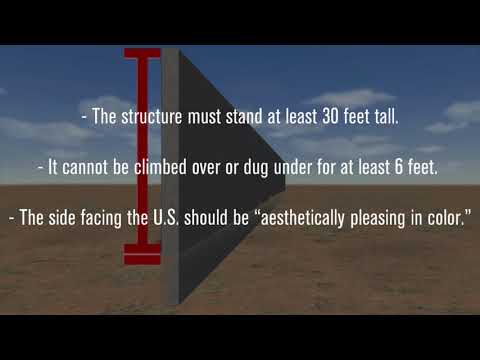 The wall has yet to be funded, as Congress is expected to debate the upcoming federal budget for much of April. (Sign up for our free video newsletter here http://bit.ly/2n6VKPR)
Reporting from San Diego —
Imagine a border wall made of solar panels or a booby trap of nuclear waste where the United States meets Mexico.
Those were some of the proposals submitted for a 2,000-mile barrier along the Mexico border, a cornerstone of President Trump's campaign. The U.S. Department of Homeland Security will choose roughly 20 companies from among the bidders, who then will be invited to build prototype designs on federal land in San Diego County.
The wall has yet to be funded, as Congress is expected to debate the upcoming federal budget for much of April. Trump originally said he would get Mexico to pay for the wall, but has since pushed for federal spending to begin the process.
For James Carpenter, owner of Quantum Logistics in Mission, Texas, the Tuesday deadline to submit bids was a welcome finish.
"I feel like I can get some sleep," he said over the phone from Kabul, Afghanistan, where his company is installing perimeter security for a U.S. Department of Defense site.
Almost 100 California entities are interested in building Trump's border wall »
Carpenter, an Army veteran who served in Iraq and Afghanistan, said he started working on a wall design three months ago because he anticipated the federal government would be taking bids.
He submitted designs for a concrete wall and for one made of other strong materials to protect the barrier from a car bomb or suicide vest. His designs also use seismic sensors and drones to secure the barrier.
"Everybody else looks at this as a construction project," Carpenter said. "I look at this from a security standpoint."
The Trump administration said winning bids must be structures at least 30 feet tall that cannot be climbed over or dug under for at least 6 feet. The side facing the U.S. should be "aesthetically pleasing in color," the instructions said.
Many of the companies came up with unique solutions for the wall that went beyond what the federal government requested.
Manatts Construction Co., a Johnston, Iowa-based contractor, proposed using the wall as an opportunity for engraving — memorials or family trees, for example — to pay for the wall. The company said its research showed a high demand from Americans to engrave the wall, and suggested a public-private partnership to get it done.
National Consulting Service of National City, Calif., proposed building a monorail on top of the wall that could help revitalize cities on both sides of the border.
Gleason Partners, based in Las Vegas, designed a wall with massive solar panels to help recoup the cost of the wall and fill infrastructure needs for the Border Patrol.
Black Security Products out of Austin, Texas, designed 4-inch spacing below the bottom of its system to allow animals to pass through, as well as riprap — a loose-stone system — so that water and some small species could traverse the wall.
Pittsburgh-based Clayton Industries would have a chain fence, followed by sensor banks and a 100-foot-deep trench with nuclear waste at the bottom. Anyone managing to cross that would face a rail line and a 30-foot wall.
It is not clear whether the government, which is expected to select the winning designs around June 1, would release them to the public.
Speaking to an unnamed U.S. official with knowledge of the plans, the Associated Press said the government would spend $200,000 to $500,000 on each prototype, and the Border Patrol and local police would establish a buffer zone at the site where they are constructed.
Submitting a bid, let alone winning, can bring risks.
Several Latino business owners have reported death threats since it became public they were bidding on the wall, according to the Washington Post.
One San Diego company, R.E. Staite Engineering, was the subject of a protest last week. One sign placed outside the business said, "This company is selling its soul."
Another bidder, Concrete Contractors Interstate, which has been in San Diego County for more than 30 years, has 55 employees, many of whom are Latino. Owner Russ Baumgartner decided to ask his workers before putting in a bid.
"The overall response was, 'Our family comes first. If it keeps us busy, go for it,'" Baumgartner said.
phillip.molnar@sduniontribune.com
Molnar writes for the San Diego Union-Tribune
ALSO
Editorial: Pretty much the only thing Trump's border wall will block is common sense
Trump's budget cuts would free billions to build a border wall and ramp up deportations
Column: Build a wall? Trump should talk to the man who spent 25 years fixing it
---
UPDATES:
8:55 p.m.: This article was updated with information on Clayton Industries' design incorporating nuclear waste.
This article was originally published at 8:35 p.m.
Sign up for Essential California for news, features and recommendations from the L.A. Times and beyond in your inbox six days a week.
You may occasionally receive promotional content from the Los Angeles Times.