Verizon admits defeat with $4.6-billion AOL-Yahoo writedown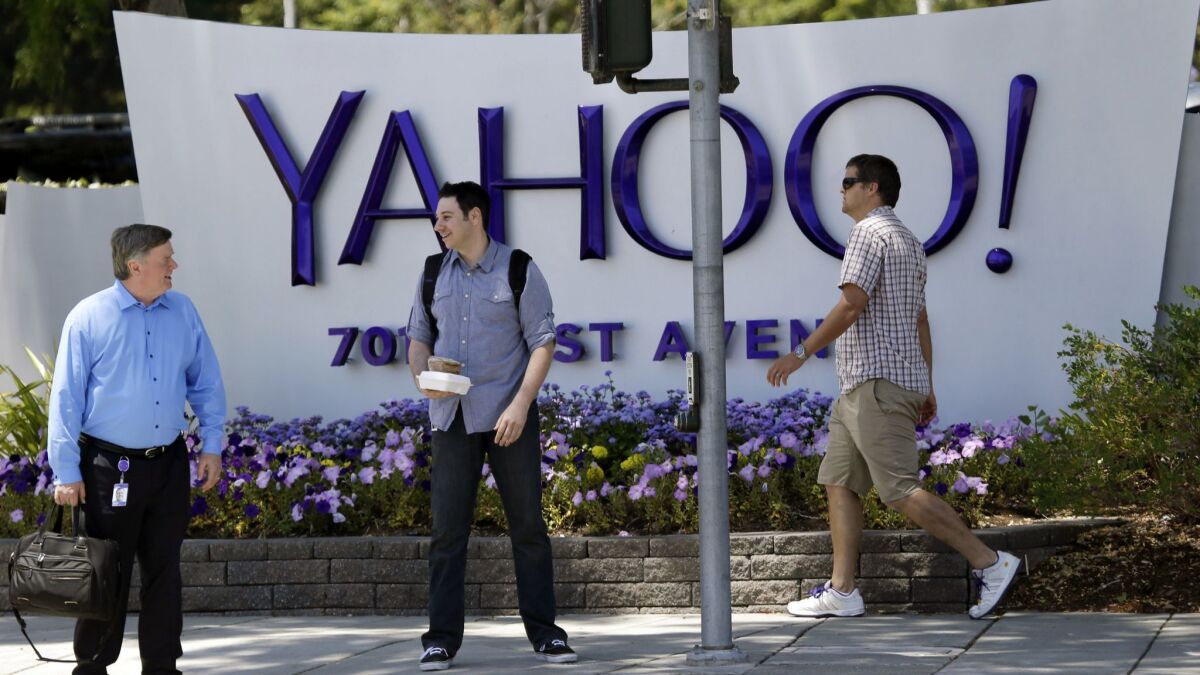 Verizon Communications Inc. is conceding defeat in its crusade to turn a patchwork of dot-com-era businesses into a thriving online operation.
The wireless carrier slashed the value of its AOL and Yahoo acquisitions by $4.6 billion, an acknowledgment that tough competition for digital advertising is leading to shortfalls in revenue and profit.
The move will erase almost half the value of the division it had been calling Oath, which houses AOL, Yahoo and other businesses such as the Huffington Post.
"The hype of Oath has been over for some time," Wells Fargo analyst Jennifer Fritzsche said in a note Tuesday. She likened the writedown to "ripping off the Oath band-aid."
The episode offered a silver lining for investors. Rather than attempt a megadeal like AT&T Inc.'s $85-billion acquisition of Time Warner Inc., Verizon spent only about $9.5 billion in the last three years buying fading web giants. Though the bet hasn't paid off, at least it stumbled on a smaller scale.
The revision of the Oath division's accounting leaves its goodwill balance — a measure of the intangible value of an acquisition — at about $200 million, Verizon said in a filing Tuesday. The unit still has about $5 billion of assets remaining.
Oath was the vision of former Verizon executive Tim Armstrong, who had pursued a turnaround at AOL before the telecommunications giant acquired the business. But Armstrong stepped down from his position as chief executive of Oath in October, shortly after Hans Vestberg became CEO of Verizon.
Separately, the carrier is making cuts. Verizon announced this week that 10,400 employees, or about 6.8% of its staff, had accepted voluntary buyouts as part of a belt-tightening campaign.
That will result in a charge of as much as $2.1 billion, which will be offset by a $2.1-billion tax benefit in the fourth quarter, the company said Tuesday.
Verizon investors seem relieved to put the writedown behind them. The shares rose 1% to $58.85 on Tuesday, bringing them to an 11.2% gain for the year. That compares with a more than 23% decline for AT&T, its chief rival in wireless service.
Verizon signaled last month that it was shifting away from using the Oath brand, which has been heckled on social media. The division was renamed Verizon Media Group/Oath under a new structure.
Although the idea of building a new media venture from a pile of online scraps might have held some allure, it was never going to transform the telecom giant, said Walt Piecyk, an analyst with BTIG.
"Even if Verizon's move into media was wildly successful, it was hard to see how it could move the needle at a company dominated by wireless," Piecyk said.
Our six-week newsletter will help you make the right decision for you and your property.
You may occasionally receive promotional content from the Los Angeles Times.