Tom Barrack saved Michael Jackson from default. Barrack's investors say they need a rescue too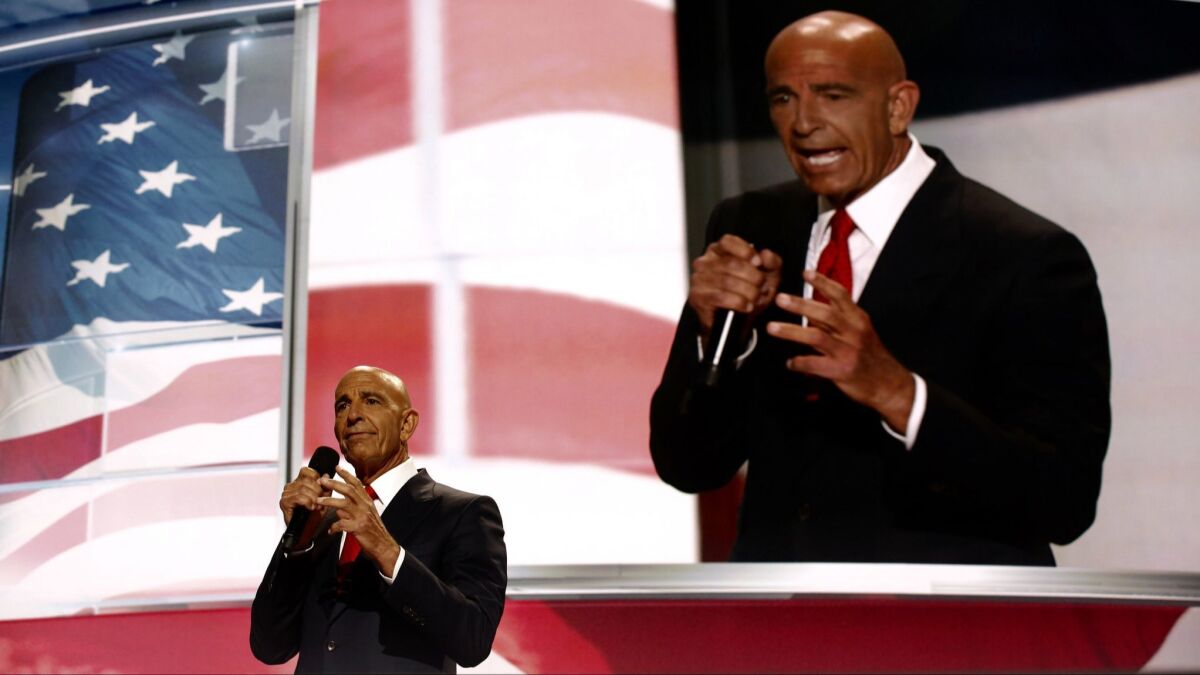 Financial Times
As the global recession deepened in 2008, Tom Barrack was in his element. Over the course of two decades, the chief executive of Los Angeles-based Colony Capital had carved out a reputation as a real estate investor who placed winning bets when others ran scared. So, at the bidding of a longtime associate, Barrack set off for Las Vegas to meet Michael Jackson.
The king of pop was in a bad place. He had defaulted on the mortgage on his Neverland ranch in California, a country-style house with its own zoo, and no bank would help. "You have my family and my life in the palm of your hand," Jackson would tell those around him, according to his manager Tohme Tohme, who had helped Barrack raise money in the Middle East, and was the man who invited him to Las Vegas. "Please don't hurt me."
Barrack sensed an opportunity. Using some investor money, he bought the $23-million Neverland loan and canceled a plan to auction off the property. Jackson, spared from the threat of eviction, was not given a fixed deadline to pay off the debt, which passed to a Colony private equity fund backed by some of the largest public pension funds in the U.S.
The deal helped solidify an image of Barrack as an international dealmaker like no other. Bald and often bronzed from his long days on the world's polo pitches, Barrack seemed to know everyone everywhere — from the show business elite of Hollywood to royal families in the Middle East, insiders of the Reagan White House, Dallas billionaires and even a New York developer and casino owner turned reality television star named Donald Trump, 30 years before he reached the White House.
In Trump's Washington, he has come close to real power. Barrack spoke at the 2016 Republican convention in support of Trump's candidacy, and helped raise a record $107 million as chairman of the president's inauguration committee. He introduced Trump to campaign chief Paul Manafort, who is serving a prison sentence for financial fraud, and hired Richard Gates, Manafort's former deputy on the campaign, to cultivate business opportunities in Washington. He participated in an effort to sell nuclear reactors to Saudi Arabia, according to a report issued by a congressional committee, and his firm provided office space for a December 2016 meeting between an associate of Vladimir Putin and Jared Kushner, the future U.S. president's son-in-law, according to the report by special counsel Robert S. Mueller III.
But despite an investment career that set Barrack on a path to influence and fortune, some believe he has been a poor steward of other people's capital. Data seen by the Financial Times indicate a performance record for Colony funds that has been, at best, mixed.
"He's been bad for investors and made hundreds of millions of dollars for himself," says one investor, offering his opinion of a record that includes deep losses on some of his biggest investments.
People close to Colony reject that assessment, and the 71-year-old Barrack is adamant he will prove his doubters wrong. Colony Capital is "the dominant factor in my and my family's pride, reputation and future," the Colony boss told stock market analysts last year. "And I don't intend to leave it tainted, or unattended."
A 1988 Manhattan property deal changed the course of Barrack's life. His mission was to sell the Plaza Hotel at the corner of Central Park, which his then-boss, the Texas oil heir Robert M. Bass, had bought as part of a larger deal. Barrack fetched a price of $400 million — more than anyone had ever paid for a single hotel. The buyer was Trump. Four years later, with property prices falling, Trump was forced to hand over a 49% stake in the hotel to his creditors.
But the deal made Barrack's name, enabling him to strike out on his own and raise his first $185-million fund in 1991. He picked a good time: the U.S. government, having bought $400 billion worth of real estate assets over a decade of savings and loan failures, was offloading them at a discount. His earliest deals made a 60% profit, according to data from Preqin, an independent research group.
For two decades Barrack participated in some of the world's biggest property transactions. He took over the British cinema interests of MGM in 1995, creating Virgin Cinemas in partnership with Richard Branson. Three years later he bought London's Savoy Hotel alongside Blackstone, which was on its way to becoming the world's largest private equity company.
More recently his performance has been less impressive. His largest ever fund, raised in 2006, lost more than half of the $4 billion it invested, pension fund accounts show. The losers included public retirement systems in Texas, Pennsylvania and New York City. But a median real estate fund raised the same year returned all its original capital with a 14% profit, according to Preqin.
The Neverland investment probably has not helped. The ranch is still on the market; in February a real estate agent cut the asking price by 70%, to $31 million. (People close to Colony insist the ultimate outcome is still unknown.)
But the worst setbacks involved bigger investments, such as a 2007 deal with Frank Fertitta, the casino heir best known for turning Ultimate Fighting Championship into a global mixed martial arts empire. Colony provided equity financing for an $8.8-billion leveraged buyout that took Station Casinos private and enabled Fertitta and his family to cash in $300 million of shares in the company his father had founded in the 1970s, while remaining in charge. Two years later, the company entered bankruptcy and Colony lost almost all of its $2.6-billion investment. Fertitta remains chief executive, under new investors.
A confidant of Barrack says the troubled deals were struck at a turbulent time for all investors, and that other firms not only lost money but had to close shop permanently.
The sheer diversity of Barrack's portfolio make it difficult to weigh gains against losses. Several of Barrack's successful investments have not been part of Colony's funds, and the firm has declined to say who the investors were, or how much they gained. One such deal was struck in 2010, when Disney sold the Miramax movie studio to a consortium of investors led by Colony, which reportedly included the Qatar Investment Authority. The studio was sold in 2016 to the Qatar-based beIN Media Group; financial terms were not disclosed.
In an effort to ascertain how well his investors have fared over Barrack's 30-year career, the FT examined unaudited performance figures relating to funds that Colony raised between 1991 and 2015. The numbers were originally compiled by Preqin. They suggest a wide variation in what investors have received for every dollar they put in: $1.95 for a successful fund raised in 1998; as little as $0.45 for an ill-fated vehicle set up shortly before the crisis; between $1.14 and $1.63 for four funds raised since 2011.
Adding the data for all 18 funds together, those figures suggest that investors lost about 3.7 cents of every dollar they invested.
That conclusion is disputed by Colony, which challenged the Preqin data on the grounds that the information uses net returns rather than gross returns, which it believes are a more accurate representation of performance.
Colony provided an alternative set of performance figures for 11 funds, although it excluded the fees paid by investors and declined to say which number related to which fund. Its figures exclude five of the funds covered by the Preqin data — including two that racked up losses of nearly $1 billion — on the grounds that they were part of joint ventures, at least four of which Colony has a 50% stake in.
The firm said two of its eight so-called "opportunity funds" had recorded gross returns of over 100% since their inception and that the four debt-related funds raised after the financial crisis had each produced gross returns above 10% a year.
The firm also said the 18 funds pursued different strategies and, under guidelines put forward by the CFA Institute, should not be lumped together in a single average. However, John Coffee, a corporate governance expert at Columbia Law School, says it is often reasonable to look both at an investor's average performance and the results of particular funds. "I think the number has relevance, what the overall performance was," he says, adding that it would also be fair to consider whether performance had improved since 2008.
Some investors who suffered losses paid large fees to Barrack's company. By 2009, those who backed the Station Casinos deal through Colony Investors VIII had paid $150 million in fees and reimbursements to Colony Capital, in which Barrack owned a controlling stake, securities filings show.
In 2005, Fortune magazine described Barrack as "the world's greatest real estate investor." That reputation served him well on the stock market. In 2009 investors bought nearly $300 million worth of stock in the initial public offering of Colony Financial, providing Barrack with a war chest to pursue deals. Public investments have since reached about $2 billion, according to S&P Global Market Intelligence.
Colony Financial paid at least $547.5 million in shares to acquire Colony Capital in 2015, which was controlled by Barrack and received fees and profit shares from Colony's private funds; $350 million of that went to Barrack.
Barrack has said that his stake in the merged company, which is now known as Colony Capital and includes the investment management company he used to own as well as a collection of real estate assets, accounts for a majority of his net worth. The shares he received in the transaction account for a large portion of his Colony shareholding, which today is worth about $150 million, following sharp declines in the stock.
Depending on when investors bought their Colony shares, if they still own the stock they have either made subpar returns or suffered heavy losses. The shares have fallen more than 60% since Colony completed a merger with rival real estate investment trust NorthStar in January 2017.
Barrack is still raising money. "We've done a great job at raising capital from high net worth individuals and sovereign wealth funds ... with whom our brand has the most relevance," he told analysts last month.
About one-quarter of the money the firm raised in the two years after Trump clinched the Republican nomination came from the United Arab Emirates and Saudi Arabia, an executive told the New York Times last year. Colony says it has recently signed up "more than 25 of the best quality U.S.-based institutional investors," but declined to give details.
At a Milken Institute conference held in Abu Dhabi in February, Barrack praised Mohammed bin Salman, the Saudi crown prince suspected of ordering the murder of journalist Jamal Khashoggi, who was dismembered inside the country's consulate in Istanbul. Calling it a "mistake" to criticise the Saudi "moral code," he said: "The atrocities in America are equal or worse to the atrocities in Saudi Arabia."
Barrack subsequently apologized for the Saudi Arabia comments. But in the view of some who know the company well, the incident epitomized a period in which Barrack — busy with pursuits in show business, politics and diplomacy — took his eye off the business that matters most to investors.
"He got distracted with the Northstar merger, and then he got distracted obviously with the [Trump] campaign," says a person who spoke to him frequently during the aborted attempt to float an acquisition company. "He basically lost interest in the project."
If Barrack had put his weight behind the offering, it probably would have succeeded, the person adds. But he could not see a similar initiative gaining traction today, "because he's had some ups and downs. A lot of downs."
© The Financial Times Limited 2019. All Rights Reserved. FT and Financial Times are trademarks of the Financial Times Ltd. Not to be redistributed, copied or modified in any way.
Sign up for the California Politics newsletter to get exclusive analysis from our reporters.
You may occasionally receive promotional content from the Los Angeles Times.