What happens when a Hatchimal doesn't hatch?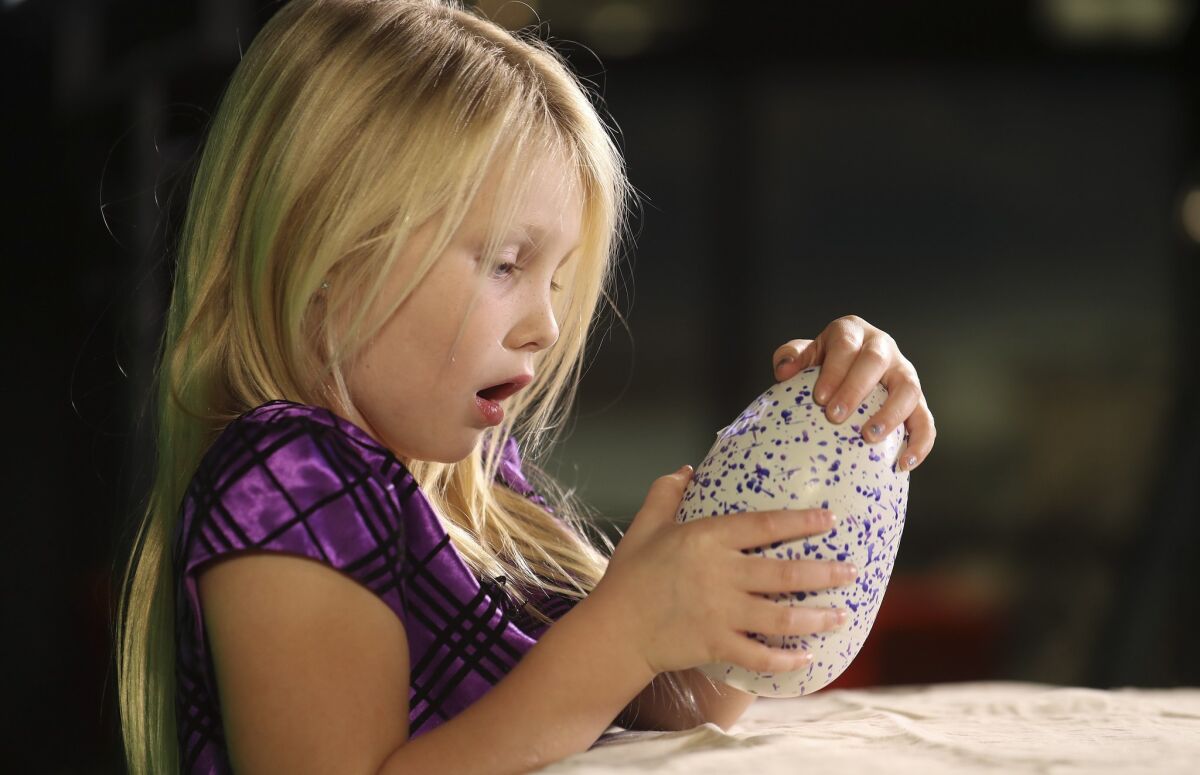 For toymakers, a few bad eggs can mar an otherwise blockbuster holiday season.
Hatchimals, the furry electronic gadgets that hatch out of an egg, were the hottest toy before Christmas, inspiring long lines and scalpers who charged upward of $1,000 apiece for items that retail for about $60.
But after the presents were unwrapped, some kids encountered a problem: Hatchimals that refused to hatch.
Spin Master, the maker of Hatchimals, isn't the only company that has produced defective products. This holiday season, it's just the most visible example of the challenges toymakers face when producing a complicated design, or ramping up production of a very popular product.
"One of the problems that manufacturers have is 'When you hit a grand slam, how many do you make?' " said Britt Beemer, founder of America's Research Group. "If they don't make enough, they have a lot of unhappy people. If they make more and have a 1% failure rate, they have unhappy people."
That puts toymakers in an awkward "damned if you do, damned if you don't" position, Beemer added.
On Facebook, Spin Master said Wednesday it had increased customer service representatives and extended hours to handle any customer concerns. The company also added troubleshooting tips on its website and a video answering commonly asked questions (including the proper technique for tapping on eggs to facilitate hatching).
"While the vast majority of children have had a magical experience with Hatchimals, we have also heard from consumers who have encountered challenges," the post said. "We are 100% committed to bringing the magic of Hatchimals to all of our consumers."
Spokeswoman Tara Tucker previously told The Times that upon realizing its popularity, the Toronto company opted to expand production at the Chinese factory that already was making Hatchimals rather than bring additional factories online.
Keeping production at the same facility tends to minimize problems, analysts said. However, it's impossible to ensure that every product will turn out flawlessly, especially with an electronic toy that requires multiple production steps such as the Hatchimal — which includes an egg that responds to touch and an interactive creature that learns to walk and talk.
Jim Silver, editor in chief of toy review site TTPM, estimates that Spin Master made some 2 million Hatchimals for the holidays. Like smartphones or other electronic gadgets, the first production runs often contain the most bugs, he said. Those problems tend to get ironed out in future runs.
His site got two batches to review. The first, received before Hatchimals hit shelves in early October, contained two Hatchimals that took an abnormally long time to hatch. Those problems were smoothed out in the second bunch, which arrived after the toy launched, Silver said.
"On any electronic product, I generally don't want the first run" if I'm a consumer, he said. "When the hot new things come out, I wait three weeks."
Because of social media, producing even a tiny fraction of defective toys can put toymakers at the risk of a highly public scolding from disappointed parents and children. That can magnify a problem, whether it's big or small.
"hatchimal ruined my 6 yr olds Christmas," James Gorringe wrote on Twitter. "All the effort and it done nothing Christmas day #hatchimalmademydaughtercry"
Dustin Shammo tweeted a short video of a Hatchimal that had managed only to peck partway through its shell, leaving just a purple beak and some blue fur visible through the speckled egg.
"It won't spin around to peck away at the egg and hatch out," he wrote. "Please advise."
These kind of complaints on social media have sparked negative headlines after a holiday season of intense — and mostly positive — coverage for Spin Master.
Industry watchers say that the one situation that manufacturers want to avoid at all costs is a toy that hurts children. The toy industry has been hit in years past with massive recalls of products that contain lead. Some consumer product firms have gone under after a public safety scare, such as the now-defunct Peanut Corp. of America, which was the source of a huge salmonella outbreak.
That can send a company into "a death spiral," Beemer said.
For toys that aren't harmful but are defective, toymakers have to respond quickly to upset customers with refunds and free products, Beemer said. If not, they run the risk of getting mired in a publicity nightmare like Samsung, which has been harshly criticized for a slow response to reports of exploding Galaxy Note 7 phones.
"The worst thing you can do is have the customer service department put people on hold," Beemer said. "Now you are throwing kerosene on the fire."
Follow Shan on Twitter @ByShanLi
ALSO
Why it's so hard to get your hands on the Christmas toy your kid really wants
What it's like wearing Snapchat Spectacles
Online shopping makes it easier for consumers, but returns are still a hassle
---
UPDATES:
11:25 a.m.: This article was updated to include the retail price of Hatchimals.
This article was originally published at 3 a.m.
---
Sign up for the California Politics newsletter to get exclusive analysis from our reporters.
You may occasionally receive promotional content from the Los Angeles Times.