Bratz maker Isaac Larian wants to merge his MGA with Mattel. Barbie isn't interested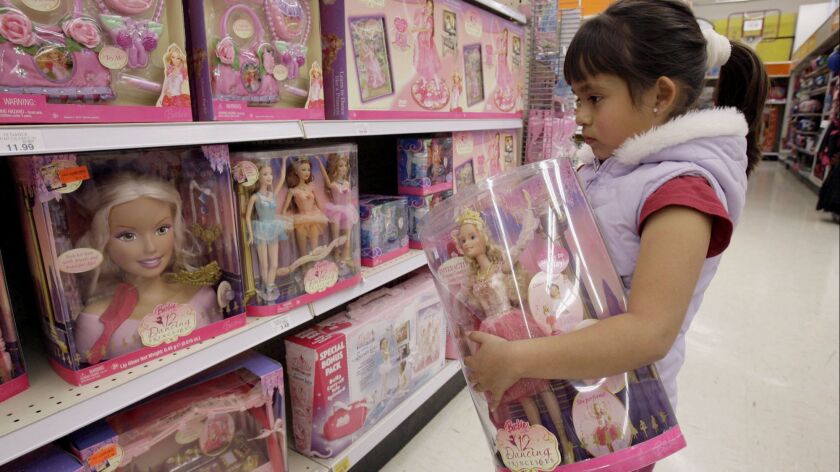 California toy mogul Isaac Larian has spent more than a decade battling his company's bitter rival Mattel Inc.
Now, he wants to run it, and guess what? The struggling Barbie-doll maker is having none of it.
Last month, Larian made an unsolicited offer to merge his MGA Entertainment Inc. with his crosstown rival in El Segundo — with Larian chairman and CEO of the combined companies.
On Thursday, Mattel rejected the idea.
Christopher Sinclair, who retired Thursday as executive chairman, wrote to Larian that after the board and its advisors "carefully considered" his proposal, they'd be declining. And they told him not to bother trying again.
"The Mattel Board unanimously concluded that this proposal is not in the best interests of Mattel and its shareholders," wrote Sinclair, a former Mattel CEO. "Accordingly, the Board asked that I advise you that Mattel is not interested in further discussing this matter with you."
Larian made the offer, which did not place a value on publicly traded Mattel, as his privately held Van Nuys toy company looks to be riding high.
MGA has a steady money maker with its Bratz franchise, a doll that put a dent in Barbie's popularity and profitability — and spawned a bitter intellectual property fight between the two companies.
MGA also makes the LOL Surprise doll series: a pearl-shaped toy designed to give a child small prizes as he or she unwraps the different layers, ultimately revealing a small doll inside.
LOL Surprise was the top-selling toy of 2017 and has been the No. 1 toy for 2018, according to NPD Group.
"MGA made more profits in four quarters than Mattel has made in four years," Larian boasted to The Times.
Indeed, Mattel is trying to refocus after a lengthy slump.
The toymaker has lagged behind its competitors in digital media, analysts say, and is trying to catch up with other brands that have spawned apps, movies and TV shows.
The company lost $1.1 billion last year as sales fell 11% to $4.9 billion, excluding currency fluctuations. The loss included a charge related to U.S. tax changes.
In April, Mattel's CEO, Margaret "Margo" Georgiadis, abruptly left after only 14 months on the job. She had sought to narrow Mattel's focus to enhance Barbie, American Girl and other core brands while streamlining its operations and slashing costs.
Georgiadis was replaced by Ynon Kreiz, a former chairman and CEO of Maker Studios, a digital media company acquired by Walt Disney Co.
Mattel did not respond to requests for comment.
Larian has apparently wanted to merge MGA and Mattel for some time.
Larian said he met with Sinclair in April 2015 to discuss a merger proposal and resolve the companies' litigation, but Mattel turned down the offer, according to the text of his April 25 offer letter to Mattel.
(Mattel had sued MGA in 2004, claiming that it stole the Bratz idea. MGA won that fight and has since brought other litigation against Mattel, including a 2014 trade secrets claim.)
Since then, the letter states, Mattel's shares and market cap have been halved, while MGA made more money than Mattel last year and has "zero debt." Larian noted the success of the LOL Surprise dolls.
Larian claims in the letter that MGA this year will more than double its profit and sales from 2017. And he anticipates MGA will grow by more than half again in 2019.
"Ynon is a good guy," Larian wrote, referencing the Mattel chief executive. "But he doesn't know toys and will fail like Margo [Georgiadis] did."
Larian said MGA would "put a value on MGA and its brands and its legal claims against Mattel. Based on this, we will merge."
Mattel shares closed down nearly 1% to $15.14 on Friday after news of the merger offer, giving the toymaker a market cap of $5.2 billion, according to Factset.
Susan Anderson, a senior market analyst at B. Riley FBR, said she was unsure why MGA would even want to take on Mattel. She said the toymaker has various supply chain issues that it needs to address, noting Larian would inherit "a pretty big mess."
Gerrick Johnson, a toy industry analyst at BMO Capital Markets, declined to discuss Larian's merger proposal specifically, but said that over the years, Mattel became "arrogant."
However, he believes that now Mattel has a solid strategy moving forward and could develop a new product and find success.
"It's not like the auto industry, where it's going to take you five years to develop something new. They can develop new products in six months. They can change their fortunes pretty quickly. I see no reason they can't get it done," Johnson said.
"They have internally recognized intellectual property that's multigenerational. Everyone knows Barbie. Everyone knows Hot Wheels. Everyone kowns Fisher-Price. They've got world-class brands," he added.
But it's not just Mattel facing headwinds, it's the entire industry — and by extension MGA.
Online and big-box retailers such as Amazon and Walmart are eating away at margins, and helped drive key industry sales channel Toys R Us into bankruptcy last year.
Larian's stab at merging with Mattel is his second big headline-making move this year.
In March, Larian announced a campaign to save Toys R Us from going under, starting with a $1-billion GoFundMe campaign — which he readily admitted was a publicity stunt.
In April, Larian submitted a $675-million bid to buy 274 Toys R Us stores in the U.S. and offered an additional $215 million to buy the retailer's 82 Canadian stores.
His bid for the U.S. stores was rejected as too low, and in Canada, he was beat out by a Toronto investment firm run by billionaire Prem Watsa. Larian said he has continued in his attempt to buy some of the retailer's U.S. assets, but declined this week to speak further about that effort.
Toy industry consultant Richard Gottlieb said he could not understand why Larian would seek to merge his MGA with Mattel, though he noted Larian has been successful at making headlines this year.
"I have a great deal of respect for Isaac and consider him to be a true genius when it comes to understanding toys and the desires of those who play with them," said Gottlieb, chief executive of Global Toy Group. "I cannot speak to his motive, but I find it difficult to believe that he was serious in his approach as it is extremely doubtful that Mattel would ever entertain an offer by Isaac due to their mutually and highly contentious past and present."
Larian told The Times on Friday as he prepared to board a plane to Japan — where he will debut the LOL Surprise brand — that attempting to merge with Mattel was not another publicity stunt, dubbing that "nonsense."
Larian's next plan, which he will roll out once he returns from his quick trip across the Pacific Ocean, will be to go directly to Mattel's shareholders.
"I hope the merger will save this American icon before, like, Toys R Us, it is too late," Larian said.
Times staff writer James F. Peltz contributed to this report.
---
For reporting and exclusive analysis from bureau chief John Myers, get our California Politics newsletter.
You may occasionally receive promotional content from the Los Angeles Times.