LAX ranks near the bottom among U.S. airports when it comes to getting to the terminal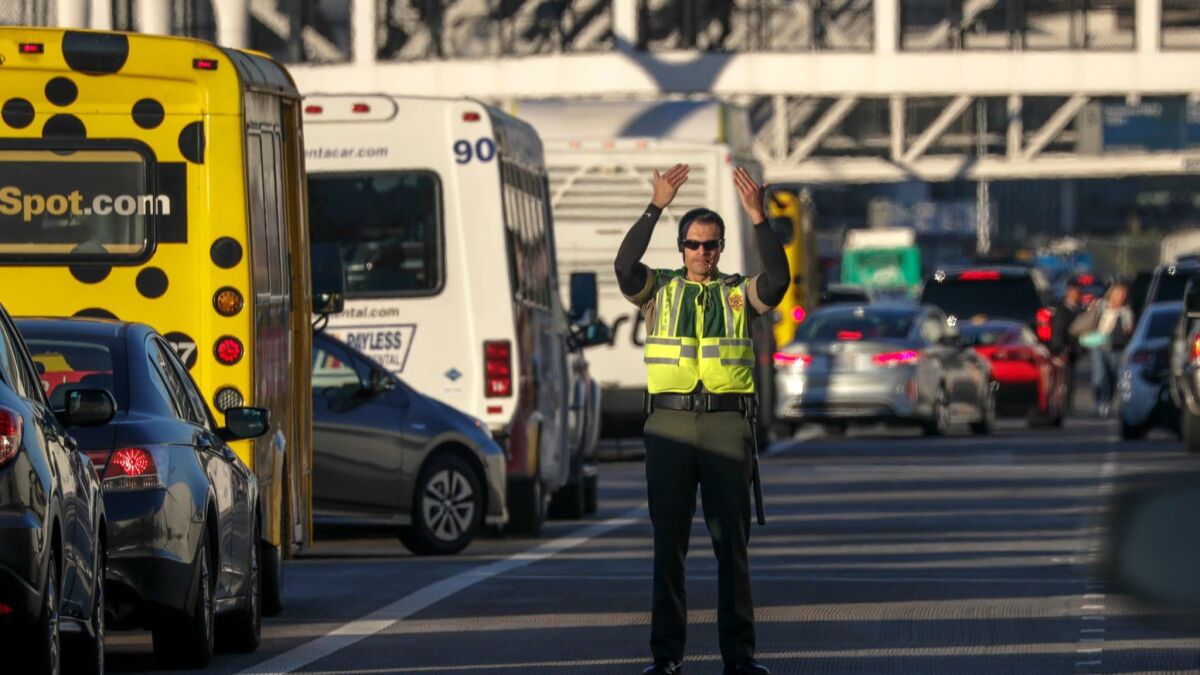 Los Angeles International Airport is not the worst airport in the nation when it comes to transit options, drive time and the cost to get to the terminal — but it is near the bottom of the list, ahead of only Newark Liberty International, Dulles International and JFK International Airport.
The study by the travel app Travelbank ranked all major airports in the U.S. using an index that includes the time it takes during morning rush hour to get to the terminals from a nearby metro center on public transit and in a private car, as well as the cost of taking Uber and public transit for the trip.
Boston Logan and McCarran International Airport in Las Vegas tied for the best airports in the country, based on the study criteria. Travelers can get to terminals in both airports in under 15 minutes on public transit or can drive their own cars in less than 10 minutes from the nearest metro center, the study said.
But LAX — the nation's second busiest airport — ranked 21st out of 23 airports in the study, which found that it takes 33 minutes to get to the airport from downtown Los Angeles via transit and 50 minutes by private car.
An Uber ride costs $40 from downtown Los Angeles, the study said.
"To make matters worse, LAX also boasts the second-highest public transportation price after Newark with a one-way fare costing $9.75," the study concluded, referring to the cost of a Flyaway shuttle bus departing from downtown Los Angeles.
A similar study released in 2015 by a nonprofit New York advocacy group promoting improved public access also ranked LAX near the bottom when it comes to public transit access.
LAX officials point out that construction is expected to begin next year on a plan to expand several terminals to make way for an elevated train known as a "people mover," which will connect to the Metro Rail's Crenshaw and Green lines. The rail connection is expected to go online by 2023.
To read more about the travel and tourism industries, follow @hugomartin on Twitter.