Technology may help cut airport wait times, but you will have to do a bit more work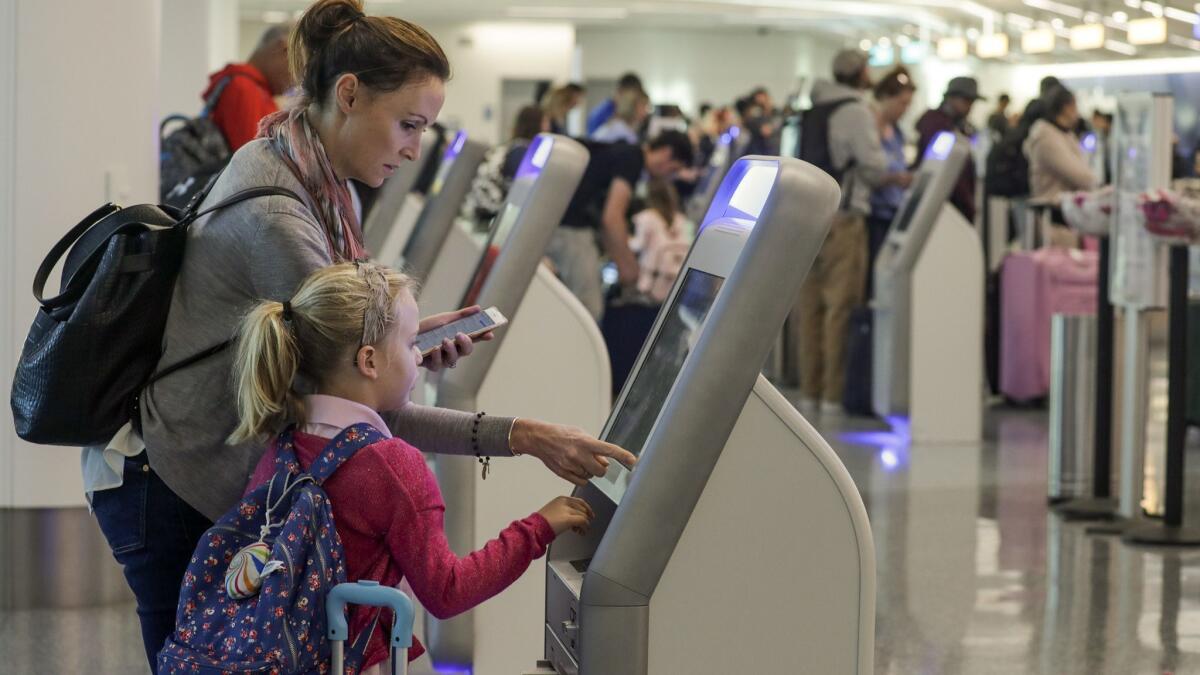 With forecasts predicting that airline travel worldwide will grow steadily over the next 20 years, airports are turning to technology to try to ease the inevitable human crush that could lead to long wait times and frustrated passengers.
But to curb those queues, airports plan to ask travelers to do some extra work.
Nearly 70% of airport operators worldwide who were surveyed said they plan to increase their technology budget, with a big chunk of that spending going toward devices that let fliers check in, drop off their own luggage and board without dealing with a human, according to SITA, the multinational technology firm that conducted a survey of 180 airport executives.
"The future of air travel is moving towards the passengers desire to be more self-sufficient and informed," said Edward W. Bauer, SITA's senior director airports, North America.
Today, 88% of airports have kiosks that let travelers check in without waiting to talk to an airline employee, and 95% of airports expects to have such kiosks in the next three years, the survey found.
More than half of airports now offer a place where passengers can drop off their luggage with some staff assistance, SITA said . By 2021, 78% of airports plan to have unassisted bag drop-off locations.
Other spending will go to technology that will alert travelers through smartphones or airport displays about the wait times before boarding, the survey found. Now, 42% of airports have wait-time monitoring technology, a jump from 31% in 2017.
Technology to let fliers board a flight without checking with an airline employee has yet to take off in many airports but may become more common as more airports invest in ways to identify passengers using biometrics, such as fingerprints, facial recognition and retinal scans, the survey said.
Airports have reason to focus on future wait times. Nearly 8 billion passengers are expected to fly in 2036, almost double the passengers who flew last year, according to a forecast by the International Air Transport Assn., a trade group for the world's airlines.
To read more about the travel and tourism industries, follow @hugomartin on Twitter.