Travel leaders say Trump's budget would kill program that promotes trips to the U.S.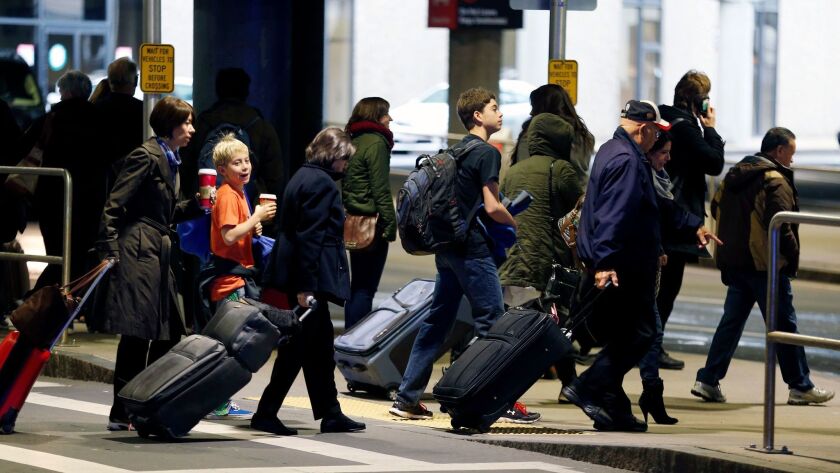 Donald Trump the businessman was a big fan of marketing and brand building, but Trump the president has produced a budget that doesn't support tourism marketing — and that has the travel industry fuming.
Travel industry leaders are protesting a proposal in Trump's budget, which was released Tuesday, that would cut funding to a program intended to attract more international visitors to the U.S.
Brand USA, a promotional tourism campaign launched in 2011, is funded by private donations and fees charged to international visitors who register for visas to enter the U.S. The Trump budget would divert the fees to pay for increased border protection.
"With all that's going on in the world, unilaterally disarming the marketing of the U.S. as a travel destination would be to surrender market share at the worst possible time," said Roger Dow, chief executive of the U.S. Travel Assn., a trade group.
Brand USA is the first coordinated campaign to promote the United States as a travel destination, relying on billboards, newspaper and magazine ads, radio spots and an anthem by singer-songwriter Rosanne Cash.
A study commissioned by Brand USA said the campaign helped draw 4.3 million new visitors to the U.S. and generated $29.5 billion in additional spending over the last four years.
"With travel season upon us, it is important for lawmakers to understand the benefits of this program," said Katherine Lugar, chief executive of the American Hotel & Lodging Assn. "We need Brand USA's strong marketing message to remind visitors that the U.S. is open for business."
Under the program's bylaws, private donations must generate at least $100 million a year toward the program before the campaign can receive the $14 fee paid by each international visitor who applies for a visa.
Trump's budget proposal for the next fiscal year calls for the fee to be used to help fund U.S. Customs and Border Protection.
The fees are expected to generate $162 million in the next fiscal year. The Office of Management and Budget estimates that diverting the fee away from Brand USA would increase the budget deficit by $510 million from 2018 to 2022 because, industry officials assume, taxes generated by international travel would be lost.
According to the Trump budget proposal, the increase in funding for border security will "provide additional resources for a southern border wall, expanded detention capacity, and initiatives to reduce violent crime, as well as more immigration judges, U.S. Immigration and Customs Enforcement officers, and Border Patrol agents."
The funding shift comes as travel industry leaders worry that other Trump proposals — a travel ban from several Middle Eastern and African countries and a wall along the southern border — have sent a message that the U.S. does not welcome foreign visitors.
The U.S. travel industry generates an estimated $2.3 trillion in economic spending and supports 15.3 million jobs.
To read more about the travel and tourism industries, follow @hugomartin on Twitter.
---
Your guide to our clean energy future
Get our Boiling Point newsletter for the latest on the power sector, water wars and more — and what they mean for California.
You may occasionally receive promotional content from the Los Angeles Times.