Trump wants Wall Street lawyer Jay Clayton to head SEC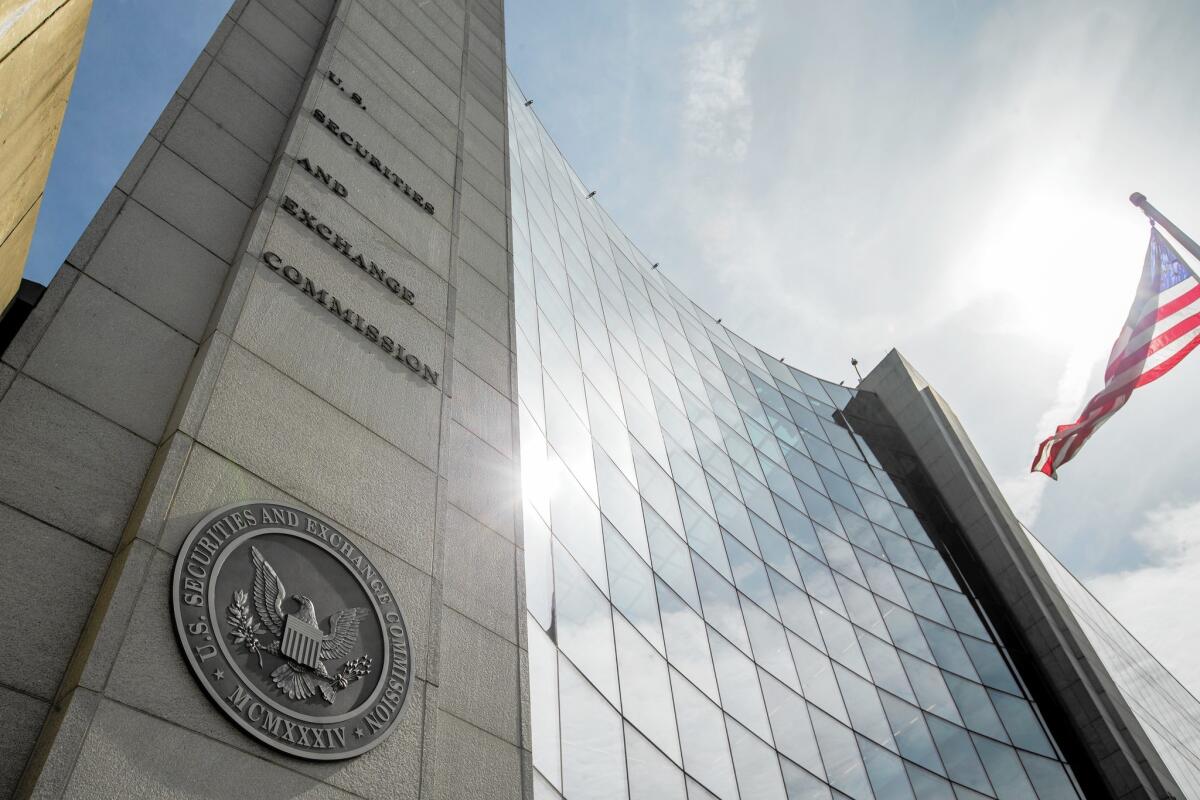 Washington —
President-elect Donald Trump intends to nominate Wall Street attorney Jay Clayton to head the Securities and Exchange Commission, transition spokesman Sean Spicer said Wednesday.
Clayton, a partner with New York-based global law firm Sullivan & Cromwell, would succeed Mary Jo White, who announced in November that she would step down at the end of the Obama administration.
"Jay Clayton is a highly talented expert on many aspects of financial and regulatory law, and he will ensure our financial institutions can thrive and create jobs while playing by the rules at the same time," Trump said in a written statement.
"We need to undo many regulations which have stifled investment in American businesses, and restore oversight of the financial industry in a way that does not harm American workers," he said.
Trump reportedly had been considering Los Angeles lawyer Debra Wong Yang, a former federal prosecutor, to head the SEC.
Instead, he opted for Clayton, who joins other key Trump nominees with strong Wall Street ties, including Treasury secretary pick Steve Mnuchin and Commerce secretary choice Wilbur Ross.
Clayton's work has included representing Ally Financial and two other unnamed large financial firms in connection with settlements of federal cases related to toxic mortgages or foreclosure problems, according to the firm's website.
The SEC is the federal government's top watchdog for Wall Street and has expanded regulatory powers under the 2010 Dodd-Frank financial reform law that Trump has promised to dismantle.
"Jay Clayton is just the latest addition to the growing pool of Wall Street insiders that make up the Trump administration," said Rep. Maxine Waters (D-Los Angeles), the top Democrat on the House Financial Services Committee. "As head of the SEC, Clayton will have the power to carry his pro-Wall Street agenda to the agency that is entrusted with regulating Wall Street."
Clayton thanked Trump for the opportunity to head the agency. His nomination is subject to confirmation by the Senate.
"If confirmed, we are going to work together with key stakeholders in the financial system to make sure we provide investors and our companies with the confidence to invest together in America," he said. "We will carefully monitor our financial sector, as we set policy that encourages American companies to do what they do best: create jobs."
Clayton's work has included mergers and acquisitions, as well as regulatory and enforcement proceedings. Among his clients listed on his law firm's website are Goldman Sachs, Bear Stearns, and British Airways. Clayton also worked on the 2014 initial public offering of China's Alibaba Holding Group, which was the largest IPO in U.S. history.
Dennis Kelleher, president of Better Markets, a group that advocates for stricter financial regulation, said Clayton needs to favor Main Street over Wall Street as SEC chairman.
"While Mr. Clayton may be an excellent lawyer representing Goldman Sachs and Wall Street's too-big-to-fail banks, America's families need to know that he will represent them as zealously and as effectively," Kelleher said. "He must lead without fear or favor and he must not bring the failed mind-set that 'what's good for Wall Street is good for America,' which the 2008 financial crash proved catastrophically wrong."
White, who was a former federal prosecutor, also worked for a top New York law firm before becoming SEC chair in 2013. Her clients included some leading financial industry firms and figures, including JPMorgan Chase & Co., former Goldman Sachs Group Inc. director Rajat Gupta and former Bank of America Corp. chief Ken Lewis.
Some liberals sharply criticized White for being too deferential to business interests. In October, Sen. Elizabeth Warren (D-Mass.) publicly called on President Obama to replace her, in part because she had not enacted rules to force companies to disclose their spending on political activities.
The first SEC chair under Obama, Mary Schapiro, also did not make friends among liberals during her tenure. They wanted her to be tougher in the wake of the financial crisis. Schapiro had been chief executive of the Financial Industry Regulatory Authority, or Finra, a nongovernmental, self-regulatory body for the securities industry.
Sen. Sherrod Brown (D-Ohio), the top Democrat on the Senate Banking Committee, was among those who had criticized White. He wasn't optimistic that Clayton would be an improvement.
"It's hard to see how an attorney who's spent his career helping Wall Street beat the rap will keep President-elect Trump's promise to stop big banks and hedge funds from 'getting away with murder,'" Brown said.
Twitter: @JimPuzzanghera
ALSO:
Trump taps Robert Lighthizer to be U.S. trade representative
Trump's victory could spell the end of the FCC's net neutrality regulations
Trump hammered the Federal Reserve as a candidate. As president, he could quickly reshape it
---
UPDATES:
1 p.m.: This article was updated with comments from Rep. Maxine Waters (D-Los Angeles) and Sen. Sherrod Brown (D-Ohio) as well as with additional background on SEC Chair Mary Jo White.
9:20 a.m.: This article was updated with information about Jay Clayton's clients, including financial firms involved in toxic mortgage cases, and with comments from Dennis Kelleher of Better Markets.
This article was originally published at 8:50 a.m.