Why Trump — or any other politician — can't do much to bring back manual labor jobs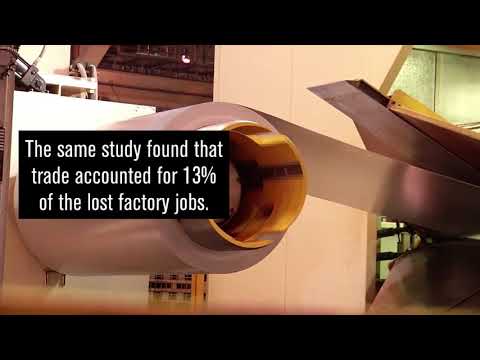 The automation of factories is a big factor for job loss in the U.S.
Michael Smith is not used to stretching a paycheck. As recently as March 2015, the 42-year-old was earning nearly $100,000 a year as a district manager on oil fields for company based in Union City, Pa. Then oil prices dropped, and his company laid him off.
Smith, a father of four boys, now makes $12 an hour as an apprentice electrician. He is not a die-hard disciple, but voted for Donald Trump because he's desperate for something new.
"Do I think Donald Trump is what this country needs and do I think he will make it great again? No," Smith said. "Do I think he is a step in the right direction? Absolutely."
It was not poor Americans who made the difference in this election; it was people like Smith. Trump soared among white voters who earn decent wages, but have seen their pay decline and jobs in their industries disappear over the past 15 years.
Some of those workers say they were responding in part to Trump's repeated bashing of trade, and at the same time perceived Hillary Clinton as a poster child for the free-trade deals that her husband signed and President Obama tried to push through Congress.
"A lot of our members equated NAFTA to Hillary and Bill Clinton," said Donnie Blatt, a coordinator with the United Steelworkers union in Ohio. "A lot of our members felt like they hated Hillary Clinton, they believed she caused the loss of all their jobs."
But it will be almost impossible for Trump to fulfill his promise to bring back most of the assembly line gigs lost to globalization, economists say. The U.S. has moved toward advanced manufacturing, which employs highly educated people, and plants that once required manual labor are now manned by robots that work faster than people and cost less. U.S. factories are producing more than ever, with far fewer employees.
"The Democrats have no credibility with these people, and the trade issue brings it out more than anything," said Dean Baker, the co-director of the left-leaning Center for Economic and Policy Research. "Trump is making these promises, but they aren't realistic. It isn't like he has a plan to bring the jobs back, but he was out there saying it."
It's not surprising that trade issues resonated with some voters in vast swaths of the Midwest and Southeast.
Since 2000, American manufacturers wiped 5 million people off their payrolls, according to the Bureau of Labor Statistics. Millions of those jobs went to China or Mexico, research suggests.
For context, it took more than three decades for 560,000 mining jobs to disappear, after reaching a peak of 1.2 million the early 1980s.
The shock of losing so many middle-class jobs so quickly hit hardest in the Rust Belt states, which were crucial to Trump's victory. Ohio, Michigan, and Pennsylvania had among the steepest cuts in assembly line jobs across the country since 2000.
California cut the most manufacturing jobs of any state from 2000 to 2015, partly because its workforce is so huge. More than 576,000 Californians lost their jobs in factories over that period.
But the biggest losers after California were Ohio, Michigan, North Carolina and Pennsylvania, which hemorrhaged a combined 1.2 million manufacturing jobs. That means that about a quarter of the total manufacturing job loss in the country since 2000 occurred in those four swing states.
Ohio and Pennsylvania voted for a Republican for the first time since at least 2004. Michigan hasn't been called for Trump, but he is leading there.
The counties in those states where Clinton lost the largest number of voters compared with Obama in 2012 were also the counties that lost particularly large numbers of manufacturing jobs over the last 15 years, according to Bureau of Labor Statistics data.
How much of the shift took place because of trade is hard to tell: The job losses mostly took place during the first decade of this century, but the states did not flip to vote for a Republican until this year. And many other issues were in play, including tensions over immigration, race and the presence of a woman on the Democratic ticket.
Still, trade and its impact on manufacturing jobs almost certainly played a role in boosting Trump's prospects in the nation's industrial belt.
"The real ones who are hurt [by trade] are centered, not coincidentally, in the swing states in this election," said Peter Navarro, an economist from UC Irvine who has been a powerful voice on Trump's economic advisory board.
"You go around the rim of the Midwest…those are the key states that have been ground zero of this problem," Navarro said.
These workers were not necessarily scraping by — the average American with a factory gig made around $64,000 in 2015, BLS data show. But in Ohio, Michigan and Pennsylvania, pay for manufacturing employees has declined or remained relatively flat since 2000, after adjusting for inflation, even as it inched up in the country overall.
Ryan Germonto said that when he hears politicians talk dreamily about the economy today, he feels betrayed.
"Even if the progressives want to say we are progressing, we aren't really progressing," Germonto said.
The 32-year-old father of two used to make $55,000 inspecting gear boxes used in wind turbines for Eickhoff Wind Energy, in Pittsburgh. But the company stopped making the gear boxes in the U.S., and Germonto was laid off in November 2015.
Now he's working at a job that barely pays his bills. He makes $40,000 per year as a site manager, overseeing the housekeeping staff at an upscale mall in Pittsburgh. He now has to pay $800 per month for healthcare coverage that cost him less than $250 at his old job.
"I'm sick of outsourcing jobs. I'm sick of the government taking the easy way out," Germonto said. He voted for Trump because he believes the real estate mogul is "more for the people" than Clinton.
Economists say that people like Germonto were already in trouble. Automation has been steadily decimating assembly line jobs, and as new plants come back to the U.S. they are increasingly staffed by robots.
But trade has also damaged American factories, something workers noticed long before academics measured it.
"Until a few years ago most economists were convinced that international trade had only very minor implications for labor markets," said David Dorn, an economist who specializes in U.S.-China trade.
"Academics and policymakers underestimate the negative side effects of globalization by quite a bit," he said.
China alone could have knocked out up to 2.4 million jobs in the U.S. from 1999 to 2011, according to a recent study that Dorn co-wrote.
That economic shock made people want change.
Areas that were hammered by trade became more likely to vote out incumbents in favor of "politicians that were politically extreme" to Congress between 2002 and 2010, Dorn and three other economists found in a September study.
White-dominated regions opted for unconventional conservatives in the tea party, while places with a majority of blacks, Latinos and Asians chose Democrats at the other extreme, Dorn's study found.
Germonto, the former gear box inspector, said he didn't vote on race issues, but they were on his mind.
"More people are hating on white Americans than any other race or any other walk of life," he said. "I think white America is fed up with that."
In reality, there isn't a politician in the country who could turn things around for manual laborers in this country, economists say. Manufacturing output in the U.S. — the amount that we produce — reached a record high this year, after tanking during the recession.
But jobs have only trickled back, and the ones that are appearing aren't going to women and men who work with their hands — they're going to highly educated engineers, programmers and MBAs.
"There is a reallocation away from traditional manufacturing, toward parts of manufacturing that are more intensive in tech and in human capital," said Enrico Moretti, an economist at UC Berkeley. "Automation keeps reducing the need for blue-collar positions."
Lindsay Patterson, 61, doesn't buy Trump's guarantee to resuscitate jobs like his.
Patterson lost a $50,000 annual salary with benefits when the tubing plant he worked for in Philadelphia shut down in October 2015.
"They lost market share because Chinese pipes were coming in and it was becoming really difficult for them to compete on the price they were charging," said Patterson, who is now getting by on an unemployment check and his wife's salary as a schoolteacher.
Patterson voted for Clinton, because he says Trump can't change what's happened to industrial America.
"He is going to start a fight with China and with all these companies to bring jobs back, but it isn't that easy," Patterson said.
Still, many of Patterson's former coworkers sided with Trump, because he said the right things, often and loudly.
"They hear it, it sounds good, and if they don't have anything to base it on, well, that was what they have been waiting to hear," Patterson said.
Times staff writer Ryan Menezes contributed to this report.
ALSO
Obama has given himself a new task: educating Trump
Two West Virginia officials face backlash over racist post about Michelle Obama
Muslims have lived for more than 100 years in this Iowa city. Now they're wondering how they'll survive under Trump