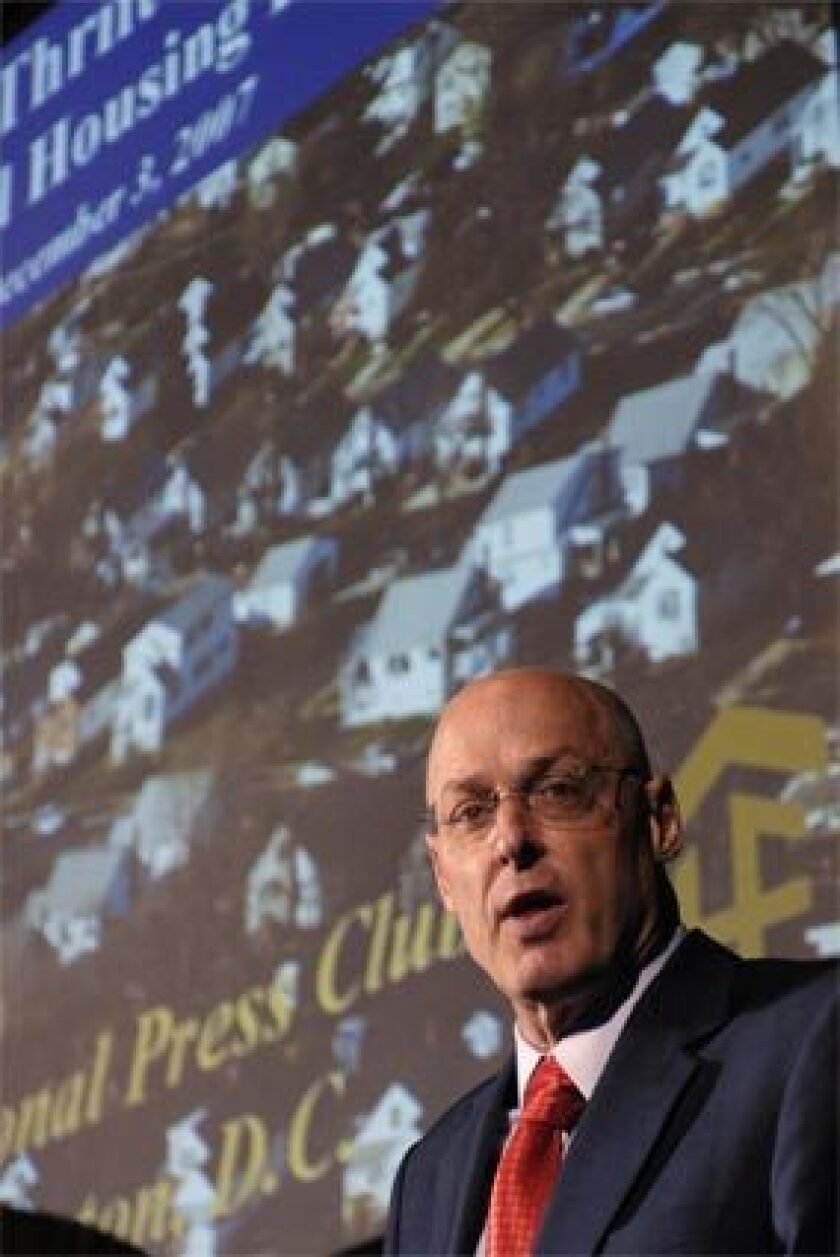 Los Angeles Times Staff Writer
WASHINGTON —
The Bush administration's newly aggressive effort to help people facing foreclosure and shore up the troubled mortgage industry was sparked by growing concerns of an election-year recession, and the political damage that would cause, analysts said Tuesday.
Indeed, a new Los Angeles Times/Bloomberg poll found that 71% of Americans now believe that a recession is likely. A majority also think that mortgage companies should be required to freeze lending rates to sub-prime borrowers who are at risk of default.
That public sentiment underscores the growing political pressure on the White House to engage more directly in the mortgage crisis, which is taking a rising toll on the broader economy.
"They're increasingly nervous about the election process," Mark Zandi, chief economist with Moody's Economy.com, said of administration decision-makers. "I think they're getting a lot of pressure from Republicans who are saying we don't want to be running in the middle of a recession."
Amid escalating loan defaults and foreclosures, the Bush administration had until recently said lenders and borrowers should work out new loan terms on their own and not expect the government to step in.
But that changed abruptly last week as Treasury Secretary Henry Paulson convened lenders, investors and others to discuss freezing interest rates for some borrowers in hopes of staving off foreclosures. Details of the plan are expected to be announced this week.
As recently as Oct. 10, Paulson told reporters that he opposed the idea of modifying loans by broad category. The administration had held steadfast to this view, despite complaints by consumer activists that many borrowers had signed for loans that were doomed to fail when they reset at higher rates in the future.
The previous posture was consistent with the administration's strong free-market views and general wariness toward government intervention in the private economy.
But recent developments transformed the picture, observers said, suggesting that fallout from the mortgage markets was spreading. Lenders are making fewer loans, further cooling the housing market. That in turn is weakening consumer spending and is expected to cut into job growth.
The mounting damage helped spur a sharp Nov. 26 sell-off on Wall Street, moving the major stock market indexes into "correction" territory before beginning a rebound the next day.
"I think the capital-markets issue hit them in a way that the problems of individual homeowners and community devastation did not," said Ellen Seidman, former director of both the Office of Thrift Supervision and the Federal Deposit Insurance Corp., who now heads a New America Foundation financial education project.
In a news conference Tuesday, President Bush acknowledged the problems affecting borrowers who could lose their homes. "That's of concern to me and our administration," he said. "That's why we're taking the action we're taking."
The president described the mortgage-related woes as "a head wind" affecting economic growth, but at the same time he sought to paint an upbeat picture of the economy: "The basic underpinnings of the economy are strong."
All agree the health of the economy will have increasing political importance as a presidential election year unfolds -- and the outcome of the mortgage problems may have far-reaching effects.
Voters typically identify the president as the economy's chief steward, giving the Bush administration even further reason to solve the sub-prime debacle.
Already, many congressional Republicans have tried to show voters that they were responding to lending problems: When the House last month considered a Democratic-sponsored bill to overhaul lending standards, 64 Republicans joined the Democratic majority in approving it.
"If the economy goes south due to a housing crisis, that will be the closing argument for Democrats -- because it's the Republicans who own the economy, for better or worse," said Howard Glaser, a mortgage industry analyst and former official at the Department of Housing and Urban Development.
Reports of rising claims for unemployment, falling home prices and concerns that Wall Street firms have not yet cleared away their problems with sub-prime mortgages only add to the challenges facing the economy -- and the pressure on the administration to find a path away from recession.
Administration economic officials are now laboring under a widespread perception that they failed to respond promptly enough to the warning signs that mortgage problems were spreading more broadly.
"Earlier this year, a lot of people -- in the administration, the Federal Reserve and the Treasury -- did not realize the potential scope of this problem and the adverse impact it could have on the economy," said Wright H. Andrews Jr., a veteran lobbyist on financial policy issues. "I think this is nothing short of a move to prevent a recession," he said of the Paulson initiative.
For years, a Democratic-oriented alliance of community groups and consumer activists has warned that predatory lending practices increasingly were locking borrowers into costly loans that were headed for trouble and would ultimately hurt not only borrowers but entire neighborhoods.
Complaints rose in 2006 and earlier this year, amid reports that lenders were approving a great many nontraditional mortgages, typically with low "teaser rates" designed to expire -- and soar -- after resets scheduled for the future.
Others, however, including many Republicans, contended that it was not the job of government to rescue borrowers or lenders from unwise transactions, and that many of the borrowers were not pitiful victims but rather had fully realized the risks of the loans that have become controversial.
But a chorus of troubling news from the financial world has elevated the issue in recent weeks, amid rising losses from Wall Street investment banks including Merrill Lynch & Co., Citigroup Inc. and others from loan defaults.
Total losses to banks that provided loan capital, and investors who bought mortgage-backed securities, could approach $500 billion by at least one estimate.
"Obviously, when big banks like Citi come up with big hits, that had people looking," Andrews said.
"The financial system is incredibly unsettled," said Zandi of Moody's. "The economy continues to weaken. And things are getting worse -- not better."
jonathan.peterson@
latimes.com
RELATED GRAPHIC Outlook: Many Americans are pessimistic about the future, poll finds. Page C8
---