Competitive video gaming is set to return to TV in 2016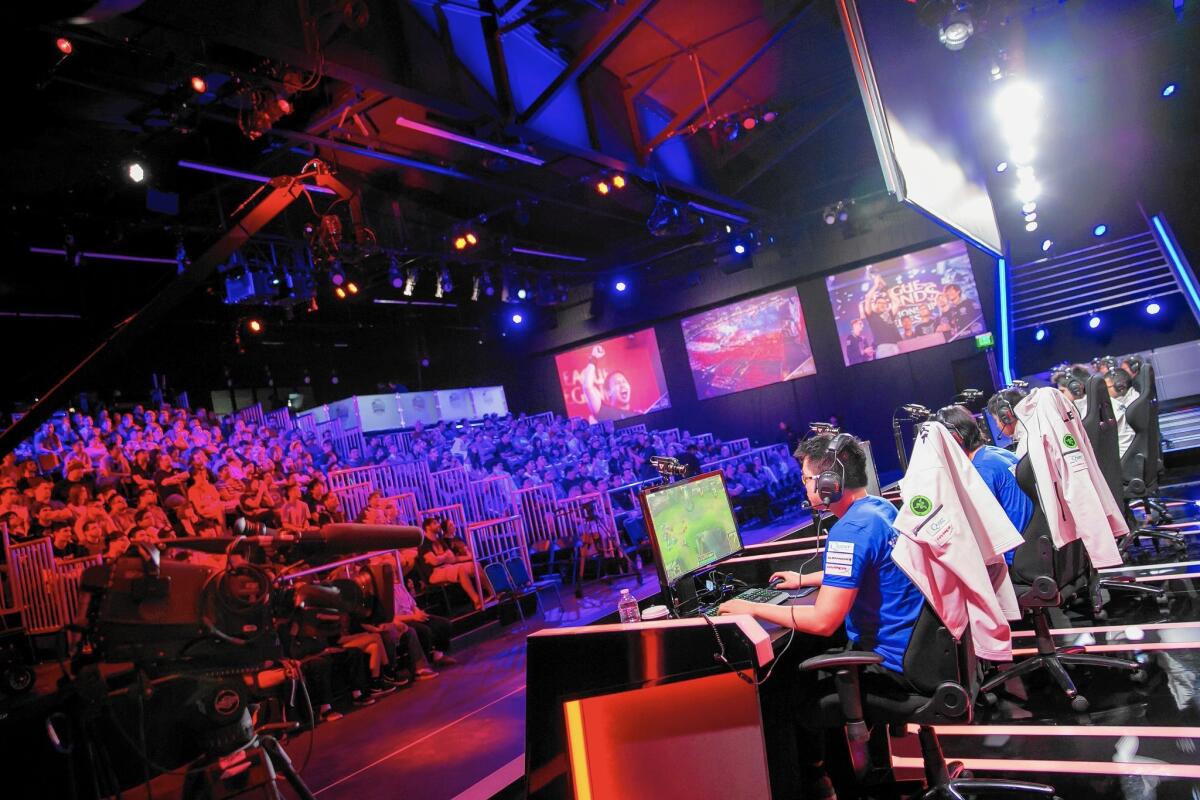 Ten years ago, in the early days of competitive video gaming, MTV, USA Network, DirecTV and others started televising top-tier matches.
The idea flopped — the contests were trendy, but not yet a megatrend.
Today, spectators are buying tickets to gaming tournaments held in arenas, and the TV cameras are back. TBS is leading what several industry sources say will be another flurry of agreements to bring professional video-game battles — today, under the catchy name eSports — to broadcast television.
On Friday nights starting in 2016, eSports athletes will compete live in the authorities-versus-terrorists shooting game "Counter-Strike: Global Offensive," through a partnership between Turner Broadcasting System Inc.'s TBS and talent agency William Morris Endeavor's IMG sports and media division. The programming, announced Wednesday, will feature a pair of 10-week seasons. Dates were not announced.
Turner, an equal partner with WME/IMG in the new venture, said production quality would match its college basketball, Major League Baseball and National Basketball Assn. broadcasts. A set built for gaming at Turner Studios in Atlanta will also be the headquarters. Companion coverage will run on Turner apps and websites.
"The level of investment is unlike anything that this sport has seen," said Turner Sports President Lenny Daniels. "The way we treat players will be on par with the way we treat [TV analyst and former NBA star] Charles Barkley. We want to upgrade the whole sport." Daniels didn't talk numbers.
ESports will become an important part of a revamped TBS, network President Kevin Reilly said in a prepared statement.
Analysts say television and gaming have changed significantly over just the last three years, justifying what Turner and WME/IMG called the "the most extensive commitment to televised eSports programming."
"ESports appeals to many more people and households," said Joost van Dreunen, chief executive of game-industry consulting firm SuperData Research. "I would be very bullish."
SuperData estimates that eSports is now a $612-million global market with 134 million fans and growing fast.
Van Dreunen, who's fielding a growing number of inquiries from advertisers and media companies, said several factors make the industry fit for American TV again.
Every weekend, millions of people watch pro matches on streaming video service Twitch, which helped turn video games into a spectator sport. Fans spend as much as $200 a weekend to sell out eSports championship venues such as Staples Center and Madison Square Garden. There, event promoters woo advertisers that covet the young consumers who dominate the gaming audience.
"People are aware their kids and grandkids are playing 'Minecraft' on the iPad," van Dreunen said. "They realize entertainment preferences have changed."
Neal Pilson is a skeptic. A sports media consultant who was involved in the USA Network deal in 2006, he said TV is the wrong medium for the sport. Case in point: G4, a gaming channel that NBCUniversal shut down in December after years of weak ratings.
"Audiences, advertisers and costs all militate against traditional television, and all focus toward [online] carriage," he said.
But being on TV is a huge mark of validation for game publishers, analysts said. They're also confident that it'll introduce console and PC games to slightly older people who might already be playing smartphone games but don't know about Twitch.
"There's a lot of eSports fans out there that don't realize they're eSports fans yet," said Tobias Sherman, who heads IMG's eSports division. "This gives us a chance to broadcast to the wide audience."
And even as young viewers drop their cable subscriptions, television remains a gold mine for ad revenue.
Advertising on Twitch and other services is rising. But tournament organizers and advertisers turn wide-eyed when discussing TV. Online video ad spending is only a tenth of TV ad revenue, and the huge TV hauls could yield bigger salaries for players and better organized leagues.
Turner, owned by Time Warner Inc., and WME/IMG began discussions a year ago. WME/IMG represents players and teams in eSports. The companies met and dined with gaming team owners three weeks ago in Atlanta.
"They want to be recognized," Daniels said about what he learned. "They want people to understand what they do and how they do it."
Forming a new league allows for innovation on presentation, where the limits of Twitch, YouTube and other services have created a "glass ceiling," Sherman said.
Sundance DiGiovanni, chief executive of eSports organizer Major League Gaming, said a decade ago he was pitching TV networks. It's now a seller's market. Though his experiment with USA Network wasn't a huge success, he's grown more receptive to inquiries because "TV can elevate the experience" when well-planned.
Sports giant ESPN aired a college tournament for "Heroes of the Storm" in April, drawing a tiny 0.1 Nielsen rating on ESPN 2 but nearly 1 million viewers on its websites, apps and Twitch for the championship. ESPN said experimentation would continue: "The championship aired on a highly competitive night of programming, and we are pleased with the strategic goals of delivering the event."
Several other networks are eyeing eSports, including NBC Sports Group, which said it's monitoring "this emerging category."
Snapchat: peard33