Uber drivers have mixed reactions to $100 million settlement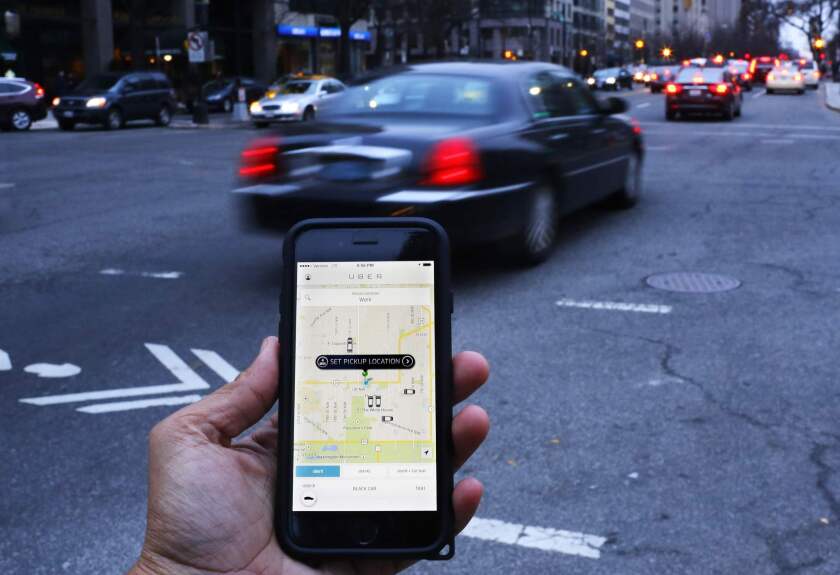 Arthur Bard can see the good and the bad sides of Uber's work arrangement with its drivers.
The flexibility gives him time to be with his wife as she fights cancer. But as an independent contractor, not an employee, he can't get paid leave.
On Thursday, Uber announced that it would settle lawsuits in California and Massachusetts brought by drivers who wanted to be considered employees instead of contractors. The company will pay up $100 million to drivers in the two states, and it will reduce the control it has over their day-to-day work.
However, the company will continue to treat drivers as contractors.
SIGN UP for the free California Inc. business newsletter >>
Uber drivers had mixed feelings about the settlement.
A survey of 150 drivers who use an app called SherpaShare, which allows them to track their miles, earnings and expenses, suggests that a majority — 69% — see themselves as independent contractors. But 64% said the lawsuit settlement is not what they anticipated. Only 13% said they were satisfied with the outcome.
Travis Kalanick, Uber's chief executive, said in a prepared statement that most Uber drivers "choose Uber because they want to be their own boss" and would prefer to be independent.
That's true for Moon Lee, 62, who said he has no interest in being an employee of Uber. Lee owned two shoe stores in Covina and Oceanside for three years before he had to shut them down in January and February because of slow business. Driving for Uber comes with the perks of running a small business, without the frustrations of actually managing one, he said.
"It's much better than running a retail store," he said. "My own business was too much of a headache. I had to worry about employees, taxes, rent. Now I just pick up riders."
Bard, 54, started driving for Uber in November, after his wife was diagnosed with multiple myeloma, a cancer of the plasma cells. The job allows him to be at his wife's side when she needs him.
"It was my personal mission, so I had the freedom to set my own hours so I could be with my wife during the mornings and at night," Bard said.
Join the conversation on Facebook >>
He said that being an employee might make it harder to offer that support whenever it's needed. "I don't want them in control of what hours I work."
But for the next three weeks, during which time his wife will undergo chemotherapy treatments at the City of Hope, a cancer treatment center in Duarte, Bard will have to keep working. He can't afford to stop.
"A standard employee would have the benefit of paid family leave," Bard said. "Independent contractors can't qualify for that."
Gov. Jerry Brown signed a law expanding California's already unique leave policy so that workers making close to the minimum wage can take six weeks off work to care for an ailing family member and get paid 70% of their salary. The new law covers only employees, though.
Under the settlement, Uber will allow drivers to solicit tips and will not kick drivers off its platform without giving them warnings and an opportunity to correct bad behavior.
Those concessions may seem paltry next to the protections of full employment, but they will make a difference to drivers like Michael Goodman of Northridge.
Goodman, 59, has been driving for Uber since December 2014 and said he initially didn't realize how much of an impact it would make on his income to not get tips. He said when he drives taxis, about 15% of what he took home was from tips. He hasn't made as much as he wants to with Uber and misses the extra cash.
"You're not forbidden from accepting them, but you're supposed to discourage it. Over time, I discouraged it less," he said.
Johnathan Choi, 52, said he thought Uber was right to become more lenient toward under-performing drivers. He said he had two friends who were barred from driving for Uber even though customers had given them a better-than 80% rating.
"The standard is a little too high," Choi said. "It's tough to kick someone out for a B+ rating."
Times staff writer Tracey Lien contributed to this report.
Twitter: @NatalieKitro
ALSO
Hiltzik: How Uber's big settlement may make things worse for its drivers
Uber will pay up to $100 million to settle suits with drivers seeking employee status
How regulators plan to use pay rules to rein in risk-taking by big banks
---
Your guide to our clean energy future
Get our Boiling Point newsletter for the latest on the power sector, water wars and more — and what they mean for California.
You may occasionally receive promotional content from the Los Angeles Times.