Uber will pay $20 million to settle lawsuits over question of whether drivers are employees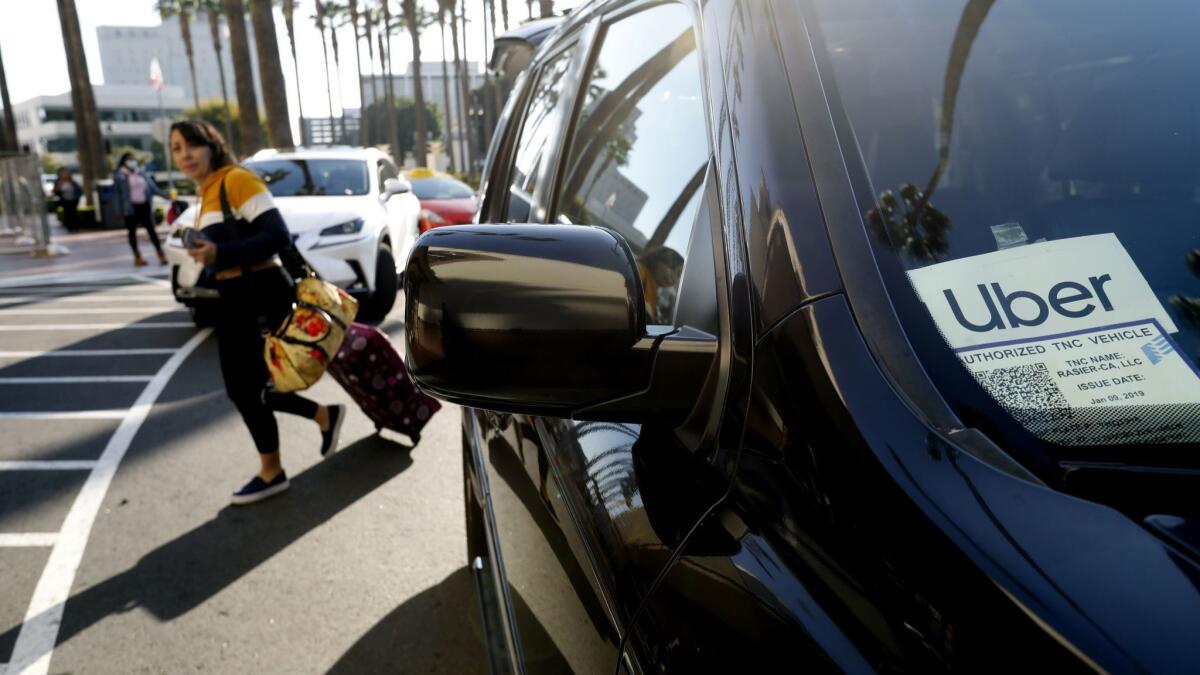 When tech workers began rallying last year against their employers' mandatory arbitration clauses, some of the industry's biggest companies changed their policies. Google dropped mandatory arbitration entirely. Uber Technologies Inc., however, opted to abolish forced arbitration in sexual misconduct cases, but not in other labor disputes.
That decision proved significant Tuesday when Uber agreed to pay $20 million to settle lawsuits challenging the classification of drivers as independent contractors, rather than employees owed the benefits of traditional employment.
The payout is a far cry from the $100 million Uber had agreed to pay to settle the suit in 2016, after a San Francisco judge granted 385,000 drivers in California and Massachusetts class-action status. Eventually, a judge determined $100 million was not sufficient given the original class size.
But an appeals court ruling found Uber's mandatory arbitration agreements — which obligate workers to settle their claims with the company one-on-one — were largely valid and enforceable.
That ruling, and Uber's decision in May to maintain its policy of upholding its arbitration clause in cases unrelated to sexual misconduct, ultimately reduced the class to about 13,600 drivers, who had either opted not to agree to mandatory arbitration or drove for Uber before the company implemented such a policy.
Drivers argued that Uber made it onerous for them to opt out of the arbitration provisions. Shannon Liss-Riordan, the attorney representing drivers in this case, said Uber "rigorously enforces" its arbitration clauses.
"It's a myth that these opt-out provisions in arbitration clauses really make these agreements voluntary." Liss-Riordan said. She's seeking $5 million in attorney's fees and estimates that drivers will receive about $.37 per mile they have driven for Uber.
Resolution of the long-standing fight over benefits and pay comes as Uber is preparing for its initial public offering later this year. The litigation attacked the ride-hailing company's business model of treating its drivers as contractors to avoid the costs of paying a minimum wage, overtime, sick leave and health insurance. Drivers will continue to be considered contractors as part of the settlement.
Uber said it had worked to make "the driver experience even better through improvements like in-app tipping, a redesigned driver app, and new rewards programs," according to an emailed statement from spokesman Matt Kallman. "We'll continue working hard to improve the quality, security and dignity of independent work."
The settlement, which requires a judge's approval, was filed late Monday in San Francisco federal court and confirmed by Liss-Riordan.
Even before the appeals court ruling, prospects for the suits against Uber were dealt a blow by a U.S. Supreme Court decision last year that bolstered the power of employers to force workers to use individual arbitration instead of class-action lawsuits.
Bloomberg contributed to this report