UCI doctor's plan to stop superbugs is widely used. At her own hospital, it didn't work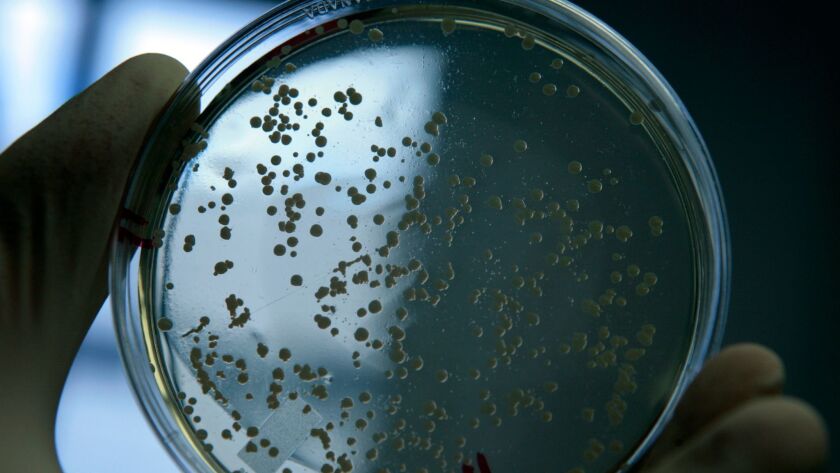 By the end of December, a lethal bacterium had swept through UC Irvine Medical Center's intensive care unit, sickening seven infants. Dr. Susan Huang, the hospital's infection control expert, had a plan.
The strategy — which she had promoted so successfully that most U.S. hospitals now use it — included bathing all infants in the ICU with a powerful disinfectant, and swabbing inside their noses with an antibiotic.
But this time, the plan failed. Despite also isolating infected babies and ensuring nurses washed their hands, in February and March three more babies tested positive for the same strain of the superbug MRSA.
The outbreak is a reminder that scientists are still struggling to gain the upper hand against hospital-acquired infections. It has also amplified an already heated debate about whether the strategy that Huang helped develop is the best way to halt MRSA, a pernicious pathogen that kills at least 9,000 Americans a year.
"We want the strategies we employ to work 100% of the time, but that's not always possible," Huang said in a written statement to The Times. She declined to be interviewed.
We want the strategies we employ to work 100% of the time, but that's not always possible
— Dr. Susan Huang, UC Irvine Medical Center's infection control expert
Even before the MRSA outbreak at UC Irvine, experts worried that the strategy of treating all patients with the disinfectant and antibiotic could do more harm than good by making bacteria more dangerous and resistant to drugs.
"Broad use of antiseptic strategies deployed over many days or weeks may only partially help, and may in turn induce unintended consequences," said Dr. Derek Angus, a professor of critical care medicine at the University of Pittsburgh.
The disinfectant chlorhexidine and antibiotic mupirocin can also have adverse effects on patients — especially premature babies in the ICU, whose skin and neurological systems are still developing.
In February, the Food and Drug Administration warned hospitals that it was seeing a greater number of rare but serious allergic reactions to chlorhexidine.
The biocide is sold over-the-counter to disinfect small areas of skin before surgery. It is not approved for bathing patients' entire bodies. Its label warns against using in infants under 2 months of age because it can cause chemical burns.
Mupirocin, the antibiotic, is not approved for children under 12. Its label specifically cautions against use in premature infants.
John Murray, a UC Irvine spokesman, said no infants suffered adverse reactions from the treatment.
Although the hospital has not yet found the source of the outbreak, he said, all current patients in the neonatal intensive care unit have tested negative for MRSA, which stands for methicillin-resistant Staphylococcus aureus.
One national healthcare provider has sharply reduced MRSA infections by using a practice much different from the one advocated by Huang and her colleagues.
Huang recommends against testing new patients for MRSA, and instead relies on treating every patient in the ICU with daily disinfectant baths and the antibiotic nasal swipes — a practice called "universal decolonization."
In contrast, the U.S. Department of Veterans Affairs tests every patient being admitted. If patients tests positive, they are isolated and treated, making it harder for the bacteria to spread.
The VA reported in January that testing and isolating patients had helped reduced MRSA infections by 80% since 2007.
That practice is costly, though. It requires single hospital rooms. Nurses and doctors must put on gowns and gloves when entering the isolated patient's room and take them off when leaving. Often more staff must be hired. Isolating a single patient can add hundreds of dollars to the hospital's tab.
Huang's protocol is far less expensive. The study she led in 2013 found that it cost just $40 to treat each patient with the daily disinfectant baths and antibiotic nasal swipes.
The idea for the study, Huang explained at a 2014 presentation, came from a conversation between an executive at the Hospital Corp. of America, the nation's biggest hospital company, and Richard Platt, the director of the Harvard Pilgrim Health Care Institute. The institute is a partnership between Harvard and Massachusetts' largest health insurer. The federal Centers for Disease Control and Prevention helped pay for the trial.
Platt said the group wasn't motivated by the economics. "We did this to answer the question, 'Can we reduce the number of infections?'" he said. "It wasn't, 'Can we lower the cost?'"
Forty-three hospitals owned by HCA joined Huang's study. It concluded that bathing all ICU patients in cloths soaked in the biocide, and treating them with the antibiotic, led to fewer infections than when patients were screened for MRSA and isolated.
The rate of MRSA bloodstream infections did not change significantly. But when the group looked at bloodstream infections from all types of pathogens, the rate dropped by 44%.
Before the study, HCA's more than 150 hospitals were using an approach similar to the VA's. The company eventually switched to the approach outlined in Huang's study, said Ed Fishbough, an HCA spokesman, and has continued to see a decline in infections.
Some scientists quickly challenged the results of the study after it was published in 2013 by the New England Journal of Medicine. In letters, the scientists questioned whether the mixed results justified the treatment's use. They also said doctors could make the bacteria more dangerous by treating all patients.
"Great caution should be exercised in transferring the study's results into clinical practice," wrote doctors from the Medical University of Graz in Austria.
The concerns did not stop hospitals from adopting it. In a talk in January, Huang said that 65% to 80% of U.S. hospitals were now using decolonization in their ICUs.
So far, though, its widespread use has not cut the nation's rate of MRSA infections. Between 2014 and 2015, a national estimate based on MRSA bloodstream infections reported by hospitals rose by 10%, according to data from the CDC's National Healthcare Safety Network.
Asked to explain the increase, Melissa Brower, a CDC spokeswoman, said the agency had changed its method of calculating the national statistic, which skewed the numbers. The actual rate of MRSA bloodstream infections did not rise between 2014 and 2015, she said.
Already, scientists have discovered bacteria becoming more resistant to both chlorhexidine and mupirocin.
A team led by Dr. Ajita Prabhu at the Cleveland Clinic expected to see infections decline when it began a study in which hernia patients were treated with wipes of chlorhexidine before surgery. Instead those patients suffered more surgical site infections than those not treated, the team reported last year.
"Indiscriminate use" of the disinfectant, the doctors concluded, "should be discouraged."
Huang and her colleagues were so comfortable with the treatment's safety that they instruct hospitals that there is no need to ask patients for permission. Instead patients should be told the treatment is "routinely used in this ICU," according to their published toolkit.
The outbreak in UC Irvine's neonatal intensive care unit began in August.
Hospital officials told the state in a Jan. 6 letter that they had begun to decolonize all infants who were current patients and those coming from other hospitals with chlorhexidine and mupirocin on Dec. 22.
Murray said that 220 staff working in the intensive care unit were tested for MRSA in January and February and decolonized with the disinfectant and antibiotic if they tested positive.
The staff also continued to clean the intensive care unit's equipment and surfaces.
But three more babies later tested positive for the same MRSA strain. In all, nine infants were sickened. Another's skin was colonized. None of them died.
Briana Walker of Mission Viejo said that her son tested positive for MRSA on March 6 about a week after staff moved a baby who had been infected into a room next to her son's.
It is not clear how extensively the unit's staff used the disinfectant baths and antibiotic treatment. Walker said the staff did not not treat her son until after he tested positive for MRSA. By then he had been in the ICU for a month.
The staff also did not tell her about the outbreak, she said. "I wonder how many other patients were not told what was going on."
Murray declined to answer more questions about the babies' treatment.
To read the article in Spanish, click here
Follow @melodypetersen on Twitter
ALSO
Brain surgeon, nurse charged with child sex crimes
'WannaCry' ransomware shares code with Sony hack, raising possibility of North Korea connection
Despite efforts on equal pay, the gender salary gap in California government jobs persists
---
Must-read stories from the L.A. Times
Get the day's top news with our Today's Headlines newsletter, sent every weekday morning.
You may occasionally receive promotional content from the Los Angeles Times.