New lawsuits filed against scope maker in deadly UCLA superbug outbreak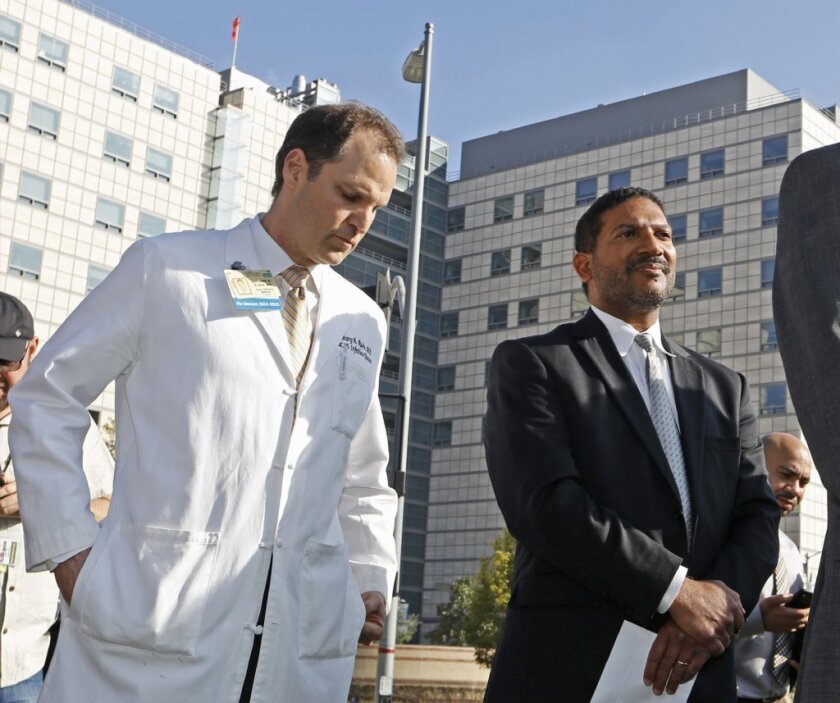 In response to the superbug outbreak at UCLA, the family of a 41-year-old patient who died in January has sued a medical device maker for wrongful death.
The family of Silvia Patricia Aroche sued Olympus Corp. of the Americas on Friday in Los Angeles County Superior Court.
The Diamond Bar woman was exposed to the deadly CRE bacteria from a contaminated Olympus duodenoscope at UCLA's Ronald Reagan Medical Center during multiple procedures in December, and as a result she "suffered significant injury and died," according to the suit.
Aroche worked as a benefits specialist at the Los Angeles Fire and Police Pensions system. Her husband, Paul Campbell, is the plaintiff. He couldn't be immediately reached for comment.
In addition to wrongful death, the complaint accuses Olympus of negligence and fraud in selling and promoting a defective scope "so as to maximize sales and profits at the expense of the health and safety of the public."
The scopes are used to perform a procedure called endoscopic retrograde cholangiopancreatography, or ERCP, in which doctors thread the thin device down the patient's throat to examine and treat conditions including cancer, gallstones and other issues in the digestive system.
After the UCLA infections, the Food and Drug Administration warned hospitals that the scopes are difficult to clean of dangerous bacteria even when following the manufacturers' instructions for reuse.
Another patient, Leo Palomino, also sued Olympus on Friday for negligence and fraud as well in connection with his superbug infection from a tainted scope.
The 72-year-old Inglewood man was exposed to a contaminated Olympus Q180V scope when he underwent multiple ERCP procedures at UCLA from October to December 2014, his complaint said.
Los Angeles attorney Pete Kaufman, who represents both of these plaintiffs, said Palomino was discharged from the hospital in January.
A third patient, Domingo Gomez, filed suit against Olympus on Monday. A copy of his complaint wasn't immediately available.
A spokesman for Olympus has said the company doesn't comment on active legal matters.
In response to the recent outbreaks, Olympus said it's working with "relevant medical societies and our customers in research of this emerging issue and the development of additional safeguards to prevent infection associated with endoscopic procedures including ERCP."
Overall, Kaufman said the number of patients affected at UCLA and other hospitals hit by outbreaks may be higher than initially reported.
"I think the numbers will go higher because hospitals have been very cautious in reporting cases," he said. "You want to create the impression you have confined an outbreak like this. But determining these numbers requires some level of detective work."
The three suits in the past week add to two previous ones filed on behalf of a Central Valley woman who died at UCLA and an 18-year-old student who remains hospitalized there with his superbug infection.
UCLA and the University of California regents may be added as defendants in these cases as more details emerge, according to Kaufman.
UCLA has said seven patients were infected with the CRE superbug from scopes made by Olympus, a unit of the Japanese electronics giant.
The infections contributed to the deaths of two of those patients, the university said, and 179 other patients may have been exposed from Oct. 3 to Jan. 28.
CRE, which stands for carbapenem-resistant Enterobacteriaceae, is highly resistant to antibiotics and can kill up to 50% of infected patients.
Twitter: @chadterhune
---
Must-read stories from the L.A. Times
Get the day's top news with our Today's Headlines newsletter, sent every weekday morning.
You may occasionally receive promotional content from the Los Angeles Times.