United Airlines bans dozens of dog and cat breeds from cargo hold under new pet travel policy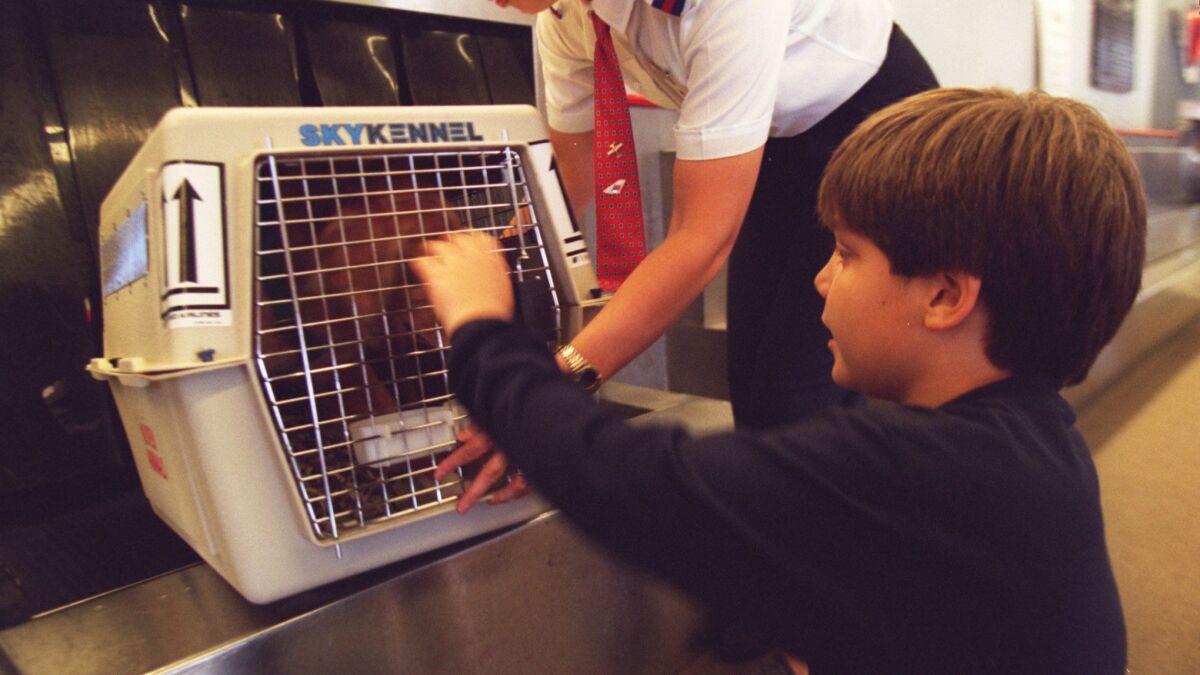 In response to the controversial death of a dog on a United Airlines flight in March, the carrier is overhauling its pet travel policy, including banning the transport of dozens of breeds of dogs and cats in the cargo compartment.
Passengers can still bring small pets, including many of the breeds banned in cargo, into the cabin if the animal's carrier fits under the seat without obstructing passengers from exiting.
The new policy doesn't address service animals and emotional support animals. It also appears to effectively ban some fully grown large breeds, including Mastiffs and some bulldogs, since they won't be allowed in the cargo hold and would appear to not fit under a seat in the cabin.
As part of the announcement of its new pet policy, United Airlines said Tuesday it is teaming up with American Humane, a 141-year-old animal welfare group, to improve its pet travel policies, including possible changes to staff training and other requirements for passengers traveling with pets.
"Transporting pets introduces a variety of risks, and when United approached us we knew we had to take on the challenge of helping improve and ensure the health, safety and comfort of so many animals," said Robin Ganzert, president and chief executive of American Humane.
The new policy to ban certain breeds begins June 18 and stems "out of concern for higher adverse health risks," the Chicago-based airline said. Studies have suggested that pets with short or snub noses are more likely to have health problems while being transported on planes.
Among the pets the new policy bans from transporting in the cargo hold are dozens of breeds of dogs and cats, including Boston Terriers, boxers, pugs and Pekingese dogs, and Persian and Himalayan cats. The program will accept only dogs and cats; no other animal will be allowed in the cargo hold area.
United also said it would stop transporting animals between May 1 and Sept. 30 for travel to and from Las Vegas, Palm Springs, Phoenix and Tucson because of the extreme heat in those destinations during summer months.
The airline is also limiting the number of connections a pet can be routed through on a trip and is imposing new but unspecified requirements for documentation that pet owners must provide before a reservation is confirmed.
Other airlines also place restrictions on pet travel. Delta does not accept snub-nosed or pug-nosed pets as checked baggage under any circumstances.
United temporarily halted transporting pets after the death of a 10-month-old French bulldog on March 12 on a flight from Houston to New York — a story that went viral on social media.
A flight attendant, worried that the dog's carrier did not fit under the seat, instructed the owners to put the carrier in the overhead compartment, where the dog died during a flight of more than three hours. United Airlines defended the flight attendant, saying she did not know that the carrier contained a live dog, which the passenger has disputed.
United Airlines took more heat on its pet transport program the following day, when the airline accidentally shipped a dog to Japan instead of Kansas City, Mo. The animal was eventually reunited with its owner. A third dog was incorrectly placed on a flight to St. Louis, which prompted the airline to divert the flight to Akron, Ohio, the dog's intended destination.
To read more about the travel and tourism industries, follow @hugomartin on Twitter.