United Airlines' CEO vows the airline will learn and grow after passenger-dragging fiasco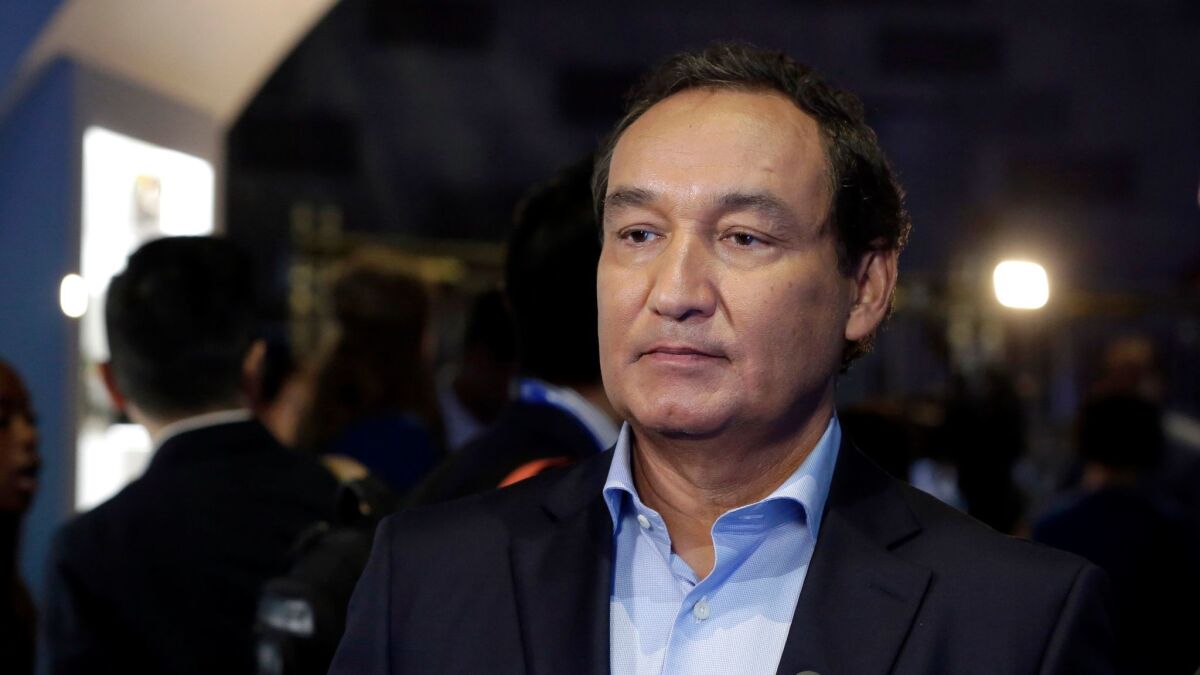 After reporting strong financial data, United Airlines' top executives sought to reassure investors Tuesday that the company will continue to thrive as it adopts changes in response to the forced removal of a passenger in a bloody fiasco that became the subject of a worldwide viral video.
At the start of a conference call to discuss United Continental Holdings Inc.'s quarterly earnings, Chief Executive Oscar Munoz and two other executives each somberly acknowledged the April 9 confrontation that left the passenger — 69-year-old Dr. David Dao — bloodied and injured.
Munoz, in response to a question from an analyst, said the incident has prompted calls from the carrier's corporate travelers, who usually pay the most for tickets. He said the airlines' sales team has been addressing those concerns.
"There has been some concerns from our corporate accounts, which is totally appropriate," he said. "They believe in us. They believe we will get this fixed."
Airline President Scott Kirby told analysts and reporters that it is too early to tell whether the Dao incident has hurt bookings on the carrier.
"We just don't have any quantifiable data," he said.
Munoz called the incident with Dao a "humbling learning experience for all of us here at United and for me in particular." He apologized again to his customers, saying, "You can and should expect more from us."
What happened
The earnings report comes a little more than a week after Dao, of Elizabethtown, Ky., was dragged out of his seat to make room for United employees on a flight from Chicago to Louisville, Ky. Dao's attorney said the doctor suffered a concussion, a broken nose, a sinus injury and lost two front teeth.
After asking for volunteers and offering up to $800 and a hotel stay, United picked four seated passengers to be removed. Dao was among those picked, but he refused to give up his seat to take a flight the next day.
Dao and his wife were returning from a vacation in California and had boarded the connecting flight to head home. Video of the incident — shot from several angles by fellow passengers — shows Dao raising his voice but not becoming hostile or violent when airport police officers, who had been summoned by United, asked him to leave his seat.
United has said it will no longer call on police to remove passengers, unless they pose a threat or for safety reasons. The airline will also require employees traveling for work to book seats at least an hour in advance to avoid displacing customers already aboard an aircraft.
The airline has said it is reviewing other procedures after the incident and will release its conclusions at the end of the month.
Munoz has apologized repeatedly, but his early reactions to the event were seen as deficient. A day after the incident, Munoz issued a statement in which he spoke of "having to re-accommodate" four customers, then sent a letter to employees calling Dao a "belligerent" customer who "refused to comply" with requests to give up his seat.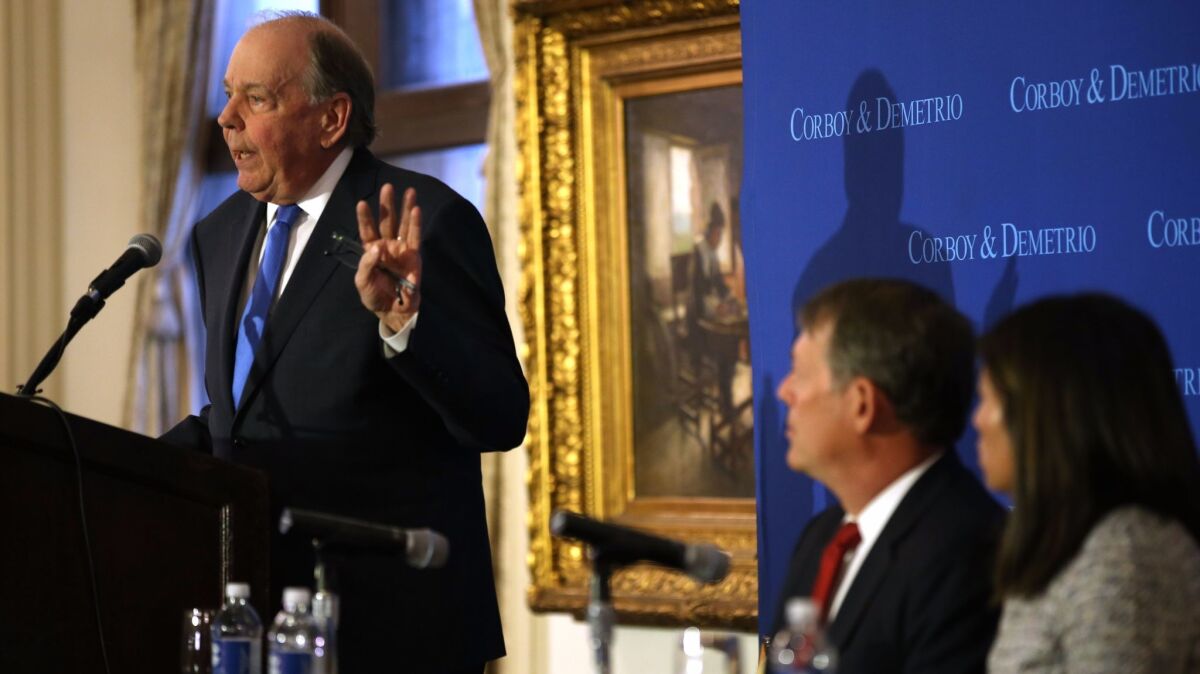 The fallout
"There was never consideration of firing an employee" over the Dao incident, Munoz said Tuesday, acknowledging that there had been rumors that even he would lose his job. He called Dao's eviction from the plane a "system failure," not the fault of any particular employee.
Video of the bloody scene sparked public outrage as far away as China, where many accused United of racism for its treatment of Dao.
United hopes to increase its business with international travelers, and Munoz said Tuesday that he met with the Chinese consulate in the U.S. in response. He also said he plans to discuss the incident when he takes a previously scheduled trip to China in the next few weeks.
Munoz also said he sent a personal note to United's highest-spending customers, who he said reacted to the Dao incident with ideas and support for the airline.
Dao's family has already hired Chicago attorneys Thomas Demetrio and Stephen Golan for what is expected to be a multimillion-dollar lawsuit against the Chicago airline. In a news conference last week, Demetrio said Dao will probably need reconstructive surgery to repair the damage from being pulled and dragged from the plane.
The three officers from the Chicago Department of Aviation who yanked Dao from his seat have been put on administrative leave, pending an investigation.
United profit beats expectations
In the three months that ended in March, United posted net income of $96 million, or 31 cents a share, down from $313 million, or 88 cents, in the same period last year. First-quarter revenue was $8.4 billion, up 2.7%.
But excluding special items, United earned 41 cents a share, beating an average of 38 cents a share projected by analysts who were surveyed by Thomson Reuters.
Those special items included $37 million in severance and benefit costs. And expenses at the airline increased 7.9% to $8.1 billion, largely because of higher fuel prices and increased labor costs from new union contracts signed last year.
United is trying to increase its market share by attracting more domestic passengers through the airlines' regional carriers. The carrier also hopes to increase its business in Latin America.
"This is not an attempt to build an empire," Munoz said Tuesday. "It is an attempt to restore United to its natural position."
This quarter, United plans to increase capacity by 3% to 4%. Analysts and shareholders have expressed concern in the past about airlines growing too fast, fearing it could lead to price wars and discounted tickets.
Some of United's financial data for the three-month period point to positive trends.
The carrier completed 99.1% of its flights, up from 98.2% in the same quarter last year, while the rate of lost or damaged luggage dropped slightly to 2.64 bags for every 1,000 passengers. The rate of canceled flights for United was also lower in the quarter compared with its rivals, Southwest, American and Delta.
Still, investors who had largely shrugged off the growing public relations scandal were nervous about the United financial results, which were released Monday after the market closed.
United Continental Holdings shares fell $3.02, or 4.3%, to $67.75 on Tuesday. Monday's closing price of $70.77 was off only 11 cents from the closing price on the Friday before the incident.
Analysts say it wasn't clear whether the slide in United Continental's stock on Tuesday was a response to the earnings report or delayed investor backlash from the Dao incident.
Seth Kaplan, managing partner of Airline Weekly, noted that although United beat analyst predictions, it reported a profit margin of less than 3% while Delta reported a profit margin of about 9% last week.
"Compared to other airlines, United is under performing," he said.
United "botched the original response" to the passenger-dragging furor, but Kaplan called it a "freak" event that could have happened to any airline.
ALSO
United apologizes — again — after attorney describes dragged passenger's injuries
United fiasco shows airlines' power over passengers — and how it might change
Column: That time passengers were told to give up their seats for United's CEO and his family
---
UPDATES:
4:05 p.m.: This article was updated with analyst commentary.
2:15 p.m.: This article was updated with more comments from the conference call, additional analysis and the closing stock price.
9:10 a.m.: This article was updated with additional comments from United CEO Oscar Munoz and President Scott Kirby.
This article was originally published at 8:35 a.m.
---
Sign up for the California Politics newsletter to get exclusive analysis from our reporters.
You may occasionally receive promotional content from the Los Angeles Times.