United CEO apologizes, promises changes and reimbursements after passenger is dragged off plane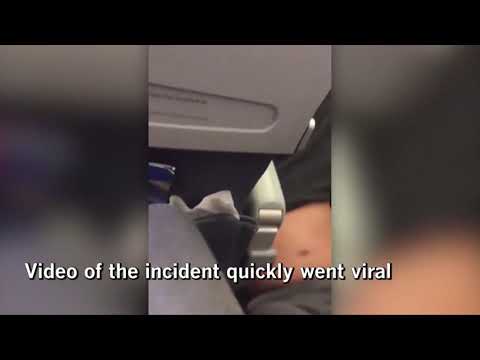 Here's United Airlines' latest PR nightmare. (April 11, 2017)
Reporting from San Francisco —
United Airlines Chief Executive Oscar Munoz went on an apology tour Wednesday, pledging to change policies and reimburse customers on a flight in which a passenger was dragged off a plane — all in an attempt by the company to put behind it a raging public relations disaster.
"It's never too late to do the right thing," Munoz said as the company began to issue mea culpas Tuesday.
But experts in branding and crisis public relations say it may be too late to minimize the damage that video of the incident — and United's original non-apology blaming the passenger — wreaked on the 91-year-old airline.
"This was a brand dirty bomb," said Eric Schiffer, chief executive of ReputationManagementConsultants.com, who added that the company's handling of the incident will, like nuclear fallout, stick around for a long time. "It was self-built and self-ignited."
Munoz and his company spent Wednesday trying to clean things up.
He started the day telling ABC News that the company would review its policies and acknowledged that his "initial words truly fell short of what we were experiencing."
He told the network that he felt "shame" when he saw the video, and blamed the incident on a "system failure."
"We had not provided our front-line supervisors and managers and individuals with the proper tools, policies and procedures that allow them to use common sense," Munoz said. "That's on me. I have to fix that."
When asked whether he believed the passenger, David Dao, a 69-year-old physician from Elizabethtown, Ky., was at fault, Munoz — who originally described Dao as "belligerent" — hesitated before saying, "No, he can't be. He was a paying passenger sitting in a seat in our aircraft, and no one should be treated that way, period."
Munoz said United will evaluate at its procedures, and ensure that law enforcement will not be allowed on one of its planes "to remove a booked, paid, seating passenger" ever again.
Later in the day United said all passengers on the flight will receive "compensation for the cost of their tickets."
Such moves are the right first steps, according to branding experts, but the Chicago-based airline will have to do a lot more to regain the trust of customers.
"They have so destroyed the connection and trust they've built up over the years," Schiffer said. "And it wasn't just the beat-down of a customer that everyone could project themselves being — it was the response afterwards, which was so cold and done with such a lack of empathy. It made people believe they just don't care."
The change of tune was what public relations experts said Munoz should have done in the immediate aftermath of the incident Sunday, and many were baffled that it took him two days to issue a sincere apology. During that time, video footage of the passenger refusing to give up his seat, and later being dragged off the plane, had already gone viral on social media.
"Imagine a world where the very first thing Oscar Munoz did Monday morning was a thoughtful apology directly to the passenger who was affected, and listed the steps United would take to make sure it wouldn't happen again," said Jeremy Robinson-Leon, a principal at branding firm Group Gordon. "This would have been a significantly smaller issue. There still would have been public outcry because the video was so jarring, but this would not have been a three- to five-day story."
One example of an organization salvaging a situation is when PricewaterhouseCoopers swiftly apologized for its Best Picture mix-up at the Academy Awards. While viewers still remember the gaffe, Robinson-Leon said they don't associate it with PwC as much as they do the Academy, which was slow to respond.
Even Pepsi, which recently came under fire for an ad that portrayed the sugary drink as having the power to help bridge America's racial divide, was quick to act.
"I would argue that it was a significant misfire on Pepsi's part to even make that ad in the first place, but the fact that they wasted very little time in pulling it and apologizing was the right response," Robinson-Leon said.
The challenge United Airlines now has is to not only put recent events behind it but also to overhaul its image. According to crisis PR experts, had Sunday's incident been an isolated case, United might have a better chance at dealing with it. But given the quick succession of poorly managed situations that have garnered media attention (just last month the company was at the center of another public outcry when it refused to let two teenage girls board a plane because they were wearing leggings), Robinson-Leon likened United's situation to that of the ride-hailing company Uber, which also dealt with crisis after crisis this year.
"As with what happened with Uber, you ultimately start to see a pattern of mismanagement," Robinson-Leon said, "and that's when you have a real problem."
Twitter: @traceylien
ALSO
In China, the United Airlines incident unleashes frustration about treatment of Asians in America
Before apologizing on Tuesday, United tried two unsuccessful tactics to quell its public relations crisis
'We're United Airlines, you do what we say': Kimmel skewers the embattled airline
---
UPDATES:
1:40 p.m.: This article was updated with United Airlines announcing that it will reimburse other passengers on the flight from which David Dao was removed.
This article was originally published at 10:10 a.m.