United Technologies' $23-billion deal for Rockwell Collins would create an 'absolute colossus' in aerospace
United Technologies Corp.'s deal to buy aviation communications and electronics supplier Rockwell Collins Inc. for $23 billion in cash and stock would create an aerospace behemoth able to exert pricing pressure on the industry's supply chain.
The acquisition, announced Monday, would combine two companies that had total 2016 revenue of $62 billion and have a hand in nearly every facet of building a modern aircraft. It would unite UTC's business in aerostructures, landing systems, propellers and engines with Rockwell Collins' capabilities in flight control, cockpit displays, seating and aircraft interior systems.
The new business unit would be called Collins Aerospace Systems and be headed by Rockwell Collins' current chief executive, Kelly Ortberg. Rockwell Collins is based in Cedar Rapids, Iowa, and UTC is based in Farmington, Conn.
UTC employs more than 5,600 people in California. Rockwell Collins has about 1,000 employees in the state, almost all of whom are based in Southern California.
A Rockwell Collins spokesman said the acquisition — which, including debt, is valued at $30 billion — would have "little to no impact" on the company's Southern California operations. A UTC spokesman said his company does not expect the deal to affect overall U.S. jobs. The company has said the deal complements UTC's current business.
But the combined operation's size and reach would "inevitably create a more formidable player" that would have an effect on suppliers and customers alike, said one industry analyst.
"I think that the impact of this combination will ripple through the entire aerospace supply chain in Southern California," said Loren Thompson, aerospace analyst at the Lexington Institute think tank, which receives funding from UTC and Rockwell Collins.
Analysts said the deal is unlikely to be challenged by antitrust officials since there is little overlap between the companies' products.
But Stephen Perry, managing director of Irvine-based aerospace and defense investment banking firm Janes Capital Partners, described the new unit as an "absolute colossus."
"It just gives them tremendous negotiating leverage" with prime contractors and aircraft manufacturers, he said. "When you supply such a vast amount of content of the aircraft, the negotiating pendulum swings in your favor."
For example, UTC supplies a number of power systems and components on the Boeing 787 jetliner, including the housing that contains jet engines. Rockwell Collins also supplies a number of onboard technologies for the plane, including flight deck displays.
UTC's Pratt & Whitney division, one of the three largest aircraft engine manufacturers, doesn't power any of Boeing's latest commercial airliners but is a supplier to Airbus and the massive, next-generation F-35 fighter program.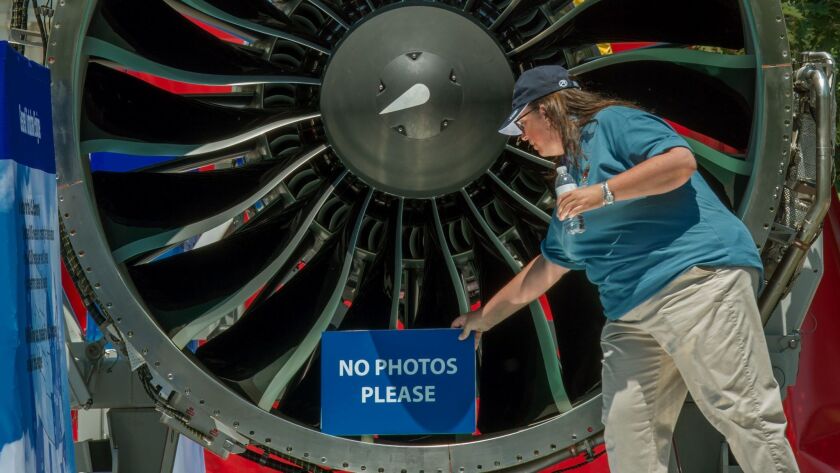 The deal comes at a time of increased competition — and lucrative opportunity — in the global commercial aerospace market.
The new unit's size could help it defend against Boeing's ventures into sectors traditionally serviced by suppliers.
The Chicago aerospace giant has said it would venture into the aftermarket -- the maintenance, repair and overhaul segment of the aviation business that is the bread and butter of the supplier community. This summer, Boeing also said it would create an internal avionics unit to develop electronics.
In a sharply worded statement, Boeing said it intended to take a "hard look" at the proposed acquisition.
"Our interests and those of our customers, employees, other suppliers and shareholders are in ensuring the long-term health and competitiveness of the aerospace industry supply chain," the company said. "Should we determine that this deal is inconsistent with those interests, we would intend to exercise our contractual rights and pursue the appropriate regulatory options to protect our interests."
Boeing's statement noted that both companies were "significant" suppliers to Boeing and other aircraft manufacturers.
"At a time of record industry production, their first priority should be delivering on existing cost, schedule and quality commitments for their customers and ours," Boeing said.
The combined unit could use its size and heft to exert pricing pressure on Southern California suppliers, said Jim Adams, an industry advisor to the Southern California Aerospace Council and a partner at PricewaterhouseCoopers who leads the aerospace and defense strategy practice.
While the number of aerospace jobs in Southern California has declined from its last peak in the late 1980s, the industry still has a significant presence in the region, particularly in research, design and engineering, said Robert Kleinhenz, economist at Beacon Economics and the UC Riverside School of Business. The region's supply base is diverse, with work in sectors such as satellites, launch vehicles and drones, as well as commercial aerospace, Adams said.
The two companies have said the deal would generate cost savings of at least $500 million by the fourth year, a figure that would come, in part, from procurement synergies.
UTC Chief Executive Gregory Hayes noted in a Tuesday morning call with analysts that the commercial aerospace sector has long-term growth potential, and that both airlines and aircraft manufacturers are looking for "innovative solutions and services" as well as cost reduction.
"The combination of Collins with our Aerospace Systems business gives us the scale to both innovate and reduce cost to meet the needs of those customers," Hayes said. "It gives us scale to do things that we couldn't do on our own."
The deal, which is subject to approval by Rockwell Collins shareholders and regulatory approvals, is expected to close by the third quarter of 2018.
Twitter: @smasunaga
---
UPDATES:
Sept. 6, 8 a.m.: This article was updated to include a comment from a UTC spokesman on the deal's effect on U.S. jobs.
Sept. 5, 6:10 p.m.: This article has been updated throughout with staff reports.
Sept. 5, 7 a.m.: This article was updated with the number of Californians employed by each company.
This article was originally published Sept. 5 at 4:45 a.m.
---
Your guide to our new economic reality.
Get our free business newsletter for insights and tips for getting by.
You may occasionally receive promotional content from the Los Angeles Times.