Hawaiian Gardens gambles on a $90-million overhaul of its casino as rivals invest in their own upgrades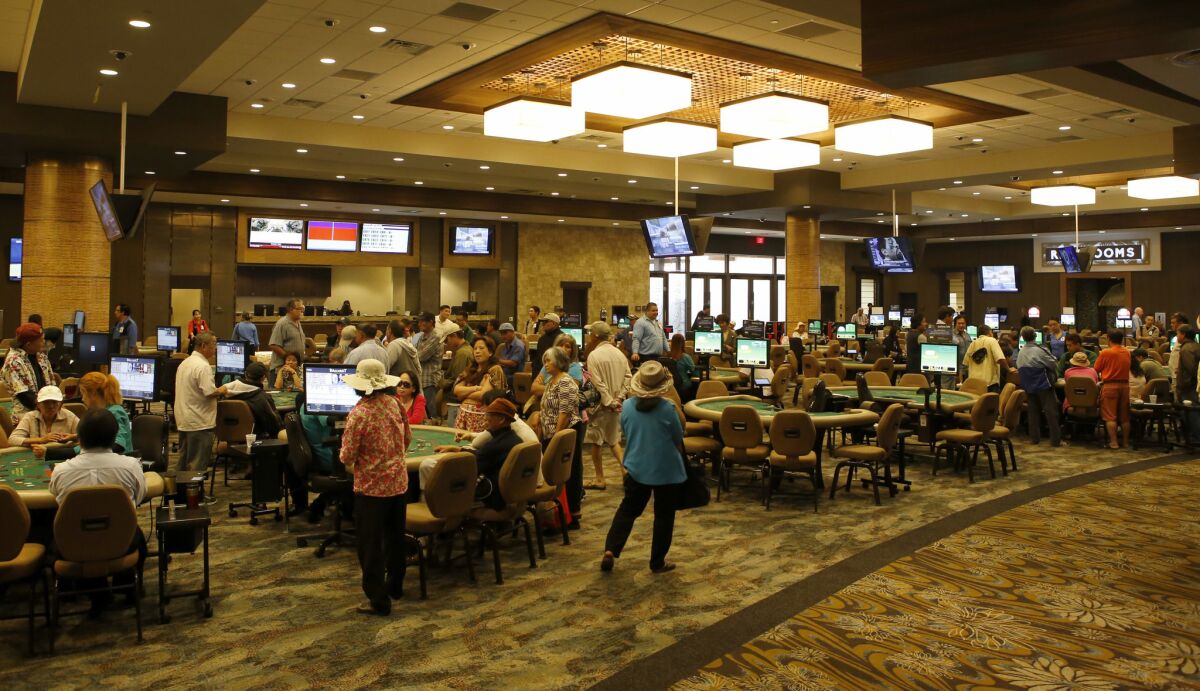 Scott Shinedling has played poker at the Hawaiian Gardens card club since it opened inside a 60,000-square-foot tent nearly 20 years ago.
But the sales director from Placentia didn't bring his wife to the Gardens Casino until it underwent a $90-million overhaul recently.
"It wasn't impressive," he explained of the old casino. "It was a tent."
The Gardens Casino's owners hope other gamblers will be impressed with the 200,000-square-foot building housing 225 tables, a restaurant and bar, plus a VIP lounge and two multiuse halls.
The revamped card club even has two glass cages on the gaming floor for its mascot parrots, Lucy and Skittles.
Hawaiian Gardens has a lot riding on the project. About 70% of the city's general fund revenue comes from the casino, which has been dogged by controversy for years. The expansion could be a huge financial boost for Los Angeles County's smallest town.
The "increased job opportunities for our residents and anticipated increased revenues for our general fund all add up to big steps forward for our little city," Hawaiian Gardens Mayor Barry Bruce said.
Business has jumped about 15% since the new building opened in April, casino operators say.
Named for a small fruit stand that operated in the area in the 1920s, the 1-square-mile city near Lakewood and Long Beach has one of the lowest median household incomes and the highest population densities in the county.
Over the last 10 years, the casino paid fees and taxes to the city ranging from $10.8 million to $13.7 million, according to budget documents. The city's annual general fund was $16.2 million in the last fiscal year.
Although the overhaul, paid for with private funds, makes the Gardens Casino one of the biggest and most luxurious in Los Angeles County, it comes as the card club's rival casinos also have invested heavily in upgrades.
The Bicycle Club Casino in nearby Bell Gardens unveiled a $50-million overhaul in December featuring a 99-room hotel with a fitness center, an outdoor pool deck, a spa and sauna, plus a sit-down restaurant with 28 types of beer on tap.
In Inglewood, the Hollywood Park Casino expects to open a 110,000-square-foot building in September that will be nearly 40% larger than its existing casino, with space for 35 more gaming tables plus a new sit-down restaurant and sports bar showcasing a giant, dual-sided television screen.
But Gardens Casino general manager Ron Sarabi said the timing of the overhaul was not influenced by his competitors. Instead, he said the permanent structure was built because the old tent enclosure had an expected lifespan of 10 to 15 years and was nearly 20 years old when construction of the new building began.
The casino opened in 1997 as the Hawaiian Gardens Casino in a small manufactured home before it was moved into a tent that held 175 tables and 1,600 employees.
The new version drops "Hawaiian" from the name and adds a two-story building with high ceilings and 220 flat-screen televisions. Employment has grown to 1,850 workers. A bingo hall that was attached to the card club was relocated a few blocks away.
Gamblers can play 14 games at the casino, including poker, blackjack and baccarat. An upstairs lounge includes reclining lounge chairs, giant television screens and a shower so VIP gamblers can recharge during marathon sessions.
Sarabi said he is certain that the Gardens Casino now is better equipped to compete with rival card clubs. "It's like going from driving a VW to a Mercedes," he said.
Still, the casino has a history of controversy.
In July, the Financial Crimes Enforcement Network, a branch of the Treasury Department, announced a $2.8-million assessment against the Gardens Casino after IRS examiners found that operators failed to maintain anti-money-laundering programs, failed to report large cash transactions and failed to file reports on suspicious activities in the casino.
The federal agency said Gardens Casino management continued to allow customers to enter the casino even when they would not provide identification and were deemed suspicious by casino employees.
Sarabi said the assessment was the first disciplinary action against the casino in nearly 20 years.
"The Gardens is pleased to put this uncharacteristic situation in the past, and its owners and management are committed to making every effort to continue to strengthen its programs moving forward," he said.
The longtime owner of the casino, Irving Moskowitz, was a controversial figure in Hawaiian Gardens and in Israel before his death in June.
See the most-read stories in Local News this hour »
Moskowitz, a doctor and philanthropist, for years was accused by critics in and out of Hawaiian Gardens of wielding undue influence over the city's government with his casino money and undermining Middle East peace efforts by funding Jewish settlements in Arab-populated areas of Israel.
In 2000, a report from a state legislative audit committee said Hawaiian Gardens officials and Moskowitz conspired to spend about $4 million in public funds to help Moskowitz build the card club in violation of a 1996 law that prohibits the use of redevelopment funds for gaming enterprises. At the time, attorneys for the city and Moskowitz strongly denied the allegation.
When Moskowitz came before the state's Gaming Control Commission in 2004 to get his permanent gaming license, state officials said the application generated the strongest opposition in the commission's history.
The casino is now owned by Moskowitz's family, with his wife, Cherna, and son, David, both holding gaming licenses.
To read more about the travel and tourism industries, follow @hugomartin on Twitter.
ALSO
Strawberry grower fined $2.4 million, demanded kickbacks from Mexican workers
Legislation would restrict H-1B visas
812,000 pay-TV subscribers cut the cord in the second quarter of 2016
---
Sign up for the California Politics newsletter to get exclusive analysis from our reporters.
You may occasionally receive promotional content from the Los Angeles Times.