Gambled and lost: Normandie Casino ordered to pay millions after hiding high-roller winnings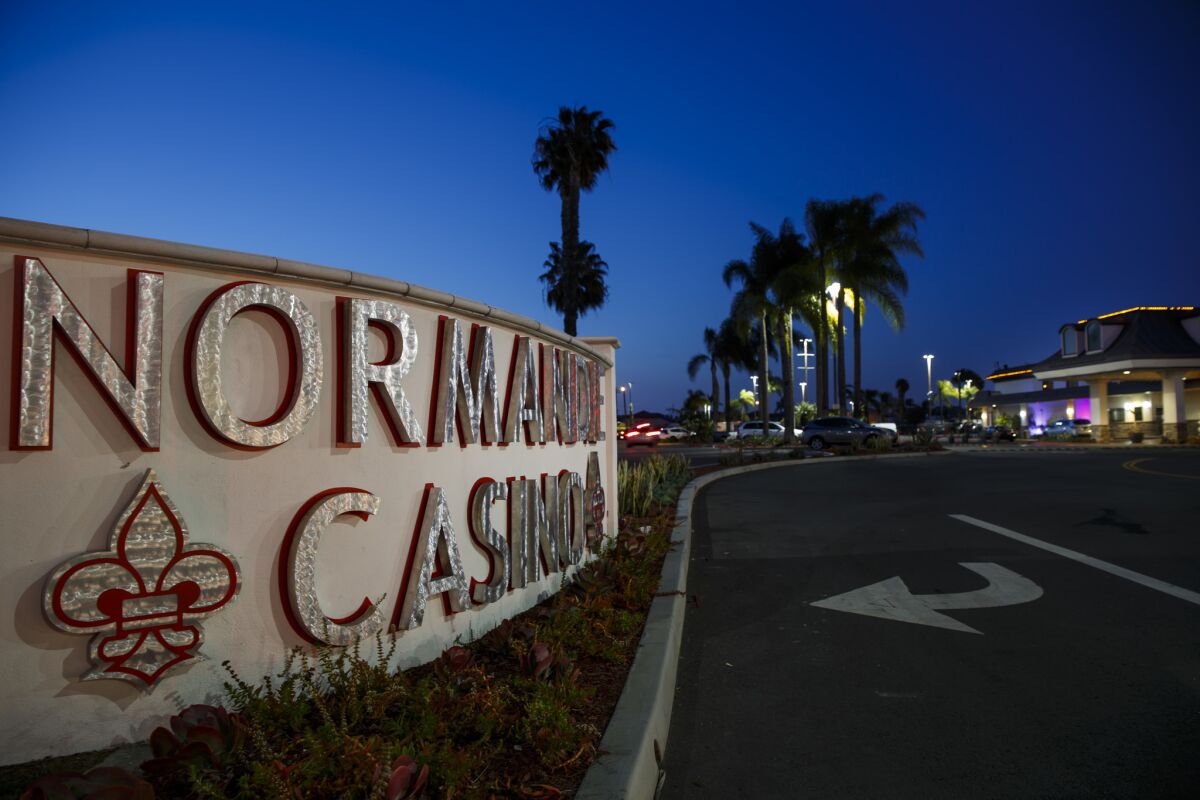 The operators of one of Southern California's oldest casinos have been ordered to pay a $1-million fine and turn over another $1.4 million it failed to report through transactions to the government, federal prosecutors announced Wednesday.
In January, the Normandie Casino in Gardena pleaded guilty to violating the Bank Secrecy Act by shielding several high rollers from federal reporting requirements.
The casino failed to properly record and report a series of large-scale cash transactions in 2013, according to documents. In one six-week period that year, a single high roller won more than $1 million from another gambler, and the casino conspired to shield the high-roller's identity, according to the documents.
"This sentence demonstrates the government's ability to enforce the anti-money laundering laws used to ensure that certain high-rollers do not remain below the radar," Anthony J. Orlando, acting special agent in charge for the IRS' criminal investigations, said in a statement. "In partnership with the U.S. Attorney's Office, [the agency] will continue to protect the United States financial system through the investigation and prosecution of individuals and organizations that attempt to launder their criminally derived proceeds."
The casino, which opened on Rosecrans Avenue in the 1940s, also pleaded guilty to failing to maintain an effective program against money laundering.
Federal law requires casinos to record the identities, addresses, Social Security numbers and taxpayer information of any gambler who cashes out more than $10,000 in winnings.
"The Normandie has cooperated with the government to resolve this case in a positive way that allows the club to move forward from this investigation and to continue doing business as it has for the past 70 years, as the best gambling establishment in Southern California," Mark Werksman, the attorney representing the casino, said in January following the casino's guilty plea.
The casino staff helped its most valued players conceal their winnings by breaking up large transactions into smaller amounts, or by listing the names of "independent gaming promoters," rather than the actual gamblers, when filing reports with the U.S. Treasury, documents show.
Federal prosecutors also accused the casino of failing to scrutinize cash transactions that it "had reason to suspect" were tantamount to money laundering.
"The United States has an array of anti-money laundering statutes designed to prevent criminals from using the American financial system to launder the large sums of cash generated by illegal activity such as organized crime, drug trafficking and human trafficking," U.S. Atty. Eileen M. Decker said in a statement. "Casinos and card rooms such as Normandie are cash-intensive businesses that are particularly attractive for use by criminals seeking to launder their ill-gotten gains, so they must be vigilant in meeting their obligations under those laws."
In recent decades, the casino has lost many of its players to newer facilities such as the Hollywood Park Casino in Inglewood. The Commerce Casino also has become popular with Los Angeles-area poker professionals who have made their name on the national circuit in recent years.
In July, adult entertainment mogul Larry Flynt purchased the casino and reopened it as Larry Flynt's Lucky Lady Casino.
For breaking California news, follow @JosephSerna on Twitter.
The stories shaping California
Get up to speed with our Essential California newsletter, sent six days a week.
You may occasionally receive promotional content from the Los Angeles Times.