U.S. hits Venezuela, but are tougher sanctions coming that would raise gas prices?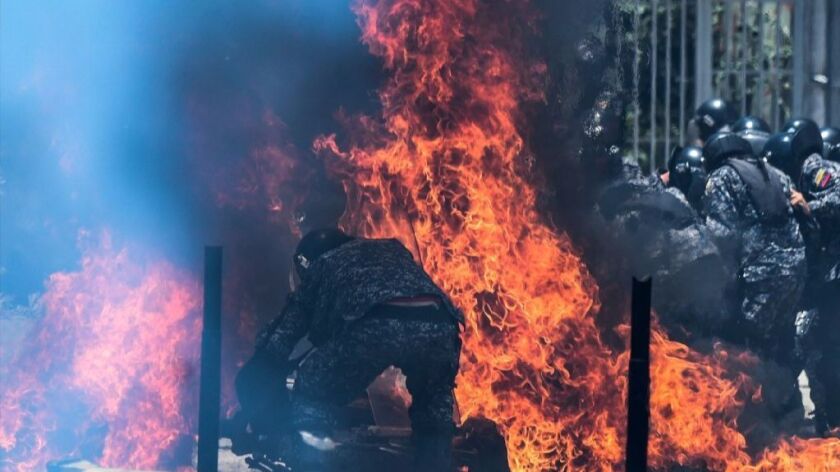 Oil and U.S. gasoline prices have been edging higher since the Trump administration hit Venezuela's president with sanctions on Monday. But it's unclear if broader, tougher penalties are still to come against the oil-rich nation that could bring a significant increase in energy prices.
U.S. retail gasoline prices rose to an average $2.33 a gallon Wednesday, up a nickel from a week earlier, according to AAA. In Los Angeles, the average pump price hit $2.969 a gallon Wednesday, an increase of 4.5 cents from the previous Wednesday.
Benchmark U.S. crude closed at $49.59 a barrel on Wednesday, up 43 cents from the day before, and Brent crude, the international standard, rose 58 cents to close at $52.36 a barrel. That follows last week's gains, before the much-anticipated sanctions were officially announced, which were the best so far this year.
Prices may go higher if the Trump administration decides to impose stricter sanctions, including what some analysts call "the nuclear option" — a total ban on crude oil imports from Venezuela into the U.S.
"If we did full-blown sanctions, no more imports from Venezuela, that would probably add a couple bucks to the oil price right away and maybe 20 cents to gasoline," said Dan Steffens, president of the Energy Prospectus Group, based in Houston.
The U.S. Department of the Treasury on Monday said it is freezing any personal assets that Nicolas Maduro may possess under U.S. jurisdiction, one day after the Venezuelan president celebrated an election that will consolidate his power throughout the country.
World leaders called the election a sham, and late Monday, Treasury Secretary Steven T. Mnuchin said in a statement, "Yesterday's illegitimate elections confirm that Maduro is a dictator who disregards the will of the Venezuelan people."
At least 10 people were killed during protests of Sunday's vote to elect a new constitutional assembly that will have the power to shut down the country's congress, draft new laws and postpone elections. Maduro is slated to run for reelection in 2018.
The leftist government said 8.1 million people took part in the vote, a number that was widely disputed.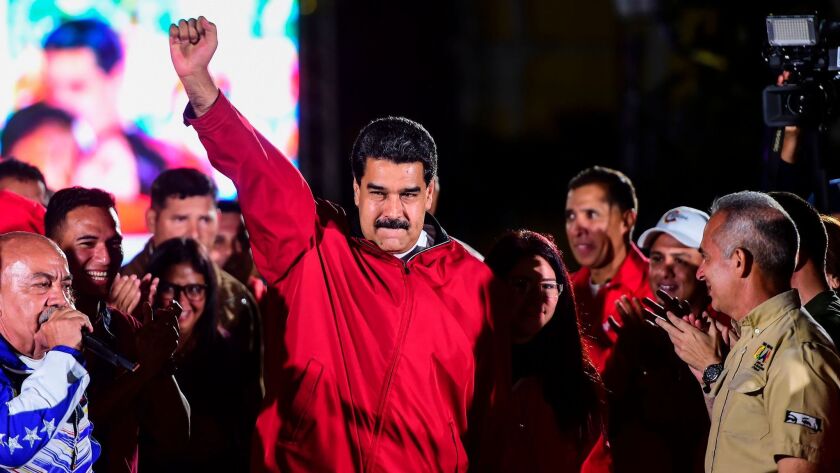 Even though Venezuela possesses one of the world's largest reserves of crude oil and is a member of OPEC, the powerful Organization of the Petroleum Exporting Countries, the nation's economy is in a state of decimation as grocery store shelves go bare and medical supplies have all but vanished.
According to Steve Hanke, professor of applied economics at Johns Hopkins University, the annual inflation rate in Venezuela exceeds 900%.
"The economy is really in a death spiral," Hanke said.
Last week, the Trump administration, Mexico and Colombia slapped sanctions on 13 military and government officials with ties to Maduro. And the U.S. has warned that Venezuelan officials connected with the effort to overhaul the assembly may also face sanctions.
But imposing sanctions raises its own set of complications.
"The problem I have right now is, when you have an economy that's in such disarray that the sanctions will not hit Maduro, his generals and the people who have access to all the money they have stocked aside, but it will hit the folks who are already really suffering," said Jeremy Martin, vice president of energy and sustainability at the Institute of the Americas, a think tank at UC San Diego that concentrates on energy issues in the Western Hemisphere.
Another complication is that Venezuela sends 750,000 barrels of crude oil a day to the U.S., trailing only Saudi Arabia and Canada as the largest supplier to the U.S.
Refiners such as San Ramon-based Chevron Corp. as well as the trade group American Fuel & Petrochemical Manufacturers say sanctions on imports would hurt U.S. businesses and consumers without addressing the issues inside Venezuela.
"I frankly do not think the Trump administration is ready to give a call to the CEO of Chevron and say, 'Sorry, you're going to have to pull out of that country after all that investment you've put in there,'" said Raul Gallegos, a senior analyst based in Colombia for the consulting group Control Risks.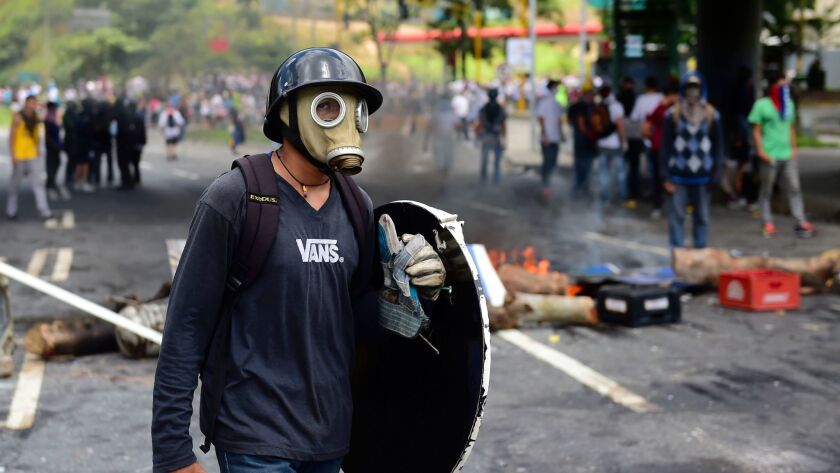 "The good news is the Trump administration and the world are taking this seriously," said Gallegos, who has written a book about the oil industry in Venezuela called "Crude Nation."
"The bad news is that the international community still needs to come terms with the fact that this [Maduro] regime has absolutely no scruples. These are not people you can trust sitting across a negotiating table, so you need to think of new ways to deal with this rogue regime."
Hanke believes sanctions don't work in general and will keep the Maduro government in power for a longer period of time.
"Maduro is already cleverly using the targeted sanctions the U.S. already has in place to his benefit," Hanke said. "He says, 'Look what the U.S. is doing to us, they're trying to destroy our economy. The reason we have all this inflation is because of the United States,' and a lot of people believe it."
Oil sales account for more than 90% of Venezuela's revenue, but years of mismanagement by the country's state-run oil company and flat global oil prices have left the economy in tatters.
"Every time we think things couldn't get any worse, they do," Martin said. "I think the security situation, particularly in Caracas, is getting toward a lawlessness where it's very conceivable to see, and I hate to say this but, civil war breaking out."
---
Must-read stories from the L.A. Times
Get the day's top news with our Today's Headlines newsletter, sent every weekday morning.
You may occasionally receive promotional content from the Los Angeles Times.