AOL's video a key lure for Verizon in $4.4-billion acquisition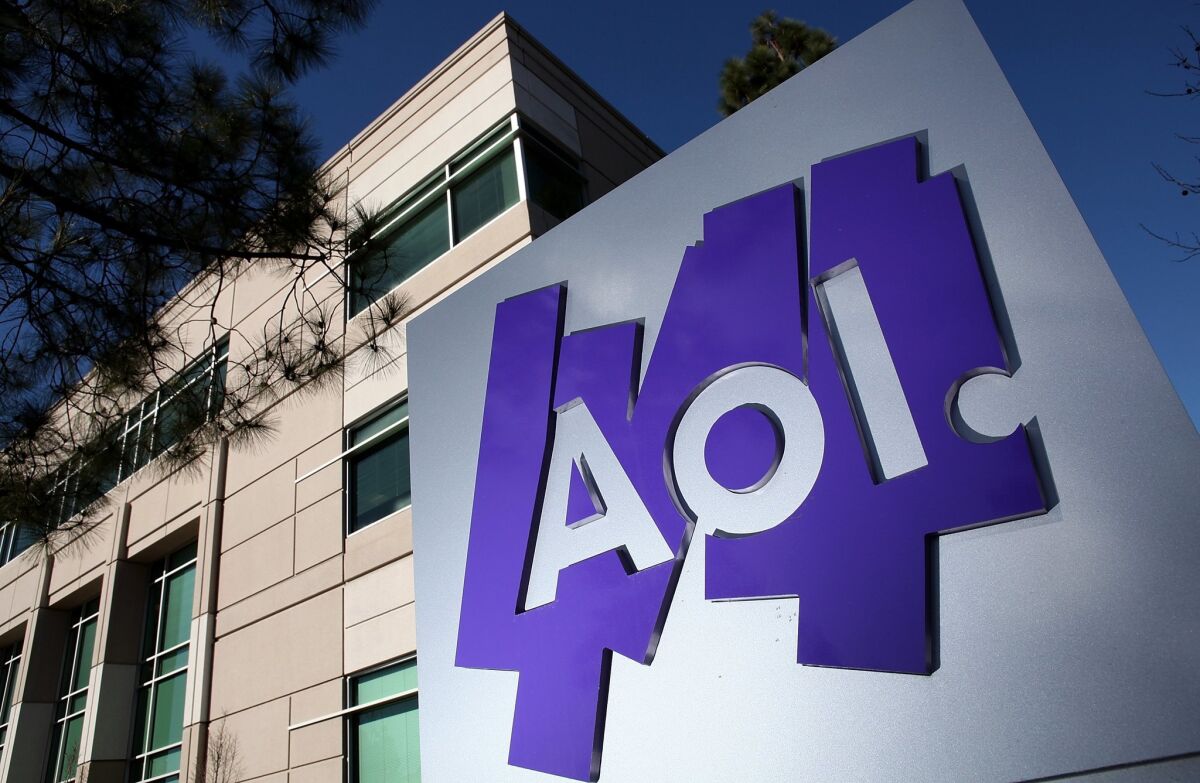 Reporting from Washington —
Nearly everybody, it seems, carries a smartphone. As a result, everything's going mobile.
So why, then, would Verizon, already the nation's largest wireless carrier and a giant in mobile communications, want to pay $4.4 billion to buy an old-line Internet company with a dowdy reputation like AOL?
Answer: To avoid getting clobbered in the mobile marketplace.
If the logic makes your head hurt, welcome to the topsy-turvy world of new media, where digital technologies are upsetting traditional businesses as they try to reinvent themselves.
"This is a mobile-driven play, pure and simple," said Peter Csathy, chief executive of business advisory firm Manatt Digital Media. "These behemoths want to play effectively in this whole media ecosystem."
There is growth and profit in wireless, but the carriers aren't enjoying the full benefits. The Facebooks, the Googles, the Snapchats are the big gainers as videos, photos, messages and — notably — advertising flow through Verizon's network.
The market for wireless carriers' core business is saturated, and a price war has erupted as the four big U.S. carriers — Verizon, AT&T, Sprint and T-Mobile — try to steal customers from one another. Meanwhile, high-value content providers enjoy full use of the carriers' commodity pipes.
That's the pressure Verizon is under. That's why it wants to buy AOL.
"AOL has once again become a digital trailblazer, and we are excited at the prospect of charting a new course together," said Verizon CEO Lowell McAdam.
To many people, AOL is still the popular 1990s staple that started as the leading dial-up Internet service, was involved in a disastrous media merger and suffered when consumers switched to high-speed Internet service.
But since taking the reins in 2009, AOL Chief Executive Tim Armstrong has been quietly reinventing the company with an emphasis on mobile, making a string of acquisitions to support his mobile content and advertising strategy.
Mobile advertising is one of the ad business' fastest-growing segments. Last year nearly $43 billion was spent on mobile ads worldwide, a figure expected to increase 61% to $68.7 billion in 2015, according to EMarketer.
Last month AOL launched a new ad platform called One, a marketplace where advertisers bid for space across mobile and conventional websites, including Facebook and Twitter. The automated marketplace tracks ads, and advertisers can purchase ad time according to the tracking data.
So-called programmatic advertising, which turns over ad-buying decisions to software programs, has seen explosive growth, increasing 136% to $10 billion in the U.S. last year, EMarketer said.
The One platform was a major reason Verizon eyed AOL as an acquisition target, John Stratton, Verizon's president of operations, said at an investor conference Tuesday.
Already, video is the "big driver" of data consumption on Verizon's high-speed mobile network, he said: "We've talked a lot about our over-the-top video ambitions, and this is for us a very important cornerstone enabler as part of that broader strategy."
AOL's fast-growing stable of video content ranks third behind Google (mostly YouTube) and Facebook in unique desktop video viewers, according to ComScore.
Recently, AOL said it planned to produce 3,600 original episodes of video content this year, a huge increase from 80 last year.
"Verizon needs to feed the beast with some compelling content, and AOL has some of that," Csathy said. "AOL has not been overly successful in this arena, but what it does have is a very strong advertising sales force and ad technology."
AOL also owns popular digital brands such as the Huffington Post and tech sites TechCrunch and Engadget. But those aren't big revenue sources, so Verizon might shed some content, such as the Huffington Post, said Angelo Zino, a senior equity analyst at S&P Capital IQ.
AOL became a powerhouse during the dot-com boom and acquired Time Warner in 2001, forming AOL Time Warner in a $147-billion merger that created the world's largest media company at the time.
But the end of the boom hurt AOL and it struggled to adapt as online access shifted from dial-up subscriptions to high-speed broadband connections offered by telecommunications firms such as Verizon and cable giants such as Comcast Corp.
Research firm MoffettNathanson noted the AOL of old is not the AOL that exists today. Although Verizon will need more than just AOL to be a major player in mobile content and advertising, "AOL is a tantalizing first step," the firm said in an investor note.
New York City-based Verizon will pay $50 a share to purchase AOL, a 17% premium over Monday's closing price.
Wall Street cheered the news, sending AOL shares up $7.93, or 19%, to $50.52 on Tuesday. Verizon slipped 18 cents to $49.62.
Some consumer rights groups are sour on the deal.
"Verizon's bid for AOL is yet another example of how Wall Street's short-term mind-set shortchanges competition and investment," Free Press Research Director S. Derek Turner said. "It's just a tremendous waste of resources the company should instead use to build lasting — and profitable — broadband infrastructure."
The deal, which is subject to regulatory approval, is the latest in a string of consolidations as companies scramble to figure out how best to compete in the growing and profitable business of providing advertising on mobile devices.
"At this point, it feels like everything is on the table when it comes to mergers and acquisitions," said Sarah Kahn, an analyst with IBISWorld. "There is a mix-and-match quality to it."
As a result, several different industries are converging. In the past, the phone business was separate from the satellite TV business, which was treated separately from cable TV. And then there were the major Internet players.
The U.S. Department of Justice and the Federal Communications Commission are said to be close to approving AT&T's $49-billion takeover of El Segundo-based DirecTV. Charter Communications is reportedly in talks to buy Time Warner Cable after the Comcast-Time Warner deal fell apart.
"There is this convergence of industries and it comes as consumers are increasingly getting their news and entertainment from online sources," Kahn said. "There are really no new customers, just old customers, and the goal is to offer them new things."
Twitter: @byandreachang, @MegJamesLAT, @JimPuzzanghera
Chang and James reported from Los Angeles; Puzzanghera from Washington.
---
Sign up for the California Politics newsletter to get exclusive analysis from our reporters.
You may occasionally receive promotional content from the Los Angeles Times.