Virgin Galactic craft probably broke up in midair, NTSB chief says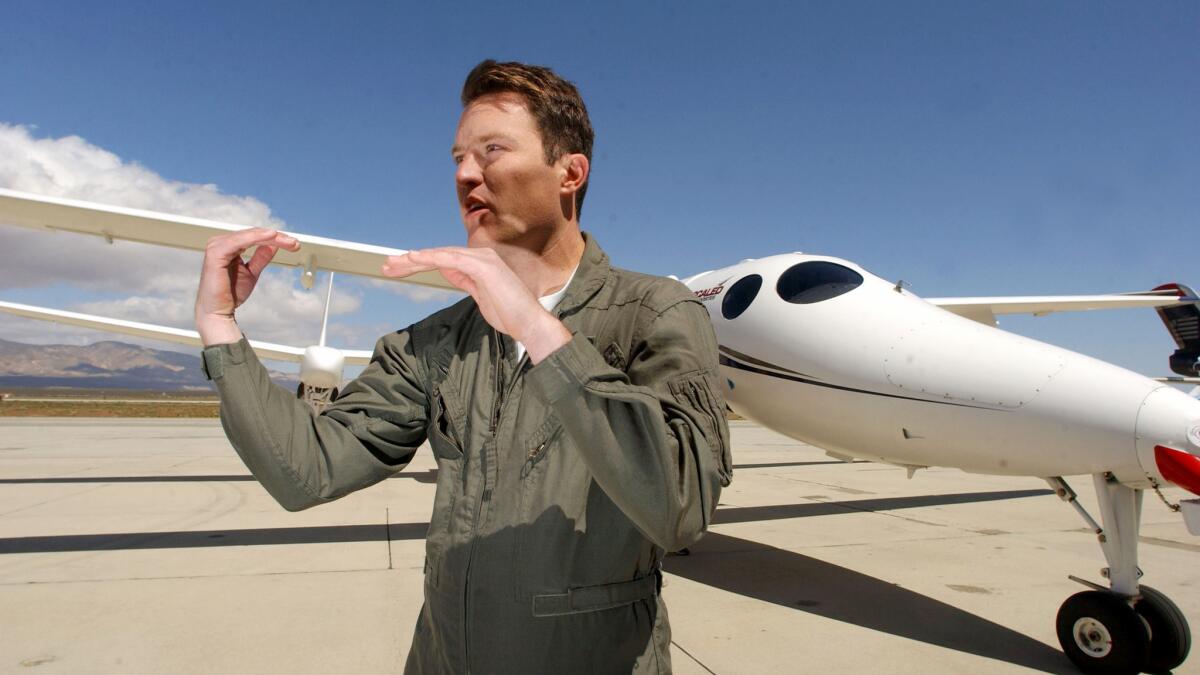 Reporting from Mojave, Calif. —
The National Transportation Safety Board's top official said late Saturday that he believes a Virgin Galactic space craft that crashed Friday, killing a test pilot, broke apart in midair.
Christopher Hart, acting NTSB chairman, said the wreckage of SpaceShipTwo was spread over five miles in the Mojave Desert, suggesting an "in-flight break up."
After the first day of the investigation, Hart said NTSB officials have also determined that the breakup and subsequent crash were filmed by at least six on-board cameras, a camera at Edwards Air Force Base and cameras on a "chase aircraft" that was following SpaceShipTwo's test flight from Mojave.
"Because it was a test flight it was heavily documented in a way that we don't normally see in accidents," Hart said.
It could take up to a year for investigators to determine the cause of the crash. NTSB officials will remain in Mojave for at least seven days.
Earlier in the day, authorities identified the craft's two test pilots as Michael Alsbury, 39, who was found dead at the crash site with the main fuselage, and Peter Siebold, 43, who suffered a shoulder injury.
Siebold "is alert and talking with his family and doctors," according to a statement from Scaled Composites, the designers of Virgin Galactic's space launch system.
"We remain focused on supporting the families of the two pilots and all of our employees, as well as the agencies investigating the accident," the statement said.
Siebold is the company's director of flight operations.
Virgin Galactic's billionaire founder Richard Branson, who flew to Mojave overnight, vowed Saturday morning to find out what doomed the SpaceShipTwo rocket ship that he hoped would eventually carry paying passengers into space.
"In testing the boundaries of human capabilities and technologies, we are standing on the shoulders of giants. Yesterday, we fell short," Branson told reporters. "We will now comprehensively assess the results of the crash and are determined to learn from this and move forward together."
Branson added: "We do understand the risks involved and we're not going to push on blindly. To do so would be an insult to all those affected by this tragedy."
He said it was "fair to say that all 400 engineers that work here ... and I think most people in the world" want to see the dream of commercial space travel live on.
Branson said the company adhered to rigorous testing standards "precisely to ensure that this never happens to the public."
This will be the first time that the NTSB has led an investigation into a space launch with people on board, Hart said. The NTSB assisted in the investigations of the Challenger and Columbia space shuttle disasters, he said.
The crash site and debris field had been protected by the Kern County Sheriff's Department overnight, Hart said. On Saturday night, Hart said investigators had recovered fuel tanks and oxidizer tanks, as well as tail booms and the fuselage where Alsbury's body was discovered.
Based on the recommendation of doctors, Hart said investigators will wait to interview Siebold.
Much of the investigation is likely to focus around SpaceShipTwo's rocket engine, which is designed to propel the craft to more than 60 miles above the Earth's surface.
Since April 2009, Virgin Galactic used a hybrid rocket motor built by Sierra Nevada Corp., a Sparks, Nev., company that has contracts with the U.S. military, NASA and commercial space firms.
The engine, fueled by nitrous oxide and a rubber compound, had been fired in flight and on the ground around 50 times. SpaceShipTwo had three successful test flights powered by the Sierra Nevada–built rocket engine.
However, in May, Virgin Galactic announced it was switching to an alternate plastic-based rocket motor fuel. It is not clear when testing began, but Scaled Composites said on its website that there have been 10 test fires since May.
Friday's test flight was the first in which SpaceShipTwo used a motor with the plastic-based fuel.
Executives said after the crash that the new motor and fuel had been thoroughly tested on the ground before the rocket plane took off, suspended under its carrier plane, WhiteKnightTwo, shortly after 9 a.m. Friday from the Mojave Air and Space Port, about 100 miles northeast of Los Angeles.
WhiteKnightTwo typically carries SpaceShipTwo to an altitude of 50,000 feet before releasing the space plane. The malfunction occurred just seconds after separation, officials said.
"The aircraft is in several different pieces," said Kern County Sheriff Don Youngblood.
Alsbury, 39, worked for Scaled Composites in Mojave for 14 years as a project engineer and test pilot.
He was married for at least 12 years and had a young son and daughter, both under the age of 5, according to neighbor Patricia Kinn, who said their desert community of Tehachapi was horrified by news of the crash.
"I know all the neighbors feel the same way," Kinn told The Times, speaking through tears. "They all know that he was a wonderful person, family man, humble and he was a great dad."
Kinn said Alsbury and many of her neighbors work in the aerospace community, either at a military facility or in nearby Mojave. Alsbury was a constant presence in the neighborhood, often seen walking his dog or playing with his children, Kinn said.
While Alsbury was passionate about his work, Kinn said he rarely spoke about the industry at home.
"He loved what he did, his work," she said. "I believe he was very proud of it."
Kinn said neighbors have spoken briefly with Alsbury's wife and that the community plans to rally around the family in the coming days.
"It's hard for his wife and this neighborhood is devastated from it."
In April 2013 Alsbury served as co-pilot, with Mark Stucky as pilot, on SpaceShipTwo's first rocket-powered flight. The aircraft broke the sound barrier, reaching Mach 1.2, and climbed to about 56,000 feet in altitude. The entire flight lasted a little more than 10 minutes. It ended with a smooth landing in Mojave.
Alsbury received a bachelor of science in aeronautical engineering from Cal Poly San Luis Obispo. As of last year, he had logged more than 1,800 hours of flight experience, 1,600 as a test pilot and engineer in Scaled aircraft.
He, along with Stucky and Clint Nichols, won the Ray E. Tenhoff Award last year. It recognizes the most outstanding technical paper presented at the annual Society of Experimental Test Pilots Symposium.
News that SpaceShipTwo had crashed spread quickly through Mojave.
Katie Stokes said she was at home when her mother, a fabricator at the Mojave facility, sent her a text message: "Katie, you need to pray right now …"
Stokes first thought there had been a family emergency. She quickly realized the message was about the crash.
"This is a close-knit community," Stokes said. "We feel the general pain of the workers and of the family."
Stokes' brother also works at Mojave Air and Space Port, where numerous aerospace companies like Virgin Galactic, Orbital Sciences and XCOR test and develop aircraft.
Many in the town of about 4,300 residents work in the aerospace industry. Their thoughts quickly turned to the families of the test pilots.
At her family's doughnut shop -- the site of an old Kern County branch library -- model airplanes hung from the ceilings and photos of test flights decorated the walls.
Many of the pilots and other airport workers frequented the shop, Stokes said Friday evening as she folded pink bakery boxes.
"Did I know them? Should I have known them? All those things passed through my mind," she said.
Marlena Rowley, a nursing school student, was at the airport Friday morning and took a moment to watch WhiteKnightTwo take off.
"It's a sad day," she said. "This accident touches the lives of the pilots, the community members and leaders and the commercial space industry as a whole."
Times staff writers Christine Mai-Duc, Julie Westfall, James Queally and Shan Li in Los Angeles contributed to this report.
Twitter: @melodypetersen
Twitter: @latvives