Richard Branson's firm invests enough in Hyperloop One to rename it Virgin Hyperloop One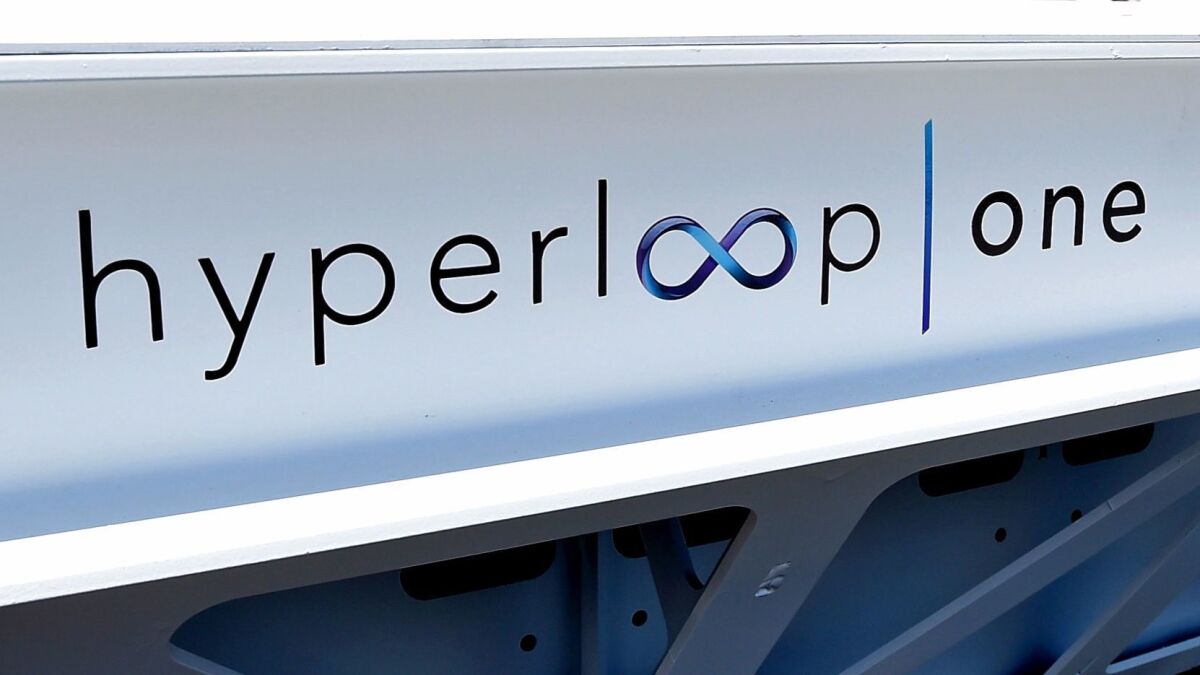 Richard Branson's Virgin Group has invested in Hyperloop One, a Los Angeles company that is developing a super-fast transport system and soon will change its name to Virgin Hyperloop One, the companies said Thursday.
Branson, the billionaire whose other holdings include Virgin Atlantic Airways and the Virgin Galactic spacecraft venture, also joined the board of Hyperloop One.
"This is an incredibly innovative and exciting new way to move people and things at airline speeds on the ground," Branson said on Virgin Group's website.
The size of Virgin Group's investment was not disclosed but it was part of an $85-million funding round from several investors last month, bringing Hyperloop One's total financing raised since its founding in 2014 to $245 million.
Hyperloop One is one of a handful of firms developing technologies whereby passengers and cargo would be loaded into pods that travel at high speeds through low-friction tubes above or below ground. For example, the firm envisions 30-minute trips between Los Angeles and Las Vegas.
The others include Boring Co., led by Elon Musk — who also founded Tesla Inc. and SpaceX — and another is Arrivo Corp., led by several former Hyperloop One employees. Musk popularized the idea of such technology, unveiling a design in 2013.
Hyperloop One held its latest test run of a transport pod in a tube in late July in the Nevada desert. Branson attended and said he saw "firsthand the exciting technology being tested."
"I was very impressed and now look forward to helping turn this cutting-edge engineering into a global passenger service," Branson said.
Branson said on CNBC that a hyperloop system could become reality in "between two and four years if governments move quickly" to approve it.
"Virgin is an iconic brand, and having Richard as an ally will help strengthen our mission to spread Hyperloop One throughout the world," Hyperloop One co-founder Shervin Pishevar said in a statement.
Pishevar founded Hyperloop One with Brogan BamBrogan, a former rocket designer at Space Exploration Technologies Corp., or SpaceX.
But the pair had a bitter falling out amid an internal fight over corporate governance, financial control and the direction of the startup. BamBrogan and other Hyperloop One employees left and filed a wrongful termination suit against the company, and Hyperloop One countersued.
The two sides eventually settled and the former Hyperloop One employees then helped start Arrivo, based on the Italian word for arrival, in Los Angeles.
The system being developed by Hyperloop One calls for the vessels ferrying people or cargo to shoot through low-pressure tubes via electric propulsion. The pods would lift above the track using magnetic levitation and glide "at airline speeds for long distances due to ultra-low aerodynamic drag," the company said.
"It's a lot cheaper than building conventional rail networks and it's a lot faster and I think it will be a lot more reliable," Branson said.
Twitter: @PeltzLATimes
---
UPDATES:
11:55 a.m.: This article was updated with additional details about Virgin Group's investment, a dispute between Hyperloop One's founders and about the firm's transport technology.
This article was originally published at 8:55 a.m.
Sign up for the California Politics newsletter to get exclusive analysis from our reporters.
You may occasionally receive promotional content from the Los Angeles Times.