Cutting Edge: Virtual reality entrepreneurs chase the dream in L.A.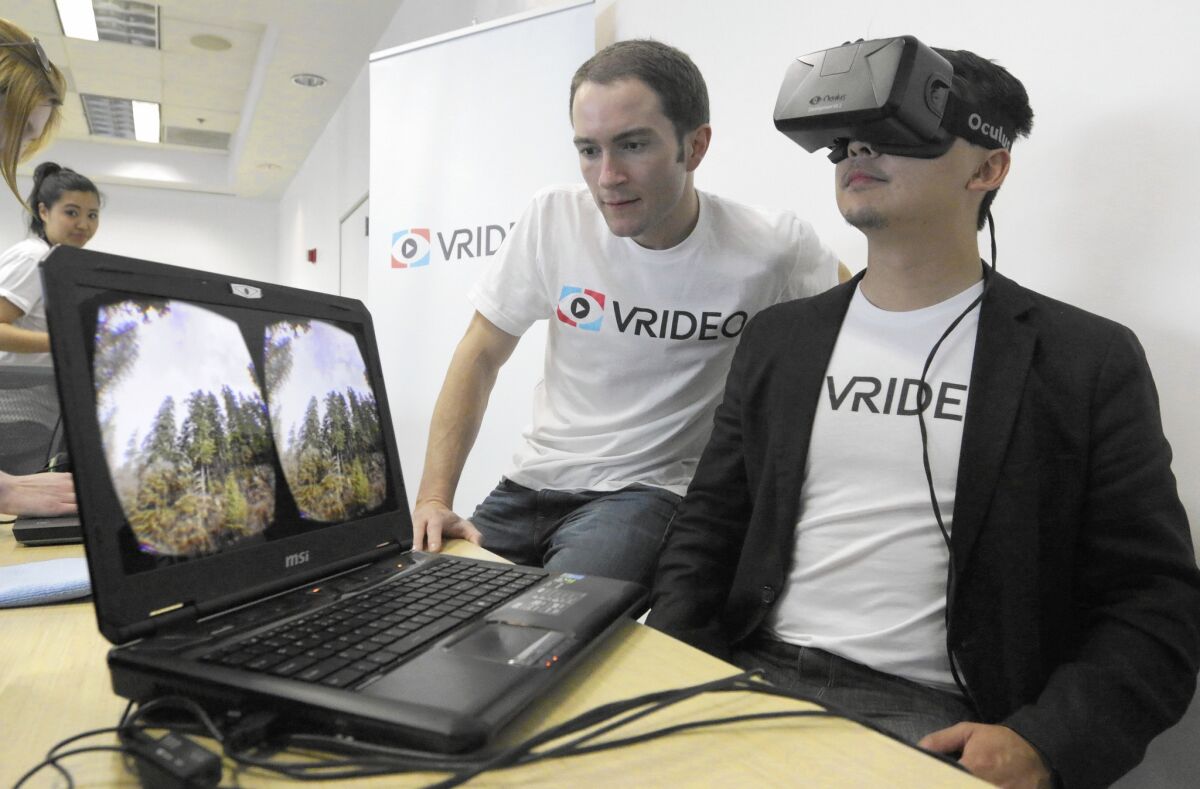 Why did Alex Rosenfeld move across the country to start a company in a tiny office in Santa Monica? What prompted Masaharu Ono and Timothy Chou to launch their own start-up while freshmen at Caltech? What moved Hollywood filmmaker Christopher Emerson to make an app?
Virtual reality.
They all want a piece of the next big leap for entertainment.
Just as smartphones and tablets have cut into television viewing, virtual reality is poised to put movies, games and apps on perspective-altering screens inches away from the eyes. The real world will disappear as viewers become part of the show, immersing themselves in a digital universe.
Hollywood is making a big push, with 20th Century Fox and NBC at the forefront. They're already wowing audiences at trade shows and special events. That excitement is energizing start-ups that first got a big boost a year ago when Facebook agreed to pay $2 billion for Oculus, an Irvine start-up.
The public will get its first chance to take the experience home when goggles from the likes of Oculus VR, HTC and Sony start hitting the stores this fall. Gamers and early tech adopters are expected to be at the front of the line.
By 2018, consumers will spend $5 billion on virtual reality technology, consulting company Kzero predicted last year. Half the haul is expected to go to software makers. More recent forecasts from Digi-Capital and Gartner anticipate more users sooner — 25 million by 2018 — putting overall spending as high as $10 billion.
With all the attention in Hollywood, Los Angeles is a natural spot for virtual reality entrepreneurs.
Rosenfeld, who migrated from Boston, said Los Angeles is "the center of gravity."
In March, 65 virtual reality start-ups showed their wares to 2,000 attendees at a conference in downtown Los Angeles.
Virtual reality "used to be our secret that no one knew was going to be important," said Cosmo Scharf, an event organizer and co-founder of Visionary VR, which creates virtual reality video. "Just in this last year alone, we've witnessed firsthand a transformation."
Last week, GoPro added to the buzz when it announced a partnership with Google to introduce a 360-degree, 16-camera virtual reality rig. That's a first step toward turning everyone into a virtual reality filmmaker. GoPro popularized action-sports video — and could be a player in bringing 360-degree filming and virtual reality to a mass audience.
Virtual reality isn't just about goggles and cameras. Many developers are racing to create apps, gambling that they're going to find ways to turn a profit when virtual reality goes mainstream.
Here's a look at four Los Angeles start-ups chasing the dream:
Vrideo: Competing with YouTube
Rosenfeld, previously a researcher at a venture capital firm, and business partner Kuangwei Hwang have raised $1.8 million from investors to become the YouTube for "immersive video."
Using a 360-degree video camera, with multiple lenses to capture all angles all at once, people can record impressive video. Then they upload it on Vrideo. But viewers don't have to passively watch; they can click and drag, tap on the keyboard or rotate the screen to swirl through different vantage points.
In one video, two skiers parachute off a cliff at Crystal Mountain in Washington. As they fly over tree-lined slopes, viewers can twist the video back and forth horizontally and vertically to switch between the jumpers and the mountain expanse. The videos can be watched on a screen, but an Oculus headset can be connected to a computer to get deeper into the action, where head moves adjust the perspective.
YouTube recently released similar navigation controls, but Rosenfeld says Vrideo's focus on just 360-degree videos will keep it a step ahead.
SpherePlay: Empathizing through photos
SpherePlay's app will help share 360-degree photographs. Most smartphones can already shoot full-scene photos because all it takes is an app such as Google Camera and the patience to slowly pan the lens in every direction. Right now, there aren't many apps to help viewers appreciate the immersive photos. Emerson, SpherePlay's chief executive, says his focus on the "everyman and -woman demographic" will change that.
The start-up's mobile website displays photos that he took last year using his Samsung Note smartphone. In one example, viewers swipe their own smartphone screens to drift within a single photo from gray sky to the dirt at the edge of a cliff to waves surfacing on a Brazilian beach out yonder.
"If we share a photo with someone, we are trying to convey some emotion to them but it doesn't engage our senses," said Emerson, who owns a Hollywood production company. He's betting that 360-degree photos — when viewed in virtual reality devices — will trigger new sensations. Because the image surrounds you, it's easier to imagine being at the scene. The thought of a wind gust could cause shivers or the fright of looking over a steep ridge could force the viewer to step back in the real world.
Neurorigin: Living in Utopia
Ono, 19, and Chou, 18, decided to create a parallel, Utopian universe after meeting at Caltech's freshman orientation and signing up for the same graduate-level computer science courses. They cobbled together savings to form Neurorigin and to buy an EEG-machine, which measures brain activity, in hopes of developing software that would translate thought into actions in a virtual world.
Wish to play basketball as well as Kobe Bryant?
"If you don't have the athleticism, you can't," Ono said. "But if you can think like him, you can play like him in our system."
They've applied to programs that offer technical and financial support. But for now, Ono is funding the endeavor by coding unrelated programs for a professor while they write the algorithms for Neurorigin.
AppliedVR: Building for businesses
Consumers aren't the only focus. AppliedVR in Century City is building apps for hospitals, law enforcement agencies and major corporations. The company wants to develop programs that encourage people to form good habits. Its argument is that if video games can lead to negative behavior, then being immersed in a virtual world can rewire thinking toward good choices, said Josh Sackman, AppliedVR's vice president.
A bank's app shows customers how saving more money affects their future look and lifestyle. An app being tested with Cedars-Sinai Medical Center could help people deal with pain, reducing the need for painkillers. Traveler's Insurance commissioned an app for its clients to use during safety training. If employees relate to an immersive experience more than a traditional safety video, as tests suggest they do, workplace injuries and subsequent insurance payouts could tick down.
Twitter: @peard33

---
Sign up for the California Politics newsletter to get exclusive analysis from our reporters.
You may occasionally receive promotional content from the Los Angeles Times.