Wages shrink for state's middle-income workers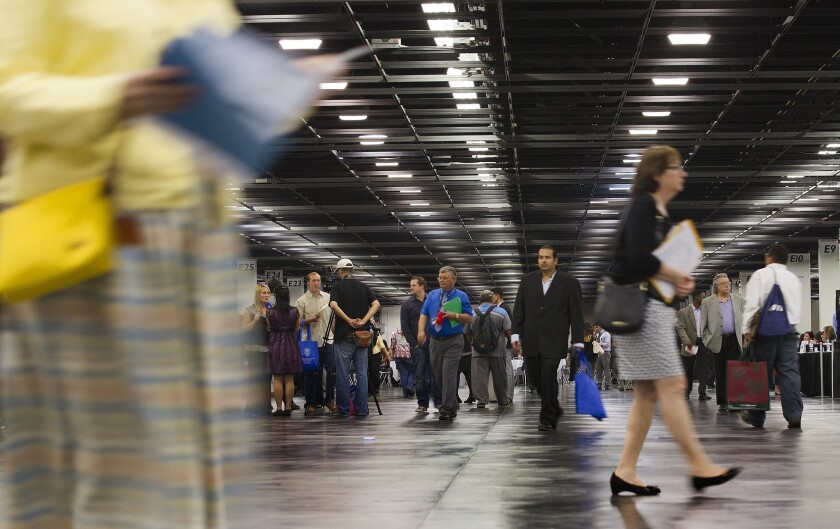 California's job market is among the fastest-growing in the nation, and the state's unemployment rate is at one of its the lowest levels in seven years.
But the state's middle-income earners continued to see their wages decline in 2014, according to new research — evidence that a crucial segment of the workforce is still falling behind.
Wages for the typical worker in California — those who earn $19.18 an hour, or about $39,800 a year — are still 1.8% lower than they were in 2011, when the state's unemployment rate hovered around 11.5%. The current unemployment rate is 6.4%
The research from the California Budget & Policy Center also shows that median earners in California are making substantially less than they were before the Great Recession in 2006, after adjusting for inflation.
"Typically you've seen the middle class as the key to economic mobility, a way to climb the economic ladder," said Luke Reidenbach, a policy analyst at the nonprofit Sacramento research group, which wrote the report. "They are feeling a very specific pinch right now."
Wage erosion for middle-income earners is particularly challenging as housing costs in California have continued to rise, he said. Unlike lower-income workers, those in the middle tend to have less access to subsidized housing programs, he said.
Workers at all income levels except those earning in the top 10% suffered wage declines from 2006, when the economy peaked, through 2011. But since then, workers in both the upper- and lower-income brackets have had their wages increase, while those in the middle have seen continued declines.
Since that peak, wage declines for median earners in California have also been more severe than the U.S. overall. Since 2006, median wages in California have fallen 6.2% — more than the triple the decline of 1.9% across the nation.
Moreover, the gap between wages of the typical worker and those earning in the top 10% have consistently grown since 1979, according to the group's analysis of U.S. Census data.
"These diverging fortunes have led to a widening gulf between higher-wage workers and everyone else," the report concludes.
Reidenbach said the recent gains for lower-wage workers could mean that middle-income earners are next in line.
"The way that recoveries tend to work is that low-wage workers are hired first, because they're cheaper," he said. "The hope is that as the economy continues to improve, mid-wage workers will see raises as well."
---
Your guide to our clean energy future
Get our Boiling Point newsletter for the latest on the power sector, water wars and more — and what they mean for California.
You may occasionally receive promotional content from the Los Angeles Times.