California lawmakers approve legislation to combat wage theft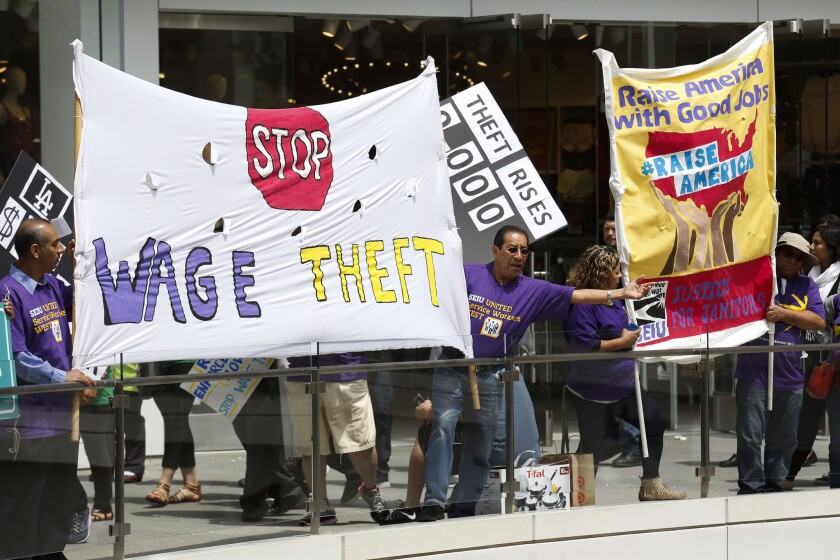 The California Senate this week passed legislation that would give state authorities greater power to collect back wages for employees who were cheated out of pay and overtime.
The bill now heads to Gov. Jerry Brown's desk for approval.
Sponsored by Senate leader Kevin de Leon (D-Los Angeles), the legislation aims to address the widespread challenge of collecting back pay from employers who evade state judgments -- by either changing names or transferring assets to other corporations.
A 2013 study from the UCLA Labor Center and the National Employment Law Project found that only 17% of workers who prevailed against their employers were able to recover any back pay. In 60% of cases, the employers had formed shell corporations to avoid liability.
"There have been a lot of judgments against the dishonest businesses; the problem has been the collection," De Leon said in an interview Friday. "This is going to provide a level playing field for the honest businesses who pay their workers, and help workers collect the pay that they've earned."
The new legislation would give the California Labor Commissioner's Office authority to hold individuals -- not just corporate entities -- accountable for unpaid wages. The penalties would also extend to subsequent corporations that take over a business if the operations are essentially the same.
The bill would also give the Labor Commissioner's Office the direct authority to collect on judgments, cutting down on additional paperwork and administrative costs under the current system.
If employers fail to pay a judgment, they must post a bond of between $50,000 and $150,000, or be barred from doing business in the state.
If the bond is not posted and the wages remain unpaid, the bill would authorize the Labor Commissioner's Office to issue a stop-work order or a lien that would attach to property owned by the employer.
The bill also attempts to hold larger corporations responsible for the wage violations of their subcontractors. State law already provides for joint liability in industries such as garment production and construction.
The bill would extend liability to companies that contract out for janitorial services, security guards, valet parking, landscaping, gardening and long-term healthcare.
Tia Koonse, legal and policy research manager at the UCLA Labor Center, said that provision should encourage companies to contract with responsible firms -- not just the lowest bidders.
"When you have people bidding at these rock-bottom prices, of course the contract is going to be underfunded," Koonse said.
Matthew Sirolly, who assists low-wage workers as director of the nonprofit Wage Justice Center, said the bill is not a "panacea" for the issue of collecting back pay. But he said it could be a major improvement on the current system.
"Compared to how hard it is now, and how many unreasonable protections there are right now for employers," he said, "it's going to be a lot better."
He said employers could still evade judgments if they formed corporations under the name of someone who is not the true owner -- such as listing an 18-year-old son who has no assets.
A spokeswoman for the California Labor Commissioner's Office said the agency does not comment on pending legislation.
A spokesman for Gov. Brown's office also declined to comment on the legislation.
Twitter: @c_kirkham
---
For reporting and exclusive analysis from bureau chief John Myers, get our California Politics newsletter.
You may occasionally receive promotional content from the Los Angeles Times.