Warren Buffett auctions a private lunch on EBay. Price tag: $2.6 million and climbing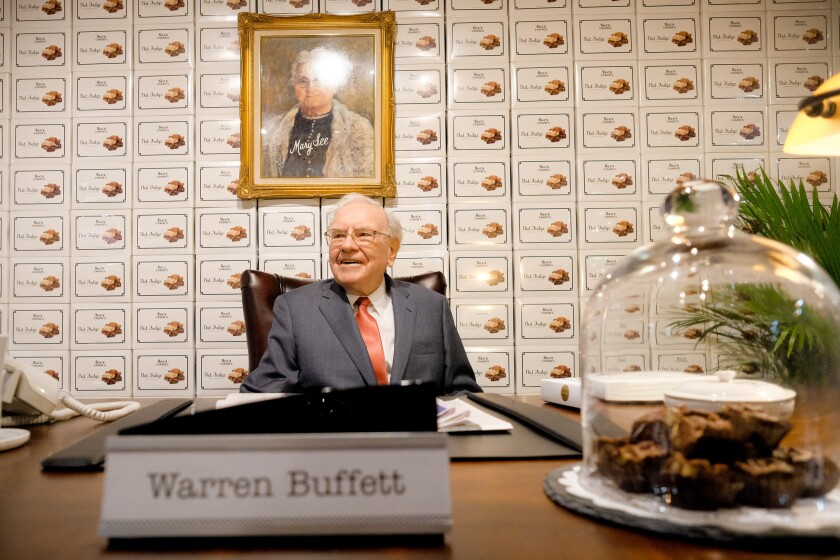 Billionaire Warren Buffett has raised more than $20 million for a San Francisco homeless charity since 2000, and he's about to add to that total by auctioning off a private lunch.
The weeklong EBay auction that began Sunday will wrap up Friday night. Six of the last eight winners paid more than $2 million to dine with Buffett, the investor who leads the Berkshire Hathaway conglomerate, with the record coming in 2012, when the winning bid was $3,456,789. The price tag on Friday morning had climbed to $2,614,000.
That 2012 lunch remains the most expensive individual charity item ever sold on EBay.
The lunch auctions began after Buffett's first wife, Susie, showed him the Glide Foundation, where she had been volunteering. Susie Buffett died in 2004, but the connection between Warren Buffett and Glide's founders has endured.
Buffett has praised the foundation's efficient and effective approach in providing meals, healthcare, job training, rehabilitation and housing support to the poor and homeless.
"I am proud to be part of something that has directly benefited so many people in need," Buffett said ahead of the auction. "Glide is a bridge for thousands of people on the brink of despair, helping them achieve dignity and opportunity by providing them with basic services."
Rev. Cecil Williams, one of Glide's co-founders, said the cumulative effect of the donations has been "astonishing."
Buffett has said he gets a wide range of questions at the lunches that usually run for several hours. The only limit on lunch conversation is what Buffett might invest in next, but any other topic is open.
The winners of the lunch auction typically dine with Buffett at Smith and Wollensky steakhouse in New York City, which donates at least $10,000 to Glide each year to host the lunch. But when the winner wants to remain anonymous, the lunch happens elsewhere.
Buffett's company owns more than 90 subsidiaries including insurance, furniture, railroad, jewelry and candy companies, restaurants and natural gas and corporate jet firms, and has major investments in such companies as Coca-Cola Co., IBM and Wells Fargo & Co.
ALSO
Side-by-sides, go-karts on steriods, are booming
Gawker has filed for bankruptcy protection. Here's what happens next
Twitter requires password resets after hack advertises stolen accounts
---
Your guide to our new economic reality.
Get our free business newsletter for insights and tips for getting by.
You may occasionally receive promotional content from the Los Angeles Times.