Weekly unemployment claims plunge to 280,000, near a 14-year low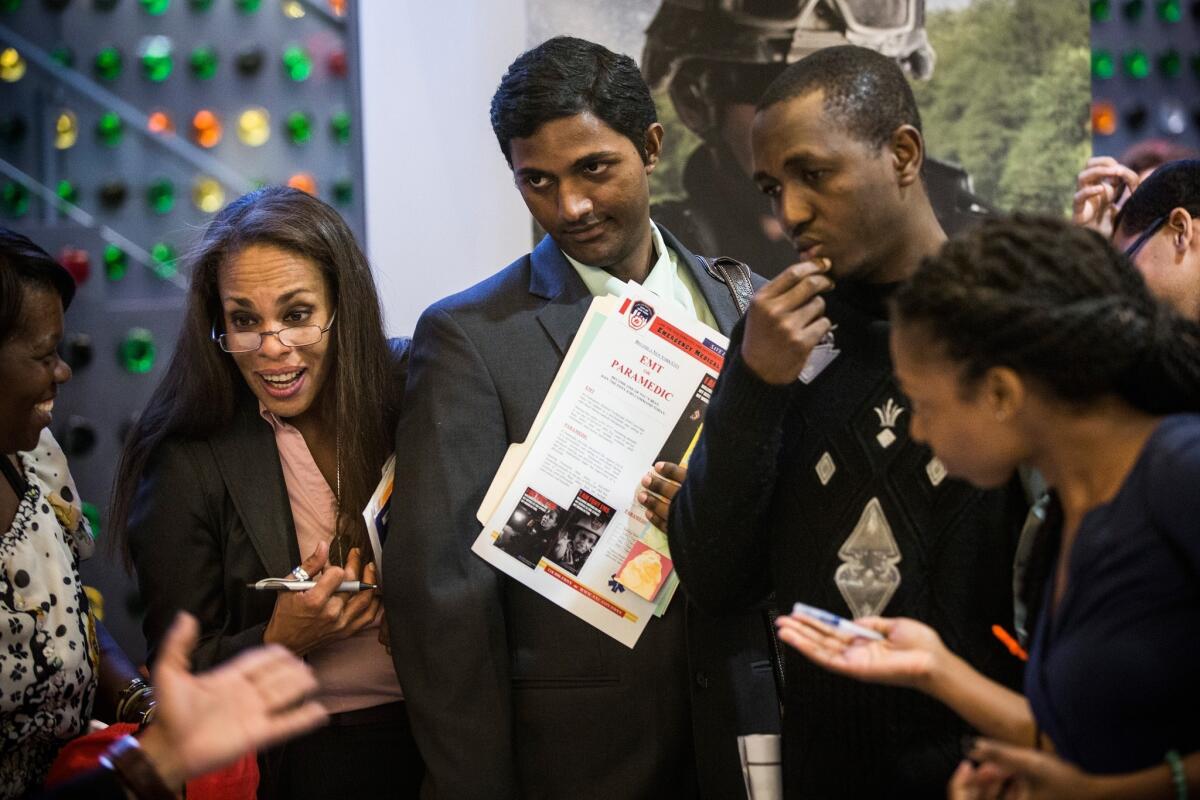 Reporting from Washington —
Initial jobless benefits claims plunged to near a 14-year low last week while the number of people receiving unemployment checks fell to the lowest since before the Great Recession, the Labor Department said Thursday.
About 280,000 people filed for first-time unemployment benefits in the week ended Saturday, down 36,000 from the previous week and well below analyst estimates.
The drop came a week after claims unexpectedly jumped to 316,000, the highest level since June.
Jobless claims are a closely watched gauge of the labor market, but they can be volatile week to week, particularly around holidays such as Labor Day. The more reliable four-week average dropped by 4,750 last week to 299,500.
The 280,000 claims last week were the lowest since the economy reached a post-recession low of 279,000 in mid-July. That was the fewest claims since 2000.
The total number of people receiving unemployment benefits fell to 2.4 million in the week ended Sept. 6, the most recent data available, the Labor Department said. It was the lowest level since May 2007, seven months before the Great Recession began.
The report was fresh evidence that the jobs market continues to heal.
Federal Reserve officials are watching labor market indicators as they consider when to start raising interest rates from the near-zero percent level they've been at since late 2008.
After a two-day meeting, Fed policymakers on Wednesday offered no new hints about when they would start raising rates.
They noted that the labor market continued to improve and slightly upgraded their forecast for the unemployment rate, which they now said could be as low as 5.9% by the end of the year.
But Fed Chair Janet L. Yellen said the labor market had not fully recovered from the recession, which is a main reason the central bank's policy statement said rates would remain low for "a considerable time."
"There are still too many people who want jobs but cannot find them, too many who are working part time but would prefer full-time work, and too many who are not searching for a job but would be if the labor market were stronger," she said at her quarterly news conference.
For breaking economic news, follow @JimPuzzanghera on Twitter